(by Daniel Allott, National Review) – The first thing one notices about Brian Skotko is his winning smile. The second is his pants. They are, I think it is safe to say, rather absurd. Colorful and loud, and often paired with a conservative dress shirt and tie, Skotko's pants invite mockery.
And that's the point. They are part of a campaign the 35-year-old physician launched called "Mock my pants, not my sister."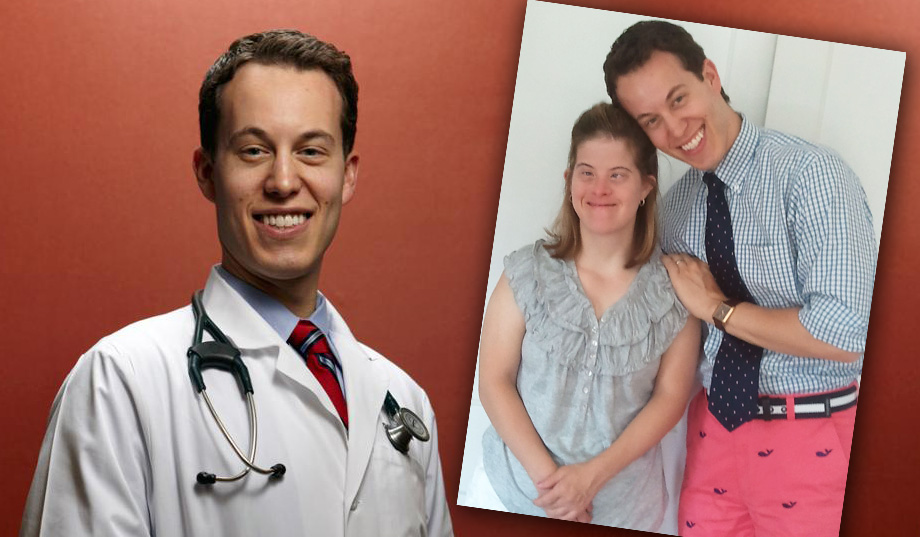 In 2011, John B. Thompson, writing in GQ magazine, ridiculed Boston men for being, in his opinion, the worst-dressed people in the country. "Boston suffers from a kind of Style Down Syndrome," he wrote, "where a little extra ends up ruining everything."
As the brother of a woman with Down syndrome (DS), Skotko took exception to the notion that an extra chromosome ruins everything — or anything, for that matter.
Go ahead and mock my clothes, Skotko, who is based in Boston, wrote in an open letter to GQ that he posted on his blog. "But, whatever you do, do not mess with my sister." Skotko then schooled Thompson on what "Style Down Syndrome really is." He wrote:
"It's smiling when everyone prefers to frown. It's spending three summers, in sheer determination, learning to ride a bike because you want the freedom to be like everyone else. It's singing tunes from Grease at the top of your lungs with your friends. It's celebrating a third-place victory at a swim meet with as much gusto as a gold medalist. Style Down Syndrome is strong-willed, persevering, and forgiving — because it has to be." (GQ later apologized privately but refused to do so publicly.)
"Mock my pants, not my sister" provides a glimpse of the passion with which Skotko advocates for his sister and all people with DS. But Skotko is much more than an advocate. He is also one of the country's leading medical clinicians, geneticists, and Down-syndrome researchers.
The goal of his work, as he explained it to me when I visited him at Massachusetts General Hospital, is to make "tomorrow better than today" for people with Down syndrome. Put another way, Skotko is using his extraordinary talents to help move society beyond mere tolerance for people with DS and toward a celebration of them.
Skotko grew up in Strongsville, Ohio, a suburb of Cleveland, as the only son of an industrial-supply salesman and a grade-school teacher. Skotko has two younger sisters, Allison Hanselman, 32, and Kristin Skotko, 34, who has DS.
Skotko is, by all accounts, an exemplary brother and son. In an e-mail, his mother, Sharon Skotko, told me that Brian "has always been the perfect son. We have been so blessed. There was never one instance where he ever disappointed us." Sharon told me that Brian has called home every day since leaving for college nearly two decades ago.
Brian has a special bond with Kristin. "I wouldn't be doing what I am today had it not been for my sister Kristin," he said in a 2013 interview on the Today Show. When I asked him to elaborate, he said:
"Kristin fills in the missing pieces in terms of, when I am selfish she reminds me not to be. When I want to give up, she reminds me to keep on going. When I get frustrated when I didn't achieve a goal, she reminds me of all the smaller steps along the way that were successful. When I lose sight of the big picture, she reminds me to focus on the goodness that's there. When I am stressed, she reminds me that it's going to be OK."
Kristin grew up in the 1980s, when people with DS were often referred to as "mongoloids," and when their life expectancy was only about 25 years. But Kristin's parents didn't dwell on her condition. "We always discussed her Down syndrome," Skotko said, "but it was never the centerpiece of dinner conversation."
Because there were few resources available to families raising children with DS, the Skotkos helped launch a parent support group, one of the first in their area. A group of six to ten parents of children with DS would gather once a week for dinner and fellowship.
Brian excelled in school, and after becoming valedictorian of his class at Saint Ignatius High School and a USA Today first-team academic All American, he enrolled at Duke University.
He had discovered his calling a few years earlier while caring for his grandfather, who was dying of cancer. "I spent a lot of time with him as he was going through the dying process," Skotko said. "And I got to appreciate the importance of compassionate care and palliative care."
At Duke, Skotko soon sharpened his focus and decided to specialize in Down syndrome. "All of a sudden things just clicked," he said. "It felt right. I knew what I wanted to do. It combined all of my advocacy and my passion for my sister, with this interest for the healing powers of medicine."
Skotko smiles often, and his smile broadened when I mentioned Allen Crocker, photographs of whom Skotko has posted throughout his office. Crocker was a developmental-behavioral pediatrician who taught at Harvard and directed the Developmental Evaluation Center at Boston Children's Hospital for many years.
Posted at NationalReview.com on December 17, 2014.  Reprinted here January 15, 2015 for educational purposes only. May not be reproduced on other websites without permission from National Review. 
Questions
1.  The purpose of an editorial/commentary is to explain, persuade, warn, criticize, entertain, praise or answer. What do you think is the purpose of Daniel Allott's editorial? Explain your answer.
2.  What is the main idea of this editorial?