redo Jump to...
print Print...
(by Lance Fairchok, AmericanThinker.com) – Memorial Day is a day of remembrance and respect for those who have given their lives for the freedoms that bless this nation. Most Americans no longer visit memorials and cemeteries; our nation's wars do not touch them except for quick sound bites on the news. Fewer still actually know a service member or understand the sacrifices they make with their service, the time away from home and family, the inherent risks and the real possibility that they will sacrifice their lives. Since September 11, 2001, 5,456 American service members have perished fighting terror in all its forms. They all have family and friends who mourn their loss. They are the human face of this long conflict, and they will not be the last — the fight goes on, as it must. They were the best of us, and they deserve to be honored by the nation they fought to preserve.
Senior Airman Bradley Smith was killed in southern Afghanistan supporting the 4th Infantry Division on January 3, 2010. His foot patrol was ambushed by the Taliban, who detonated a series of bombs as they entered the small village of Ashoque. Two soldiers were killed from the initial blasts, two severely wounded. Airman Smith and the unit medic moved forward to render aid to the wounded and recover the dead. As they reassembled, a second bomb detonated. Airman Smith was standing on it. In all, five members of the patrol perished, and six were badly wounded, including Airman Smith's fellow Air Force member Senior Airman Michael Malarise, who was blinded by shrapnel and is still recovering from his injuries.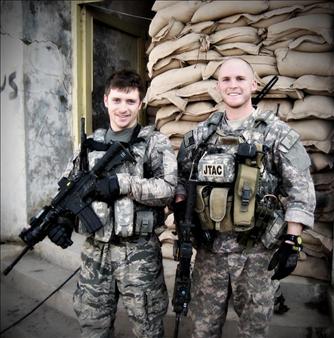 [Photo: Senior Airman Michael Malarsie (left) & Senior Airman Bradley Smith (right)]
Both Airmen were part of an elite group of Air Force warriors known as Tactical Air Control Parties (TACP). These remarkable airmen accompany forward Army units to coordinate air support to ground operations. Their training is rigorous and demanding. Their school at Hurlburt Field Florida has a high washout rate. Only the best get to wear the black beret with its distinctive crest. Airman Smith was one of the best, a battlefield airman, who always strived to excel, who always put in the extra effort, who earned the respect of all who knew him.
Brad was born on Sept 11, 1985. It was his birthday when hijacked airliners hit the Twin Trade Towers and the Pentagon. He was sixteen. He and his brother Brian both joined the Air Force. Most Americans spend their whole lives without doing a thing for their nation, but the Smiths had two sons volunteer to serve, to go into harms way, to do what has to be done. Their family has given us their most precious thing: the life of a son, their joy and their pride and their legacy. It is impossible to repay that sacrifice. It should make every American bow his head and say a prayer of thanksgiving that we have such families among us who raise our heroes and know such grief.
As much as Brad was a warrior, he was gentle — he fed the homeless and mentored young people at his church. He was loyal friend, a loving husband and proud new father, who called his wife Tiffany and their baby daughter Chloe Lynn every day, even from the war zone. Brad loved them with the same irrepressible energy with which he approached everything in his life.
At Brad's funeral, after the service had ended but before the interment, a long line of young men in blue uniforms and black berets slowly walked past the graveside. Each one briefly stopped to murmur private words of thanks and pressed the crest from their beret into the wood of his casket. A hundred and fifty were pinned there when the line ended. Then, in unison, those men, his comrades and fellow TACP airmen, saluted — a final farewell to a fallen brother. On their chests were purple hearts and awards for bravery, symbols of sacrifice and a commitment to duty we can only imagine. They have faced our enemies for us in all the perilous places of the world. They have fought the depravity of his ideology to bring freedom to those who have never known it.
Remember Brad on this Memorial Day. Bow your head in thanks for the terrible sacrifice his family has made for us. Remember Tiffany and Chloe as they struggle to cope in a world without their beloved husband and father. Remember Senior Airman Michael Malarise, who suffers with grievous wounds still. Remember all who now serve, far from home, in harms way, to guard the freedoms we too often forget were bought for us with the blood of fine young men like Senior Airman Bradley Smith.
The brave men who fell on 3 January 2010 in southern Afghanistan:
SGT Joshua Allen Lengstorf
B Co., 1-12 IN
SPC Brian Robert Bowman
B Co., 1-12 IN
SPC Robert John Donevski
B Co., 2-12 IN
PFC John Phillip Dion
B Co., 1-12 IN
SrA Bradley Randall Smith
10th Air Support Operations Squadron
The Tactical Air Control Party site usaftacp.com has photos of Brad's funeral and Tiffany and Chloe.
This article was first posted at AmericanThinker.com on May 31, 2010. Reprinted here May 19, 2011 for educational purposes only.