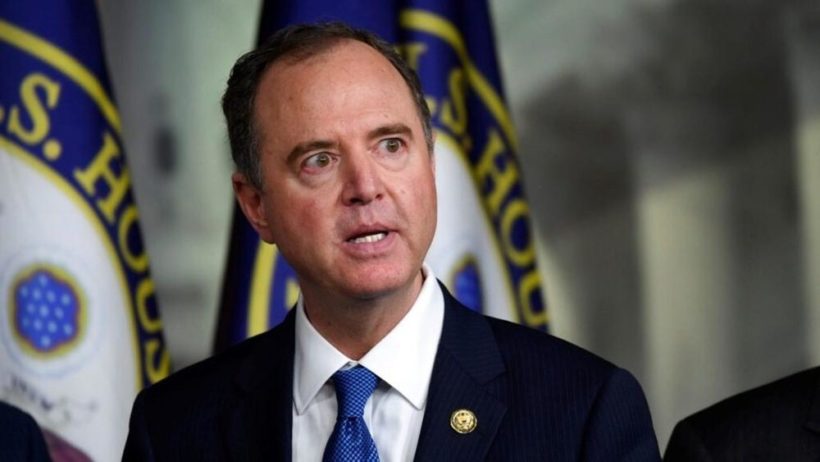 redo Jump to...
print Print...
(by Katie Pavlich, Townhall) — The man chosen by House Speaker Nancy Pelosi to lead the Democrats' impeachment efforts against President Trump not only lacks credibility but is deeply dishonest and corrupt.
House Intelligence Committee Chairman Adam Schiff has been lying to the American people about President Trump, his campaign and his administration for years. With subpoena power handed over after Republicans lost the House in 2018, he's become more emboldened to use deception and smears to meet his political goals.
In March, Schiff went on national television to declare "ample evidence" of collusion or conspiracy between the Trump campaign and the Russia government was "in plain sight." This wasn't true.
"The Special Counsel did not find that any U.S. person or Trump campaign official or associate conspired or knowingly coordinated with the IRA in its efforts, although the Special Counsel brought criminal charges against a number of Russian nationals and entities in connection with these activities," the Department of Justice released in conjunction with the Special Counsel earlier this year.
When the Mueller report failed to back up his claims, Schiff relied on Robert Mueller's July testimony to "bring the report to life." That didn't happen either.
But on August 12, 2019, Schiff got what he thought was another chance to pursue impeachment. That's the day Schiff received a complaint from an individual claiming to be a whistleblower, with second-hand knowledge, about an inappropriate phone call between President Trump and Ukrainian President Volodymyr Zelensky on July 25. The individual claimed Trump issued a quid pro quo, which included withholding military aid in return for an investigation into the Biden family's dealings in the country. The transcript of the call shows no such thing, but Schiff ran with it anyway and finally pushed House Speaker Nancy Pelosi into supporting an impeachment inquiry.
Rather than immediately share the allegation and complaint with fellow Committee members, Schiff held onto it until the end of September, raising serious questions about why he would do so.
Schiff's digital paper trail indicates he was coaching the "whistleblower," knew what was in the complaint and started using the accusations for his own campaign against President Trump. He [falsely] claimed he hadn't been in touch with the individual, but in fact, he had.
"Trump is withholding vital military aid to Ukraine, while his personal lawyer seeks help from the Ukraine government to investigate his political opponent. It doesn't take a stable genius to see the magnitude of this conflict. Or how destructive it is to our national security," Schiff tweeted on August 28.
Then, during the first hearing about President Trump's phone call, Schiff pretended to read the call transcript aloud. Instead of reading the words verbatim, which Schiff had been claiming were extremely damaging, he made up an entire conversation between Trump and Zelensky that didn't exist. He did this in front of television cameras with millions of people watching. After being called out by fellow Committee members for promoting a fake phone call, Schiff [claimed] that it was "parody."
Schiff couldn't get the president on collusion with the Russian government or obstruction of the Mueller probe. Schiff can't point to a crime in the President's July 25 phone call but has made the false accusation of bribery. For impeachment, he's grasping for obstruction of Congress as the White House refuses to participate in his political sham.
The irony is, while Schiff whines about stonewalling from the White House, he's doing stonewalling of his own. He's rejected legitimate requests from Republicans on his Committee, proving further this entire process is partisan and that Schiff wants to keep it that way.
Schiff is incapable of leading a fair hearing, not to mention an impeachment proceeding. In his effort to take down the president, Schiff has only exposed himself through bad faith efforts, parodies and false accusations.
Published November 13, 2019 at Townhall .com. Reprinted here November 14, 2019 for educational purposes only. May not be reproduced on other websites without permission from Townhall.
Questions
1. Tone is the attitude a writer takes towards his/her subject: the tone can be serious, humorous, sarcastic, ironic, inspiring, solemn, objective, cynical, optimistic, critical, enthusiastic…etc.
Which word do you think best describes the tone of Katie Pavlich's commentary? Explain your answer.
2. What is the main idea of Ms. Pavlich's commentary?
3. Ask a parent: what do you think about Ms. Pavlich's assertions about Adam Schiff? Please explain your answer.