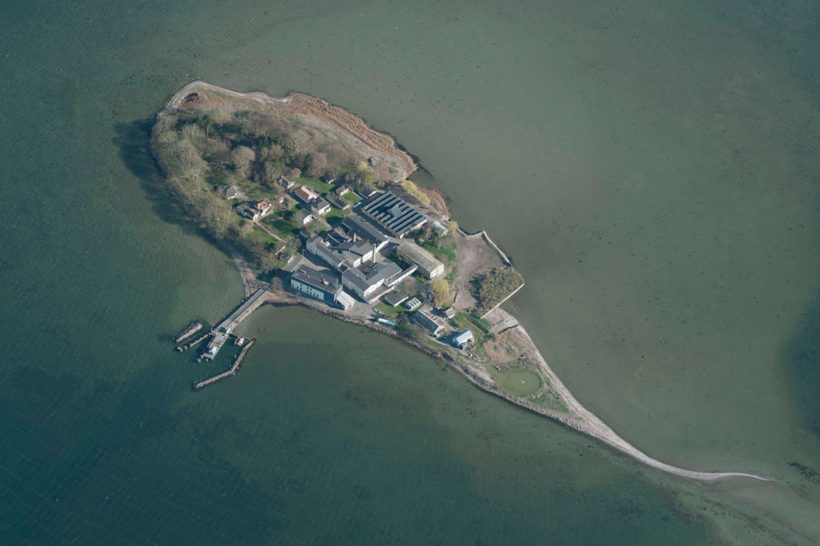 redo Jump to...
print Print...
(by James Rothwell, London's Daily Telegraph) – Foreign criminals sentenced to deportation are to be banished to a remote island off the coast of Denmark, the country's government has announced.
Finance minister Kristian Jensen said the criminals will be detained at a facility on Lindholm, an uninhabited seven-hectare island in the province of Vordingborg.
The [plan] was set up as part of an agreement between Denmark's conservative coalition government and its anti-illegal-immigration ally, the Danish People's Party (DF). …
A spokesman for the party said:
"Foreign criminals have no reason to be in Denmark. Until we can get rid of them, we will move them to the island of Lindholm, where they will be obliged to stay at the new deportation centre at night.

"There will be police there around the clock."
The Lindholm facility will house rejected asylum seekers who have been convicted of crimes, as well as foreign citizens who do not have permission to stay but cannot be deported for legal reasons.
For example, some of those due to be detained at the facility are stateless, while others come from countries which do not have a readmission agreement with Denmark.
"They will not be imprisoned," Mr. Jensen told Danish news agency Ritzau.  "There will be a ferry service to and from the island, but the ferry will not operate around the clock, and they must stay at the departure centre at night."
"There are more limits to how much you can move around when you are on a deserted island. You are in principle obliged to remain on the island. So we will have more control over where they are," Jensen said to Ritzau.

"It is a problem for us that we can see that some foreigners who have in fact been sentenced to deportation are still committing crimes, and we have no way of monitoring them," he added.
According to Danish news website The Local, opposition figures have strongly criticised the proposals, which one politician described as a "humanitarian collapse."
"The green government I want to lead would never force people on to a deserted island," said  Uffe Elbæk, a prime ministerial candidate and leader of the Alternative party. …
…There are already two detention centres in Denmark for criminals and failed asylum seekers:  Kærshovedgård and Sjælsmark.
Though nearly 87 per cent of the country's population is of Danish descent, the number of migrants and refugees from non-Western countries such as Afghanistan and Syria has risen sharply.
Published at telegraph .co .uk on December 2. Reprinted here for educational purposes only. May not be reproduced on other websites without permission from The Telegraph.
Questions
1. For DENMARK, give the following information:
capital

location/the countries that share its borders

the religious breakdown of the population

the type of government

the chief of state (and head of government if different) If monarch or dictator, since what date has he/she ruled? – include name of heir apparent for monarch

the population
Find the answers at the CIA World FactBook website. For each country, answers can be found under the "Geography" "People" and "Government" headings.
NOTE: Before answering the following questions watch the video under "Resources" below.
2. For DENMARK:
a) list the who, what, where and when of the news item
b) Who will be moved to the facility at Lindholm?
c) The people sent to Lindholm will not be imprisoned at the facility. When must they stay there?
d) What is the main reason for housing the convicted criminals on an island?
e) Progressive/liberal Danes oppose this plan and say it is inhumane. Consider how/why the foreign nationals are housed at Lindholm. What do you think? Is this an inhumane plan? Explain your answer.
Resources
The Danish People's Party (DF) official Twitter account celebrated the announcement by publishing an animated cartoon which shows a man being brough by boat to the island. Alongside the image, the party wrote: "Criminal foreigners have no reason to be in Denmark. Until we can [deport] them, we will move them to the island of Lindholm. They will be obliged to stay at the new deportation centre at night and there will be police around the clock. Great!"
WATCH THE VIDEO:
Daily "Answers" emails are provided for Daily News Articles, Tuesday's World Events and Friday's News Quiz.