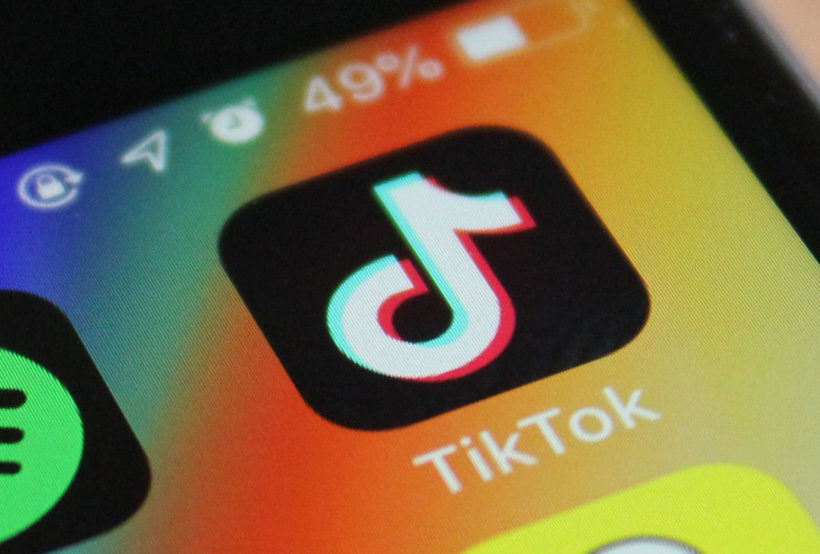 redo Jump to...
print Print...
(New York Post, Bloomberg News, CBS News, LA Times, Reuters, Oct. 24) — The Chinese-owned video app TikTok poses a potential "national security risk," Senators Chuck Schumer and Tom Cotton wrote in a letter Wednesday to Director of National Intelligence Joseph Maguire.
The lawmakers urged US intelligence officials to investigate possible threats the app poses, its data collection practices, and if the Chinese government influences what content American users see on the app.
The letter is part of government efforts to review the potential security threats of Chinese technology.
"With over 110 million downloads in the U.S. alone, TikTok is a potential counterintelligence threat we cannot ignore," wrote Senate Minority Leader Chuck Schumer, (D-NY), and Senator Tom Cotton (R-AR).

"Given these concerns, we ask that the Intelligence Community conduct an assessment of the national security risks posed by TikTok and other China-based content platforms operating in the U.S. and brief Congress on these findings," Schumer and Cotton wrote in the letter, which was made public Thursday.
Schumer and Cotton warned Thursday that the Chinese government may compel TikTok to give it the data TikTok collects, which includes "user content and communications, IP address, location-related data, device identifiers, cookies, metadata, and other sensitive personal information."
"Without an independent judiciary to review requests made by the Chinese government for data or other actions, there is no legal mechanism for Chinese companies to appeal if they disagree with a request," the senators wrote. Even though TikTok says that it operates outside China and keeps U.S data in the United States, [TikTok parent company] ByteDance must follow Chinese laws and turn over any data requested by the government, they added.
The senators said they also are concerned that the platform censors or manipulates content.
"TikTok reportedly censors materials deemed politically sensitive to the Chinese Communist Party," they said. This included "content related to the recent Hong Kong protests, as well as references to Tiananmen Square, Tibetan and Taiwanese independence, and the treatment of Uighurs."
Facebook Inc. Chief Executive Mark Zuckerberg has also said China's censored version of the internet could spread across the globe if other platforms do not fight for free speech. Six of the 10 largest internet platforms are Chinese, he said.
"Until recently, the internet in almost every country outside China has been defined by American platforms with strong free-expression values," Zuckerberg said in an address at Georgetown University last week. "There's no guarantee these values will win out."
The letter comes months after the Trump administration banned U.S. business with Huawei, a Chinese telecommunications giant. The administration cited Huawei's ties to the Chinese government, and concern that the company's technology could be used to spy on Americans — something Huawei not surprisingly denies.
This is the second time in the past month that senators called for a federal probe of TikTok and ByteDance. Senator Marco Rubio, a Republican from Florida, said the app should be investigated for censoring content that could upset the Chinese government. According to CB Insights, ByteDance is the world's largest start-up, with a valuation of $75 billion.
TikTok, which is owned by the Beijing-based tech company ByteDance, launched in 2016, and has been downloaded more than 1 billion times worldwide. TikTok lets users create short, looping clips — usually music, dance or comedy videos. The app spawned an entire industry of viral stars and influencers, and it is even used by several Democratic presidential candidates and major U.S. news organizations.
The [China]-based company acknowledged the lawmakers' concerns in a lengthy statement Thursday afternoon "to set the record straight."
"At TikTok, we take these issues incredibly seriously as well," the statement reads. "We are committed to transparency and accountability in how we support our TikTok users in the US and around the world."
The statement continues, "We store all TikTok US user data in the United States, with backup redundancy in Singapore. Our data centers are located entirely outside of China, and none of our data is subject to Chinese law."
As for concerns the Chinese government has a say in the app's content, the company said:
"TikTok does not remove content based on sensitivities related to China. We have never been asked by the Chinese government to remove any content and we would not do so if asked. Period."
But Schumer's not buying it, tweeting:
"It's owned by a Beijing[China]-based tech company. It's required to adhere to Chinese law. That means it can be [forced] to cooperate with intelligence work controlled by China's Communist Party."
Compiled from reports at New York Post, Bloomberg News, CBS News, LA Times, Reuters on October 24, 2019.
Questions
1. What concerns do Senators Chuck Schumer and Tom Cotton have about TikTok? Be specific.
2. What are the senators asking the Director of National Intelligence to do?
3. What did Senator Marco Rubio ask the U.S. Treasury Department to do earlier this month?
4. What concern does Facebook's Mark Zuckerberg have?
5. How did TikTok respond to Senators Schumer and Cotton? (What claims does the company make?)
6. TikTok and its China-based parent ByteDance state that U.S. customer data is stored outside of China, in the U.S. and Singapore. But this is different from saying China has no access to the data. Do you think China has remote access to all of TikTok's data, even though it may not be physically stored in China?
7. How did Senator Schumer respond to TikTok's claim that it is an independent company?
8. Knowing what has been revealed so far about China's control and censorship of the internet, if you had downloaded the app, would you delete it or continue to use TikTok?
Background
Senator Rubio asked the Treasury Department in a letter on October 9 to review (TikTok parent company) ByteDance's purchase of Musical .ly (which then became TikTok), accusing the company of censoring content on behalf of the Chinese government and the Communist Party.
"The Chinese government's nefarious efforts to censor information inside free societies around the world cannot be accepted and pose serious long-term challenges to the U.S. and our allies," the Florida senator wrote.
ByteDance acquired Musical.ly for $800 million in late 2017 and soon after was merged with its TikTok app. Based in Shanghai and California and a hit in the U.S., Musical.ly was seen as a way for the Chinese company to expand abroad and to capitalize on an increasing appetite for short video.
Rubio's request for a review by the Committee on Foreign Investment in the U.S., or Cfius, comes as the U.S. and China are locked in a trade war. This week, the U.S. blacklisted eight Chinese companies over alleged human rights violations
Cfius, led by the Treasury Department, reviews foreign acquisitions of U.S. businesses for security risks. It was given enhanced authority last year to scrutinize overseas investments amid rising concern about Chinese purchases of U.S. technology firms. National security officials in the Trump administration have scuttled a number of Chinese investments.
Although the committee doesn't comment on its work, its intervention underscored that officials want to prevent foreign governments from collecting and exploiting sensitive data on U.S. citizens.
In a statement in response to Rubio's letter, a TikTok representative claimed the Chinese government doesn't request censorship of its content, and wouldn't have jurisdiction because the company doesn't operate there.
It would also not be the first time Musical.ly has been under scrutiny. In February, ByteDance was fined $5.7 million by the Federal Trade Commission to settle allegations that Musical.ly illegally collected information from minors. (from an October 9 Bloomberg reprot by Giles Turner)
Resources
Watch an October 28th news report (from CBS 6KFDM):
Daily "Answers" emails are provided for Daily News Articles, Tuesday's World Events and Friday's News Quiz.