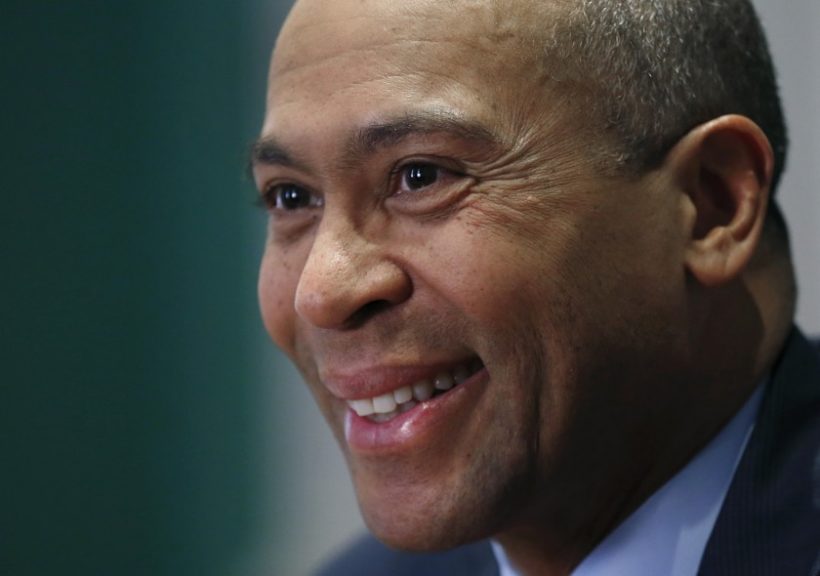 (by Yaron Steinbuch, New York Post) – Deval Patrick, the former two-term Democratic governor of Massachusetts, announced Thursday that he will join the 2020 presidential race, injecting a new layer of uncertainty into the contest less than three months before the first [Democratic primary election].
The 63-year-old, who served as governor from 2007 to 2015, was most recently a managing director at Bain Capital, a private equity firm, and served as a CBS News contributor since September [until his announcement this week]. …
Patrick, a former federal prosecutor with close ties to Barack Obama, said last December that he would not seek the presidency, citing the potential strain on his family, according to CBS.
In addition to Patrick, former NYC Mayor Michael Bloomberg [a life-long Democrat who ran and was elected in NYC as a Republican, but then became an Independent and is now running as a Democrat] has taken steps toward launching a last-minute White House run, filing candidate papers in Alabama and Arkansas.
Even 2016 nominee Hillary Clinton this week said in a BBC interview that she was "under enormous pressure from many, many, many people to think about it," adding that she has no such plans but still would "never, never, never say never."
The moves reflect uncertainty about the direction of the Democratic contest with no commanding front-runner.
Joe Biden, who entered the race as the presumptive favorite, maintains significant support from white moderates and black voters, whose backing is critical in a Democratic primary.
But he's facing challenges from Patrick's home-state senator, Elizabeth Warren, and Vermont Sen. Bernie Sanders, progressives [Sanders is a "Democratic-Socialist"] whose calls for fundamental economic change have rattled moderate Democrats and wealthy donors.
Patrick could present himself as a possible bridge across the moderate, liberal and progressive factions — as candidates like Mayor Pete Buttigieg, Sen. Kamala Harris and Sen. Cory Booker are trying to do.
But he faces serious hurdles to raise vast amounts of money quickly and to build an organization in the traditional early-voting states that most of his rivals have focused on for the past year.
And he'll have to pivot to the expensive and logistically daunting Super Tuesday contests, when voters in more than 12 states and territories head to the polls. [Super Tuesday refers to the Tuesday in a presidential election year when the largest number of states and territories hold a presidential preference primary or caucus. In 2020, Super Tuesday will be held on March 3 – from ballotpedia]
Bloomberg's team has said they will skip the early states of Iowa, New Hampshire, Nevada and South Carolina to focus on the Super Tuesday roster.
As the first black governor of Massachusetts and only the country's second elected black governor since Reconstruction, Patrick also could run as a historic boundary breaker trying to dent Biden's support among African Americans.
Patrick has remained active in politics since his term as governor ended in 2015.
During the 2018 midterm elections, he traveled across the US in support of Democratic candidates, raising his national profile.
"He's a dynamic speaker," Texas Democratic Chairman Gilberto Hinojosa said, recalling Patrick headlining a Texas Democratic fundraiser ahead of the midterms. "But that's the last we've heard from him."
Patrick also campaigned for Doug Jones during Alabama's contentious 2017 special election for US Senate.
Last year, some of his supporters and close advisers launched the Reason to Believe political action committee, "a grassroots organization dedicated to advancing a positive, progressive vision for our nation in 2018 and 2020."
By December, though, Patrick cooled to the idea of a presidential run.
"After a lot of conversation, reflection and prayer, I've decided that a 2020 campaign for president is not for me," Patrick posted on his Facebook page at the time.

Patrick said he and his wife worried that the "cruelty of our elections process would ultimately splash back on people whom Diane and I love, but who hadn't signed up for the journey."
Published at NYPost .com with Post wires. Reprinted here for educational purposes only. May not be reproduced on other websites without permission from the New York Post.
Questions
1. The first paragraph of a news article should answer the questions who, what, where and when. List the who, what, where and when of this news item. (NOTE: The remainder of a news article provides details on the why and/or how.)
2. What positions has Gov. Patrick held since leaving office in 2015?
3. Name the two additional Democrats considering jumping into the race. How close is each to declaring a run?
b) Do you think either of these – and/or Deval Patrick would have a good chance of beating the current Democratic contenders? Explain your answer.
4. How might Gov. Patrick present himself as opposed to extreme progressives Bernie Sanders and Elizabeth Warren?
5. What challenges does Gov. Patrick face in his bid for Democratic nominee?
6. Joe Biden is positioned as the more moderate Democratic candidate, but it has been reported that although he has been the strong frontrunner, Democrats are concerned about his weak campaign. Patrick could be the moderate that moderate Democrats are looking for. What do you think: is there room for / a need for Mr. Patrick? Explain your answer.
7. The reporter notes Patrick has close ties to former President Barack Obama, who has not chosen to endorse his vice president, Democratic front-runner Joe Biden. Which candidate do you think President Obama should endorse – and/or campaign for?  Why?
CHALLENGE: How does Gov. Patrick stand on issues important to Democratic voters as compared to Biden?
and as compared to Warren and Sanders?
Ex: healthcare coverage, economy, income equality, gun control/new gun laws, border security (open borders, wall, deportation, sanctuary cities, illegal immigration, taxes on "the rich," climate change policy, energy, support for LGBTQ issues …
Check out the Student News Daily 2020 Election page.
Resources
Watch a Nov. 14 CBS News report:
Daily "Answers" emails are provided for Daily News Articles, Tuesday's World Events and Friday's News Quiz.