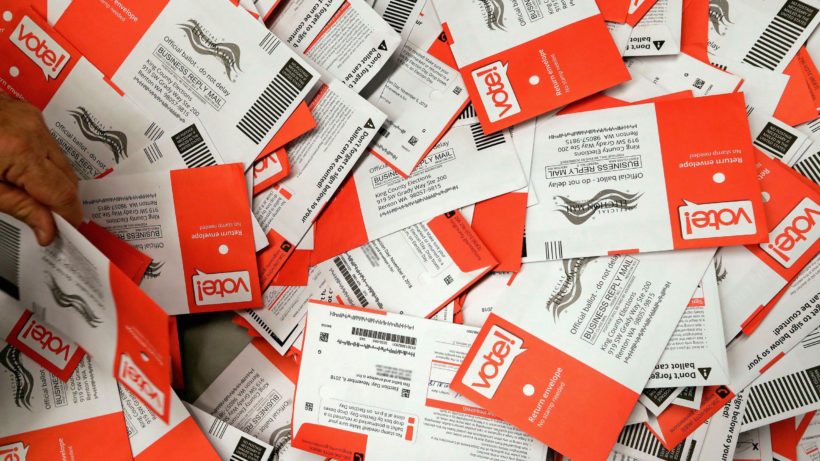 #1 – Nearly 50,000 voters in Ohio mailed wrong ballots (by Jon Levine, NY Post, Oct. 10)
Almost 50,000 voters in Ohio received faulty ballots in the mail due to a technical error, just weeks before the 2020 presidential election.
Local officials in Franklin County, home to the state's capital Columbus, said the error happened after a setting was changed on a machine which sorts absentee ballots into envelopes, Politico reported. They have promised corrected ballots will be sent out within 72 hours.
Despite isolating the problem to a single issue, the snafus were varied. Some ballots had incorrect congressional races, while others were mailed to people in the wrong precinct.
Ohio is one of around a dozen potential swing states in the 2020 election between President Trump and Joe Biden, making ballot errors there particularly notable.
The news continues to fuel questions about the integrity of absentee ballots as the coronavirus pushes Americans to vote by mail in what are expected to be unprecedented numbers. Other systems in other states have also been plagued by similar problems.
---
#2 – Nearly 100,000 Brooklyn voters received mislabeled absentee ballot envelopes (from NY news radio 1010 WINS, by Maya Rajamani, Sept. 29, with NY Post)
Nearly 100,000 voters in Brooklyn received absentee ballots with the wrong names and addresses on the return envelopes, according to reports.
Voters in neighborhoods including Park Slope, Crown Heights, Bushwick and Sunset Park told Gothamist / WNYC they received absentee ballot envelopes with someone else's name and address on them.
The New York City Board of Elections confirmed that some voters received the mislabeled envelopes, blaming it on an "outside vendor error."
BOE Executive Director Michael Ryan on Tuesday said the vendor would mail out new ballots to those voters "to make certain that absolutely no disenfranchisement occurs in the borough of Brooklyn."
Voters who received the wrong envelope were sent a new ballot and asked to destroy earlier ones, though anyone who already voted was asked to vote again.
In the 2020 primaries, more than 84,000 mailed-in ballots were never counted at all.
---
#3 – Nearly 7,000 voters in one NJ town received incorrect mail-in ballots (News12 NJ, Oct. 7)
Thousands of residents in the town of Teaneck received mail-in ballots with the wrong House of Representatives' names printed on them, less than a month before the November election, and a quarter of the township's votes are now in jeopardy.
Bergen County election officials say that more than 28,000 ballots were mailed to Teaneck voters, and nearly 7,000 in the township received an incorrect ballot. There are two congressional districts in Teaneck, and residents received the wrong ballot for their Congress representatives.
Bergen County Clerk John Hogan said it was an isolated issue.
"It was a programming error that had occurred in the mail house because of the volume of ballots that had to go out," Hogan said.
Hogan said impacted voters have been identified and will receive new corrected ballots.
Anyone who got an incorrect ballot and hasn't voted yet should wait to use the corrected ballot.
Those who may have already voted with the incorrect ballot should vote again with the corrected one, according to Hogan. In that case, he says only the corrected ballot will be counted.
The corrected ballots should arrive to voters by the end of the week.
---
#4 – Queens, NY voters receiving mail-in ballots marked for military use (by Carl Campanile, Nolan Hicks and Aaron Feis, NY Post, Sept. 28)
Voters in New York City have received mail-in ballots for the 2020 presidential election marked for military use despite never having served in the armed forces — causing confusion and concerns over whether the ballots can or should be used.
The misprint makes it appear that the voters received a "Official Military Absentee Ballot" instead of a "Military/Absentee Ballot," leaving several borough residents who received the documents — including two Post journalists — worried that their votes might not be properly tallied.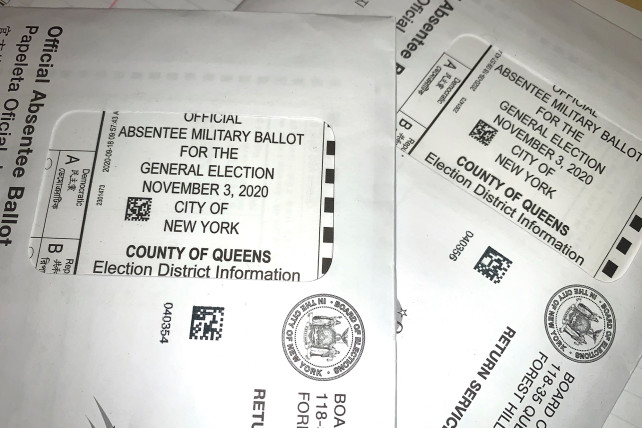 "I believe that's just the tip of the iceberg," said City Councilman Jimmy Van Bramer, referring to the constituents in his Sunnyside district who have reached out to him about receiving the ballots. "It appears that everyone has gotten this particular ballot." …

"There's just mass confusion about these ballots and what people are supposed to do with them," said Van Bramer, "People were already not trusting this process and they were already not trusting the Board of Elections to count the ballot right."
Van Bramer, a Democrat, said he was informed by the city BOE that the issue stemmed from a typographical error, wherein a dash meant to separate the words "absentee" and "military" was dropped.
"This apparent typo just has everyone confused and believing these are invalid ballots," he said. "It's absolutely outrageous that when everyone is watching them, they still screw up the most basic thing, which is printing the ballot correctly. "Did no one proof this?"
A spokeswoman for the city BOE confirmed that the punctuation was dropped, but insisted the ballots would be fully counted and that mail-in voters in all five boroughs should expect similar forms.
"All absentee ballots are labeled `Absentee Military Ballot,' even for non-military voters," said the BOE's Valerie Vazquez.
Some 520,000 ballots have already been mailed but the Elections Board could not say how many of those have the error.
---
#5 – Nearly 1,400 Virginia voters got two ballots in the mail (by Evan Lambert, Fox5 DC, Sept. 28 with Michael Ruiz at FoxNews)
According to several media reports about 1,400 voters in Virginia got two absentee ballots mailed to them, but elections officials said only one would be counted.
Elections officials in Fairfax County told the Washington Post a printer problem led employees to mistakenly mail two ballots to more than 1,000 voters.
Officials blamed the confusion on label printing machines that jammed, erroneously causing some to be duplicated when entire pages were reprinted due to damage to just some of the labels.
"Before the supervisors caught it, the people applying the labels applied them to the entire sheet of labels rather than just pulling out the ones that should have been processed," Fairfax County Registrar Gary Scott told NBC 4 Washington.
Scott added that only one ballot would be counted per voter if an extra was mailed in and said voters who received two should destroy one.
Officials told the Post there are safeguards in place to make sure someone can't vote twice. If a voter tried, a state verification system would reject a second ballot from a person with the same identity.
---
#6 – Over 400 ballots for Michigan military, overseas voters incorrectly labeled President Trump's running mate (Click On Detroit, Sept. 15 with NY Post)
A glitch caused 400 ballots printed for military and overseas voters to have Jeremy Cohen listed as President Donald Trump's running mate.
Cohen is the Libertarian Party candidate for vice president.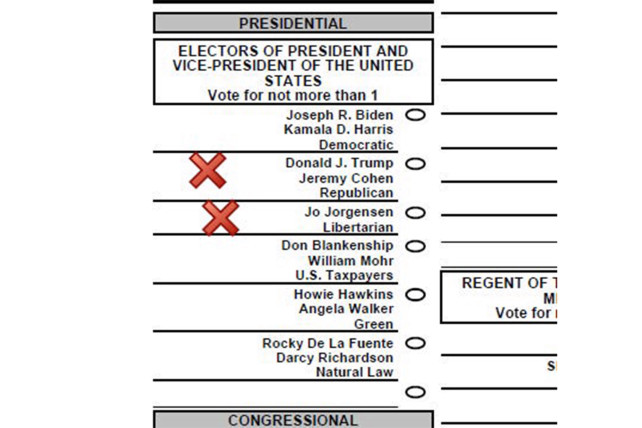 Michigan Secretary of State Jocelyn Benson's office said the glitch has since been dealt with.
"There was a temporary error in the QVF data that had caused some ballots downloaded to display incorrect ballot information when clerks downloaded the QVF ballot sent to military and overseas voters," said spokeswoman Tracy Wimmer.
The Board of Elections reached out to local clerks and told them to reprint the ballot and instruct the voter to ignore the first ballot.
According to Benson's office, the misprinted ballots would still be counted if used in voting.
"If a voter does happen to return the incorrect ballot instead of the correct ballot, it will still count. The clerk will be instructed to duplicate a vote for Trump onto a ballot for Trump/Pence," Wimmer said.
The erroneous ballots were meant to be mailed or emailed to Michigan residents living abroad under the Military and Overseas Empowerment (MOVE) Act, according to The Detroit News. Those ballots are usually downloaded or printed and sent upon request from an overseas voter.
---
#7 – Nearly 500 North Carolina voters receive two absentee ballots (by Associated Press and WBTV Web Staff, Sept. 17)
A mixup with the first absentee ballots sent in North Carolina caused some voters to receive two identical ballots for the November general election, according to election officials.
Mecklenburg County election officials said this week that some ballots intended for voters in Matthews were mislabeled with the wrong names and were shredded before they could be sent.
When officials printed new mailing labels to correct the mistake, some voters ended up getting two duplicate ballots.
Election Director Michael Dickerson said fewer than 500 voters were affected.
He added that it's unlikely voters could've cast two ballots since each mailing label has an individual code making it impossible to vote twice.
Karen Brinson Bell, executive director of the North Carolina State Board of Elections emphasized that North Carolina's statewide election management system will not allow a voter to vote twice in an election.
Bell said this mistake happened after an election worker misplaced labels on absentee return envelopes. Some ballots with misplaced labels had already made it to the mail stream before the issue was detected.
To ensure all affected voters received a ballot that could be successfully returned, Bell says a new ballot was mailed to them.
Bell emphasized that each absentee voter has a unique identifier barcode for their return application, and the state system will not permit two ballots from the same person to be accepted or counted.
Once one ballot is returned and accepted, officials say the voter's record reflects that he or she has already voted. Therefore, if that voter returned another ballot, it would not count.
---
#8 – Dallas-area mayoral candidate arrested for mail-in ballot fraud (CBS Dallas Ft. Worth, Oct. 8)
A mayoral candidate in Carrollton, TX has been arrested and charged with voter fraud.
The Denton County Sheriff's Office has Zul Mirza Mohamed in custody and charged him with 109 felonies related to voter fraud.
The investigation began September 23 when the sheriff's office was notified by the Denton County Elections Office of possible fraudulent activity related to absentee ballot applications.
Officials say absentee ballots had been requested to be sent to a P.O. Box in Lewisville, that was supposed to belong to a nursing home facility. When investigators made contact with the Carrollton residents whose ballots had been requested they learned that none of the residents had asked for ballots be mailed to the PO Box.
Further investigation revealed the PO Box had been obtained with a fictitious Texas driver license and a fictitious University of North Texas student ID.
To find out who was behind the scheme, officials began a surveillance of the postal facility.
A box of the requested ballots was picked up at the location on October 7. Investigators followed the person, later identified as Mohamed, back to a [house] in Carrollton and contacted a judge to get a search warrant for the house.
Once inside, deputies found the box containing the requested ballots, with several of them open. The fraudulent driver license used to rent the P.O. Box was also located during the search.
Sheriff Tracy Murphree said, "The fact an actual candidate for public office would engage in these activities is appalling."
Mohamed, who is currently a candidate for mayor in the city of Carrollton, was arrested and taken to the Denton County Jail. He has been charged with 25 counts of Unlawful Possession of Ballot/Ballot Envelope w/o Request of Voter, and 84 counts of Fraudulent Use of Mail Ballot Application. If convicted, he could spend up to 20 years in prison.
The current mayor is running for re-election in Carrollton, which has a population of more than 120,000.
"The fact that we caught it this time, doesn't mean it hasn't happened in elections past. I'm sure it has. Just people are paying more attention. I think election officials are paying more attention. I think they're keeping a closer eye on it. I personally believe voting by mail is a dangerous thing," Murphree said.
---
#9 – New Jersey postal worker charged with dumping mail, election ballots (by Darryl Coote, UPI, Oct. 8)
Authorities have arrested and charged a U.S. postal worker from New Jersey with throwing out nearly 2,000 pieces of mail including 99 ballots for November's general election that were intended for West Orange residents.
Nicholas Beauchene, 26, of Kearny, N.J., was arrested and charged Wednesday with one count of delay, secretion or detention of mail and one count of mail obstruction, the Justice Department said in a release.
Prosecutors accuse Beauchene of throwing out 1,875 pieces of mail, including…276 campaign flyers for local West Orange Town Council and Board of Education candidates and 99 general election ballots that were scheduled to be delivered to Orange and West Orange residents.
The complaint states that the mail was recovered from a North Arlington dumpster about a mile from Beauchene's house and from a dumpster outside a West Orange restaurant on Oct. 2 and Oct. 5.
The mail retrieved was scheduled to be delivered…to addresses on delivery routes Beauchene was the sole postal employee responsible for on those dates.
"The recovered mail was placed back into the mail stream for delivery to its intended recipients," the Justice Department said. "Copies of the recovered mail were made and retained for evidence."
If convicted, Beauchene could face a maximum penalty of five years in prison and a $250,000 fine for delaying or detaining mail charge and up to six months in prions and a $5,000 fine for the mail obstruction charge.
Questions
1. What caused the ballot problems in #'s 1-7 above?
2. How did election officials respond in most of these instances?
3. In your opinion, how could/should election officials in your state ensure that nothing like this happens in any election?
4. What measures does your state have in place to ensure that absentee AND mail-in ballots will only count one time, and that each voter's ballot is the one that counts? — How do officials ensure someone didn't mistakenly receive a duplicate ballot in a voter's name and turn it in? — What measures does your state Board of Elections have in place to ensure the integrity of the ballot?
5. Watch the video under "Resources" below. What is your reaction to Eric Eggers of the Government Accountability Institute's assertions about mail-in voting?
CHALLENGE: Visit StudentNewsDaily's "Mail in Voting" section on the General Election page. Read, watch the videos, answer the questions below the videos.
Resources
Is there a problem with mail-in voting?
Daily "Answers" emails are provided for Daily News Articles, Tuesday's World Events and Friday's News Quiz.