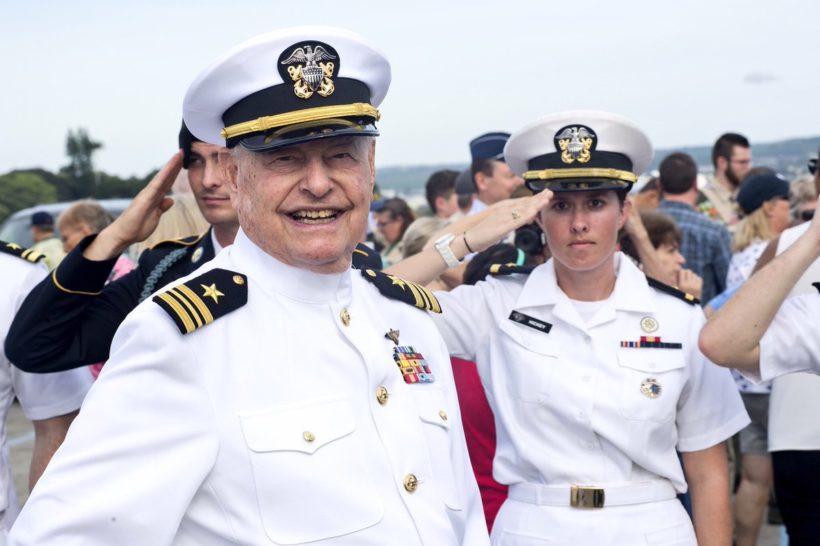 redo Jump to...
print Print...
(by Lisa Kubota, HawaiiNewsNow) HONOLULU, Hawaii  — One of the last remaining USS Arizona survivors received a hero's welcome in Honolulu on Tuesday. Water cannons greeted Lou Conter's Hawaiian Airlines flight from Sacramento.
The 98-year-old California resident and his family will attend Saturday's ceremony to mark the 78th anniversary of the Pearl Harbor attack.
"I always come out to pay respect for the 2,403 men that were killed that day, including 1,177 of my shipmates on the Arizona," he said.
On December 7, 1941, Conter was a Quartermaster Third Class on the Arizona.
After the bombing, he helped with firefighting and rescue efforts. He also recovered bodies from the battleship.
A documentary and a book about his remarkable life are now in the works.
"To preserve the history of the greatest generation that we're losing, and his story. It was so incredible," said Louann Daley, Conter's daughter. "Not only was he a survivor of the USS Arizona, but his career in the Navy after that, being shot down twice."
When Conter missed last December's ceremony due to an illness, for the first time, no survivor from the sunken battleship was at the tribute.
On Saturday, he will be there for the annual event at Pearl Harbor. Later in the day, his former shipmate, Lauren Bruner, will rejoin their fallen comrades in the final interment ceremony on the USS Arizona.
"We're losing that generation so quickly, and our younger generation needs to embrace the history and realize what great men these guys were and women," said Warren Hull, who is producing a documentary and a book about Conter. "We have so many great stories from that generation."
The other two USS Arizona survivors, Donald Stratton and Ken Potts, have indicated that they're no longer able to travel to Hawaii.
Conter says he plans to keep coming to Hawaii each year for as long as possible.
"People need to know our country is the way it is today because of people like him. He went above and beyond what he needed to do and he was just doing the right thing," said Annette Hull, co-producer of the documentary on Conter's life.
Copyright 2019 Hawaii News Now. Reprinted here for educational purposes only. May not be reproduced on other websites without permission from Hawaii News Now.
Questions
1. The first paragraph of a news article should answer the questions who, what, where and when. List the who, what, where and when of this news item. (NOTE: The remainder of a news article provides details on the why and/or how.)
2. a) How old is Lou Conter?
b) Why does Mr. Conter travel from California to Hawaii every year for December 7?
3. Why won't the other two USS Arizona survivors, Donald Stratton and Ken Potts, attend this years commemoration?
4. For what reason is a documentary and a book being made about Mr. Conter's life? Be specific.
5. Ask a grandparent what he/she learned about Pearl Harbor in school.
6. Read the "Background" and check out the "Resources" below. Why do you think it is important for students to learn about Pearl Harbor?
Background
THE ATTACK ON PEARL HARBOR The attack on Pearl Harbor was a surprise military strike conducted by the Imperial Japanese Navy against the United States naval base at Pearl Harbor, Hawaii on the morning of December 7, 1941.
The base was attacked by 353 Japanese aircraft in two waves, launched from six aircraft carriers.
Four U.S. Navy battleships were sunk (two of which were raised and returned to service later in the war) and the four other battleships present were damaged*
The Japanese also sank or damaged three cruisers, three destroyers, an anti-aircraft training ship and one minelayer.
188 U.S. aircraft were destroyed, 2,402 personnel were killed and 1,282 were wounded.
The power station, shipyard, maintenance, and fuel and torpedo storage facilities, as well as the submarine piers and headquarters building (also home of the intelligence section) were not attacked.
Japanese losses were light, with 29 aircraft and five midget submarines lost, and 65 servicemen killed or wounded. One Japanese sailor was captured.
The following day (December 8) the United States declared war on Japan.
Subsequent operations by the U.S., as well as the Axis alliance, prompted Germany and Italy to declare war on the U.S. on December 11, which was reciprocated by the U.S. the same day.
Despite numerous historical precedents for unannounced military action, the lack of any formal warning by Japan, particularly while negotiations were still apparently ongoing, led to President Franklin D. Roosevelt proclaiming December 7, 1941, "a date which will live in infamy."  (exerpted from wikipedia)
*About the Battleships:
USS Arizona (Kidd's flagship): hit by four armor-piercing bombs, exploded; total loss. 1,177 dead.
USS Oklahoma: hit by five torpedoes, capsized; total loss. 429 dead. Refloated November 1943; capsized and lost while under tow to the mainland May 1947.
USS West Virginia: hit by two bombs, seven torpedoes, sunk; returned to service July 1944. 106 dead.
USS California: hit by two bombs, two torpedoes, sunk; returned to service January 1944. 100 dead.
USS Nevada: hit by six bombs, one torpedo, beached; returned to service October 1942. 60 dead.
USS Tennessee: hit by two bombs; returned to service February 1942. 5 dead.
USS Maryland: hit by two bombs; returned to service February 1942. 4 dead (including floatplane pilot shot down).
USS Pennsylvania (Kimmel's flagship):[111] in drydock with Cassin and Downes, hit by one bomb, debris from USS Cassin; remained in service. 9 dead.
In a speech Dec. 8, 1941 asking Congress to declare war on Japan after the bombing of Pearl Harbor, President Franklin D. Rooselvelt said in part:

"Yesterday, December 7, 1941 – a date which will live in infamy – the United States of America was suddenly and deliberately attacked by naval and air forces of the Empire of Japan… No matter how long it may take us to overcome this premeditated invasion, the American people will through their righteous might win through to absolute victory… With confidence in our armed forces – with the unbounded determination of our people – we will gain the inevitable triumph – so help us God. I, therefore, ask that the Congress declare that since the dastardly and unprovoked attack by Japan on Sunday, December 7th, a state of war has existed between the United States and the Japanese Empire."

-Read FDR's speech to Congress at fdrlibrary.marist.edu, OR
-Listen to FDR's speech to Congress at history.com.
Watch President Franklin D. Roosevelt's speech to Congress on Dec. 8, 1941 the day after the Japanese bombing of Pearl Harbor, in which he asks Congress to declar war on Japan:
Resources
Watch a December 4 news report on Mr. Conter:
---
Read an interview with Mr. Conter from 2016 at airspacemag.com.
Visit the USS Arizona's twitter page @USSArizona
Few survivors of the Pearl Harbor attack are still alive. In July 2017, five of the remaining survivors from the USS Arizona, the ship hit hardest by the attack, reunited at Arlington National Cemetery in July to pay tribute to those who were killed. The Arizona sank after it was hit by an 1,800-pound bomb, killing 1,177 sailors.
Daily "Answers" emails are provided for Daily News Articles, Tuesday's World Events and Friday's News Quiz.