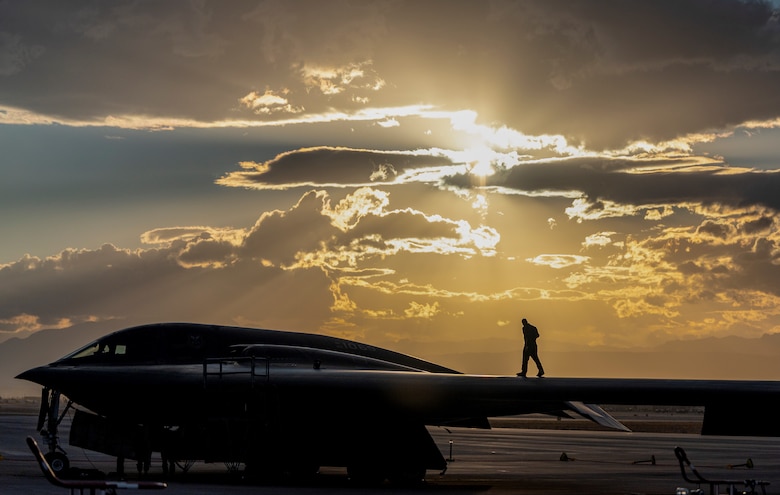 (by Ed Adamczyk, UPI) — A 19-day combat training exercise is underway at Nellis Air Force Base, Nev., emphasizing space and cyberspace integration, the Air Force said on Monday.
One of the branch's largest exercises, the annual event, this year known as Red Flag 21-1, includes the involvement of the Air Force, the U.S. Space Force, the U.S. Army Space and Missile Command and the air forces of several allied nations.
"We've employed space electronic warfare capabilities that support full-spectrum national security objectives, along with offensive cyber capabilities across adversary data networks affecting that network's ability to pass data or function properly," said Capt. Kaylee Taylor of the 414th Combat Training Squadron.
Forces serve as adversaries in "red-team"/"blue-team" standoffs, with "white teams" as neutral players who steer exercises. GPS and satellite communications are used to recognize, counter and defeat threats.
"As a unit whose mission is to know, teach and replicate enemy threats — we support the USSF blue players who are currently pushing their individual missions forward in an effort to train expert Guardians [Space Force personnel]," said Maj. Scott Hollister, 26th SAS flight commander of Adversary Plans Flight.

"This includes teaching representatives from our joint and allied partners on how to employ specific tactics," Hollister said.
About 2,400 participants are involved in the exercise, which began on Jan. 25 and will conclude on Feb. 12.
They comprise active-duty personnel and reservists from 20 states and three countries.
["Red Flag gives participating units with different mission sets an opportunity to train together during a large-force, joint interoperability live-fly exercise," said Senior Master Sgt. Michael Consigny, 414th CTS superintendent. "This experience provides our Combat Air Forces combat-ready squadrons that are prepared to integrate down range for today's fight or any future near-peer conflict"].
Aircraft involved include the the F-22 Raptor, F-35 Lightning II, F-16 Fighting Falcon, EA-18G Growler, F-15E Strike Eagle and A-10 Thunderbolt II. The 509th Bomb Wing of Whiteman Air Force Base, Mo., is regarded as in the "lead wing" position.
In a concurrent exercise, Green Flag-West is underway at the U.S. Army Combat Training Center at Fort Irwin, Calif. Led by the 57th Wing of the Air Force Warfare Center, the training involves air support of ground forces executing combat operations.
["The 57th Wing is charged to provide world-class training to U.S. and allied aircrews year-round, COVID or not," said Brig. Gen. Michael Drowley, 57th Wing commander. "Our team's mission to prepare participants for the high-end fight and great power competition continues unabated, and we're confident the months of coordination and logistical planning we've poured into both Flags will enable their effective, simultaneous success"].
Published at UPI on Feb. 8. Reprinted here for educational purposes only. May not be reproduced on other websites without permission.
Questions
1. What is Red Flag 21-1? Be specific.
2. List the branches of the military that participate in Red Flag 21-1.
3. What do the Red Flag exercises entail?
4. What is the mission of Maj. Scott Hollister's unit?
5. What is the number of participants taking part in Red Flag? Where are they from?
6. How necessary, in 2021, do you think military exercises like Red Flag (and Green Flag-West) are for the safety and security of our nation? Explain your answer.
7. During his time in office, President Trump built up the U.S. military (and created the U.S. Space Force).
Prior to his inauguration, Reuters reported, "President-elect Joe Biden will come under immense pressure from progressives in the Democratic party to cut the defense budget once he takes office in January."
In May, progressive groups pressed Biden, if he won, to cut the Pentagon's budget by $200 billion each year, end the refurbishment of the nation's nuclear arsenal begun under Defense Secretary Jim Mattis and to get rid of the Space Force.
In July, Democratic Senators Bernie Sanders and Chuck Schumer proposed cutting the military budget by 10%.
Consider the aggressive actions of several U.S. adversaries including China, Iran and North Korea and the fact that China is greatly increasing military spending.
What do you think President Biden should do? Listen to his progressive base and cut the military/military spending, or continue President Trump's buildup and support for the military? Explain your answer.
Resources
Read more about Red Flag21-1 at af.mil.
---
Red Flag 21-1 Morning Takeoffs Nellis Air Force Base (near Las Vegas, Nevada). (Jan. 26)
---
Time Lapse of Nellis Air Force ramp during Red Flag 21-1
Daily "Answers" emails are provided for Daily News Articles, Tuesday's World Events and Friday's News Quiz.