redo Jump to...
print Print...
(by Jeremy Page, Timesonline.co.uk) – The UN's top climate change body has issued an unprecedented apology over its flawed prediction that Himalayan glaciers were likely to disappear by 2035.
The Intergovernmental Panel on Climate Change (IPCC) said yesterday that the prediction in its landmark 2007 report was "poorly substantiated" and resulted from a lapse in standards. "In drafting the paragraph in question the clear and well-established standards of evidence, required by the IPCC procedures, were not applied properly," the panel said. "The chair, vice-chair and co-chairs of the IPCC regret the poor application of IPCC procedures in this instance."
The stunning admission is certain to embolden critics of the panel, already under fire over a separate scandal involving hacked e-mails last year.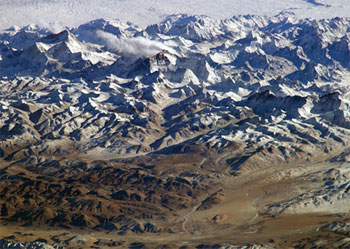 The 2007 report, which won the panel the Nobel Peace Prize, said that the probability of Himalayan glaciers "disappearing by the year 2035 and perhaps sooner is very high". It caused shock in Asia, where about two billion people depend on meltwater from Himalayan glaciers for their fresh water supplies during the dry seasons.
It emerged last week that the prediction was based not on a consensus among climate change experts but on a media interview with a single Indian glaciologist in 1999. That scientist, Syed Hasnain, has now told The Times that he never made such a specific forecast in his interview with the New Scientist magazine.
"I have not made any prediction on date as I am not an astrologer but I did say they were shrinking fast," he said. "I have never written 2035 in any of my research papers or reports." Professor Hasnain works for The Energy and Resources Institute (TERI) in Delhi, which is headed by Rajendra Pachauri, head of the [IPCC] climate change panel.
Dr Pachauri has defended the panel's work, while trying to distance himself from Professor Hasnain by saying that the latter was not working at the institute in 1999: "We slipped up on one number, I don't think it takes anything away from the overwhelming scientific evidence of what's happening with the climate of this Earth."
Professor Hasnain confirmed that he had given an interview to Fred Pearce, of New Scientist, when he was still working for Jawaharlal Nehru University in 1999. "I said that small glaciers in the eastern and central Himalaya are declining at an alarming rate and in the next 40-50 years they may lose substantial mass," he said. "That means they will shrink in area and mass. To which the journalist has assigned a date and reported it in his own way." Mr Pearce was not immediately available for comment.
Despite the controversy, the IPCC said that it stood by its overall conclusions about glacier loss this century in big mountain ranges including the Himalayas. "This conclusion is robust, appropriate, and entirely consistent with the underlying science and the broader IPCC assessment," it said.
The scandal threatens to undermine the panel's credibility as it begins the marathon process of drafting its Fifth Assessment Reports, which are due out in 2013-14. Georg Kaser, a leading Austrian glaciologist who contributed to the 2007 report, described the glacier mistake as huge and said that he had warned colleagues about it months before publication.
The error is also now being exploited by climate sceptics, many of whom are convinced that stolen e-mail exchanges last year revealed a conspiracy to exaggerate the evidence supporting global warming.
Jairam Ramesh, the Indian Environment Minister, said on Tuesday the scandal vindicated his position that there was no proof that Himalayan glaciers were melting abnormally fast. "The IPCC claim that glaciers will vanish by 2035 was not based on an iota of scientific evidence," he said.
Monitoring Himalayan glaciers is extremely difficult because most of them lie in some of the most inhospitable terrain in the word at an altitude of more than 5,000 metres (16,000ft).
Most studies until now have therefore been based necessarily on a mixture of outdated and incomplete data, satellite imagery, photography, and anecdotal evidence.
Last year, however, TERI launched a project to install high-tech sensors on three glaciers which it will use as benchmarks to assess the situation across the Himalayas.
Professor Hasnain, who is running the project, said that he would soon be presenting a report on the status of Himalayan glaciers, based on research works by Indian and international scientists published in different peer reviewed journals across the world.
He hopes that these studies will help to produce more incontrovertible evidence that the Himalayan glaciers are under threat. In the short term, however, it seems they will do little to convince climate change sceptics, or to repair the image of the IPCC.
Reprinted here for educational purposes only. May not be reproduced on other websites without permission from The Times Online. Visit the website at timesonline.co.uk.
Questions
1. a) What is the IPCC?
b) Why did the IPCC issue an apology recently?
2. What facts made it necessary for the IPCC to apologize?
3. What prize did the IPCC win for the report for which it is now apologizing?
4. What information did the IPCC use as the basis for its prediction in the 2007 report?
5. a) How does Professor Hasnain know IPCC chairman Rajendra Pachauri?
b) How has Professor Hasnain refuted/explained the IPCC's claims about him?
6. How does the IPCC's announcement about its 2007 report affect your view of its credibility?
7. The IPCC's entire claim on the Himalayas was based on Prof. Hasnain's prediction. What do you think of IPCC chair Rajendra Pachauri's attempt to brush aside Prof. Hasnain's explanation of what he really said in para. 7?
8. a) Read the "Background." Do you think that the U.S. Congress should pass cap and trade legislation at this time? Explain your answer.
b) Ask a parent the same question.
Background
Global warming is an important issue to understand. The theory that man's use of fossil fuels (burning coal, oil and gas for energy, which produces carbon dioxide, or CO2) is causing an imminent catastrophic change in the climate – global warming – is believed to be true by many scientists, climatologists, citizens, the mainstream media and Hollywood celebrities, and was made popular by former Vice President Al Gore's movie "An Inconvenient Truth." People who believe in this theory say we must reduce the amount of carbon dioxide produced by limiting/reducing the amount of fossil fuels we use, or by purchasing offsets.
The belief that man's activities are not causing an imminent catastrophic change in the climate is held by many other scientists [see MIT's Professor of Meteorology Dr. Richard Lindzen's commentary in Newsweek here]. (This view is very unpopular in the media and widely condemned by those who believe man-made global warming is fact.) Those who do not believe man is causing the global temperature to rise don't believe it is necessary to reduce the production of CO2 by reducing our use of fossil fuels or to purchase carbon offsets.
Greenhouse gases are components of the atmosphere that contribute to the greenhouse effect. Some greenhouse gases occur naturally in the atmosphere, while others result from human activities such as burning of fossil fuels such as coal. Greenhouse gases include water vapor, carbon dioxide, methane, nitrous oxide, and ozone. (from wikipedia.org)
Carbon offsetting involves paying others to remove or [contain] 100% of the carbon dioxide emitted from the atmosphere – for example by planting trees – or by funding 'carbon projects' that should lead to the prevention of future greenhouse gas emissions, or by buying carbon credits to remove (or 'retire') them through carbon trading. These practices are often used in parallel, together with energy conservation measures to minimize energy use. (from wikipedia.org)
ON CAP AND TRADE LEGISLATION: Read an article about the proposed legislation here.
Democrats in the House and Senate have worked to advance climate change legislation (a top Obama administration priority) aimed at reducing carbon emissions. The House bill (known as cap and trade) would force companies to reduce their carbon emissions by 17 percent by 2020 and 83 percent by 2050, from 2005 levels.
Under cap and trade, U.S. industries would receive permits to release less and less carbon dioxide into the atmosphere over the next four decades.
Meanwhile, utilities, steel mills, oil refineries and a range of manufacturers could sell those permits to each other on an as-needed basis.
Republican Senator James Inhofe warned of rising consumer prices if companies are forced to switch to more expensive alternative fuels. "Once the American public realizes what this legislation will do to their wallets, it will be soundly rejected," Inhofe predicted.
Daily "Answers" emails are provided for Daily News Articles, Tuesday's World Events and Friday's News Quiz.