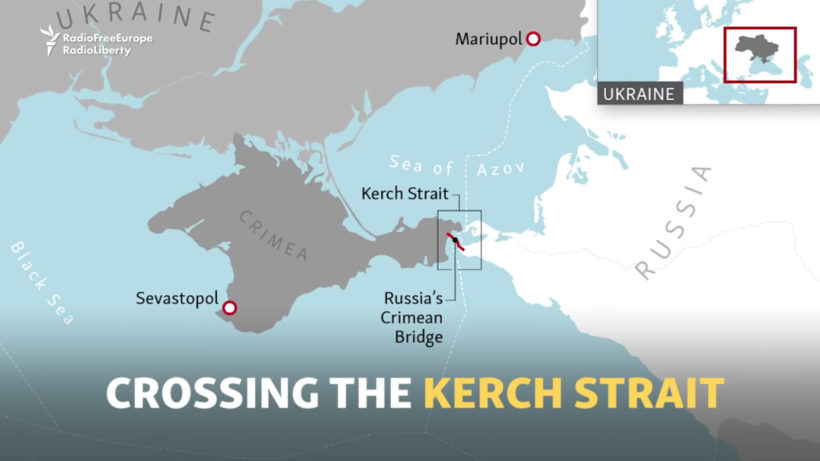 redo Jump to...
print Print...
(by Marisa Schultz and Bruce Golding, NY Post) – Ukraine braced for war Monday as its president warned of a potential Russian invasion in the wake of Sunday's attack on three Ukrainian military ships.
President Petro Poroshenko told the Ukrainian Parliament that intelligence pointed to "a highly serious threat of a ground operation against Ukraine."
He didn't elaborate while asking the Supreme Rada to impose martial law for 30 days, but insisted that his request "doesn't mean declaring a war."
"It is introduced with the sole purpose of boosting Ukraine's defense in the light of a growing aggression from Russia," he said in the capital city of Kiev.
The escalating crisis came amid international outrage over the incident in the Kerch Strait, with European Council President Donald Tusk condemning Russia's "use of force" and demanding it "return Ukrainian sailors, vessels and refrain from further provocations…."
Following an emergency meeting with Ukrainian ambassadors in Brussels, NATO Secretary-General Jens Stoltenberg also repeatedly warned that "Russia has to understand that its actions have consequences."
Ukraine's navy has said Russia captured 24 crew members, including six who were wounded when their ships came under fire off Crimea.
Russia invaded Crimea and annexed it from Ukraine, a former Soviet republic, in 2014 and about 10,000 people have been killed in ongoing fighting between Ukrainian forces and Russian-backed separatists in eastern Ukraine since then.
During an emergency meeting of the UN Security Council, US Ambassador Nikki Haley accused Russia of committing "outlaw actions" that were making a "normal relationship" between Washington and Moscow "impossible." …
…President Trump is scheduled to meet with Russian President Vladimir Putin this week at the G-20 summit in Buenos Aires, Argentina.
Russian Foreign Minister Sergey Lavrov accused Ukraine on Monday of violating international law by failing to get permission before its ships headed into the Kerch Strait, which connects the Black Sea with the Sea of Azov. …
A 2003 treaty [signed by Putin] designates both the Kerch Strait and the Sea of Azov as territorial waters shared by Russia and Ukraine.
But Russia has sought to assert greater control over the narrow passage since seizing Crimea, and this year opened a 12-mile bridge that links the former Ukrainian peninsula with Russia. …..
Poroshenko said 10 of Ukraine's 27 regions — the ones most likely to bear the brunt of a potential Russian strike — would be subject to martial law.
Details on the extent of the crackdown were unclear on Monday, with measures including a partial mobilization and strengthening of air defenses and vaguely worded plans for stronger anti-terrorism efforts and "information security."
The move, which was overwhelmingly approved by lawmakers following five hours of debate, marked the first time martial law has been declared in Ukraine.
From NYPost .com with Post wires. Reprinted here for educational purposes only. May not be reproduced on other websites without permission from the New York Post.
Questions
NOTE to students: Before answering the questions, read the excerpt from a New York Times Editorial under "Background" below. Then watch the news reports under "Resources."
1. Name the presidents of Russia and Ukraine.
2. The first paragraph of a news article should answer the questions who, what, where and when. List the who, what, where and when of this news item. (NOTE: The remainder of a news article provides details on the why and/or how.)
3. a) For what reason did the president of Ukraine ask parliament to impose martial law?
b) What is martial law?
c) For how long and where will martial law be imposed?
4. How are world leaders reacting to Russia's attack on and seizure of Ukrainian military vessels?
5. a) What accusation did Russian Foreign Minister Sergey Lavrov make against Ukraine?
b) Why is Lavrov's accusation not valid?
6. The NY Times' editors conclude their editorial by asserting:
Russia cannot be allowed to get away with this continued bullying of Ukraine. By steadily tightening its hold on Crimea, it is gambling that the West will not have the stomach or stamina to impose ever more punishment or provide more military support for Ukraine. But a direct attack on Ukrainian ships cannot go unpunished. Strong condemnations will not do.

The United States and its Western allies can impose stronger economic sanctions, bar their ships from entering Russian ports in the Black or Azov Seas or increase military support for Ukraine.

These actions all carry risk, but so does doing nothing.
Ask a parent or grandparent: Do you agree with this assertion? Please explain your answer.
Background
Russia's attack on Ukrainian naval vessels in the Black Sea was a violation of international law and a dangerous escalation of the undeclared war the Kremlin has waged for more than four years against Ukraine in Crimea, in the breakaway provinces of eastern Ukraine, and now at sea.
The Kremlin can shout all it wants about a provocation, about an attempt by the Ukrainian president to create a political diversion or about anything else, but none of that changes the fact that Russia had no legal justification for firing on three Ukrainian boats and seizing them.
The vessels, two small armored boats and a tugboat, were headed for the Kerch Strait, which separates Crimea from Russia and is the only entrance to the Sea of Azov, where much of Ukraine's coastline lies. Russia claimed they had crossed into Russian waters, but that is based on its illegal claim to Crimea, which it seized in 2014.
Ukraine and most every other state in the world still regard Crimea and its coastal waters as Ukrainian territory. And under a treaty ratified by Ukraine and Russia in 2004 — a now hard-to-imagine time when they could still refer to each other as "historically brotherly nations" — the Azov Sea and the Kerch Strait were defined as shared territorial waters. That treaty, signed by President Vladimir Putin of Russia, is still in force.
Yet ever since Mr. Putin opened a new bridge over the Kerch Strait in May, Russia has moved steadily to impose its control over the strait and the Azov Sea. The Kremlin has moved several gunboats into the shallow sea and has begun stopping and inspecting cargo vessels headed for the Ukrainian ports of Mariupol and Berdyansk, creating long delays and causing large losses to shipping companies and the ports.
Whatever reasons Ukraine might have had for sending three boats toward the strait, it was within its rights. Russia's reaction — to ram the tugboat after an expletive-rich chase caught on video; to open fire on the boats and seize them, wounding several sailors and taking 23 captive; to scramble fighter jets and block passage under the Crimea Bridge with a freighter — was dangerous, arrogant, illegal aggression.  (from "Russia Attacks Ukrainian Ships and International Law," by the New York Times Editorial Board, Nov. 26)
Resources
Watch a Nov. 26 Radio Free Europe report:
---
Watch a Nov. 27 France24 report:
---
Watch a Nov. 27 NBC interview with Ukranian President Poroshenko:
---
Daily "Answers" emails are provided for Daily News Articles, Tuesday's World Events and Friday's News Quiz.