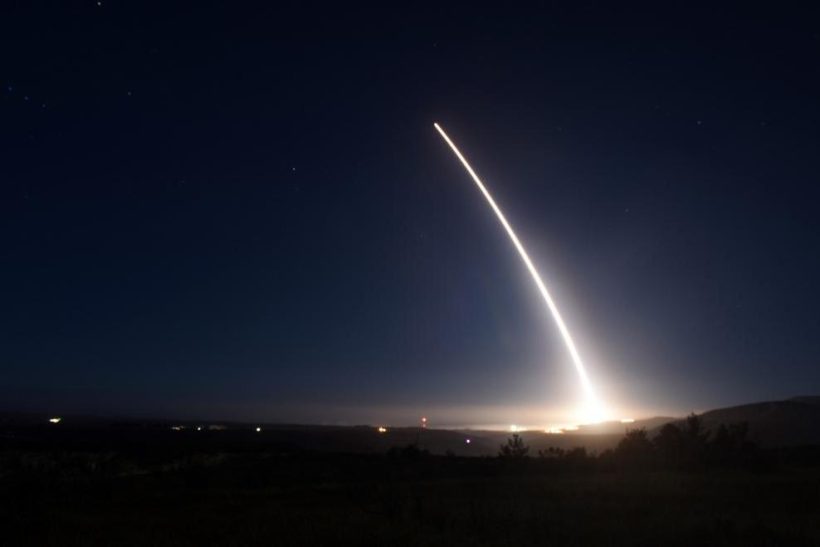 redo Jump to...
print Print...
(by David Alexander, Reuters) VANDENBERG AIR FORCE BASE, CALIF. — The U.S. military test-fired its second intercontinental ballistic missile (ICBM) in a week on Thursday night, seeking to demonstrate its nuclear arms capacity at a time of rising strategic tensions with Russia and North Korea.
The unarmed Minuteman III missile roared out of a silo at Vandenberg Air Force Base in California late at night, raced across the sky at speeds of up to 15,000 mph and landed a half hour later in a target area 4,200 miles away near Kwajalein Atoll in the Marshall Islands of the South Pacific.
Deputy Defense Secretary Robert Work, who witnessed the launch, said the U.S. tests, conducted at least 15 times since January 2011, send a message to strategic rivals like Russia, China and North Korea that Washington has an effective nuclear arsenal.
"That's exactly why we do this," Work told reporters before the launch.
"We and the Russians and the Chinese routinely do test shots to prove that the operational missiles that we have are reliable. The test tonight is one of the ways in which we demonstrate that these missiles are safe and reliable and effective. And that is a signal … that we are prepared to use nuclear weapons in defense of our country if necessary."
Demonstrating the reliability of the nuclear force has taken on additional importance recently because the U.S. arsenal is near the end of its useful life and a spate of scandals in the nuclear force two years ago raised readiness questions.
[About four missile tests are conducted each year and the tests are publicly announced and closely monitored by other countries.
"Anyone who is a nuclear power is sure to be watching these tests and has to be at least aware that the United States nuclear deterrent is as strong as it has ever been," Dep. Secretary Work said.]
The Defense Department has poured millions of dollars into improving conditions for troops responsible for staffing and maintaining the nuclear systems. The administration also is putting more focus on upgrading the weapons.
President Barack Obama's final defense budget unveiled this month calls for a $1.8 billion hike in nuclear arms spending to overhaul the country's aging nuclear bombers, missiles, submarines and other systems.
The president's $19 billion request would allow the Pentagon and Energy Department to move toward a multiyear overhaul of the atomic arms infrastructure that is expected to cost $320 billion over a decade and up to 1 trillion dollars over 30 years.
The nuclear spending boost is an ironic turn for a president who made reducing U.S. dependence on atomic weapons a centerpiece of his agenda during his first years in office.
Obama called for a world eventually free of nuclear arms in a speech in Prague and later reached a new strategic weapons treaty with Russia. He received the Nobel Peace Prize in part based on his stance on reducing atomic arms.
"He was going to de-emphasize the role of nuclear weapons in U.S. national security policy … but in fact in the last few years he has emphasized new spending," said John Isaacs of the Council for a Livable World, an arms control advocacy group.
Arms control advocates [opposed the increased spending], saying the U.S. could save money by building a more modest force. …
Dep. Sect. Work said the Pentagon understood the financial problem. The department would need $18 billion a year between 2021 and 2035 for its portion of the nuclear modernization, which is coming at the same time as a huge "bow wave" of spending on conventional ships and aircraft, he said.
"If it becomes clear that it's too expensive, then it's going to be up to our national leaders to debate" the issue, Work said, something that could take place during the next administration when spending pressures can no longer be ignored.
Reprinted here for educational purposes only. May not be reproduced on other websites without permission from Thomson Reuters. Visit the website at Reuters.com.
Questions
1. What is an intercontinental ballistic missile?
2. a) Where did the Minuteman III missile launched from Brandenburg AFB in California on Thursday land?
b) How many miles away was the landing location?
c) At what speed did it travel?
d) How long did the test take to complete?
3. What was the purpose of this and other recent test-fires? Be specific.
4. Why were these two recent tests so important?
5. How has the Obama administration addressed this problem?
6. a) How does President Obama's defense budget differ from his previous stance on nuclear weapons?
b) Why do you think this is so?
7. The Reuters reporter noted, "Critics say the Pentagon's plans are unaffordable and unnecessary…Hans Kristensen, an analyst at the Federation of American Scientists, said the Pentagon's costly "all-of-the-above" effort to rebuild all its nuclear systems was a 'train wreck that everybody can see is coming.' Kingston Reif of the Arms Control Association, said the plans were 'divorced from reality.'"
USA Today reports, "The test comes as relations between the U.S. and Russia have worsened and as North Korea is attempting to expand its nuclear capabilities. U.S. Adm. Cecil Haney, who heads U.S. Strategic Command, said Russia is also rapidly modernizing its own nuclear arsenal."
a) With whom do you agree: anti-nuke advocates or the information from USA Today?
b) How important do you think it is for the U.S. to have a nuclear weapons and the ICBMs necessary to carry them?
c) Ask a parent the same questions.
Background
BALLISTIC MISSILE and DEFENSE:
An intercontinental ballistic missile (ICBM) is a guided ballistic missile with a minimum range of 3,400 mi primarily designed for nuclear weapons delivery [delivering one or more thermonuclear warheads] wikipedia.org/Intercontinental_ballistic_missile
A ballistic missile is a missile that follows a sub-orbital ballistic flightpath with the objective of delivering one or more warheads (often nuclear) to a predetermined target.
The missile is only guided during the relatively brief initial powered phase of flight and its course is subsequently governed by the laws of orbital mechanics and ballistics. To date, ballistic missiles have been propelled during powered flight by chemical rocket engines of various types. (from en.wikipedia.org/wiki/Ballistic_missile)
National missile defense (NMD) as a generic term is a type of missile defense: a military strategy and associated systems to shield an entire country against incoming Intercontinental Ballistic Missiles (ICBMs) or alternately more short-range ballistic missiles. The missiles could be intercepted by anti-ballistic missiles, or possibly by lasers. They could be intercepted near the launch point (boost phase), during flight through space (mid-course phase), or during atmospheric descent (terminal phase).
Missile defense is a system, weapon, or technology involved in the detection, tracking, interception and destruction of attacking missiles. Originally conceived as a defense against nuclear-armed ICBMs, its application has broadened to include shorter-ranged non-nuclear tactical and theater missiles.
an anti-ballistic missile (ABM) is a missile designed to counter ballistic missiles (a missile for missile defense; an interceptor). A ballistic missile is used to deliver nuclear, chemical, biological or conventional warheads in a ballistic flight trajectory. The term "anti-ballistic missile" describes any antimissile system designed to counter ballistic missiles. However the term is used more commonly for ABM systems designed to counter long range, nuclear-armed Intercontinental ballistic missiles (ICBMs). (from wikipedia)
THE U.S. MISSILE-DEFENSE SYSTEM:
The Strategic Defense Initiative (SDI) was proposed by U.S. President Ronald Reagan on March 23, 1983 to use ground-based and space-based systems to protect the United States from attack by strategic nuclear ballistic missiles. The SDI was intended to defend the United States from attack from Soviet ICBMs by intercepting the missiles at various phases of their flight.
The initiative focused on strategic defense rather than the prior strategic offense doctrine of mutual assured destruction (MAD), that assumed that neither side would start a nuclear war because it would not be able to avoid imminent destruction. Reagan's "Star Wars" program drew the Soviets into a costly effort to mount a response. The race depleted Soviet funds and triggered the economic difficulties that led to the collapse of the Soviet Union in 1991.  (Many in the media and liberal circles ridiculed President Reagan for being a warmonger AND a dunce; they did not understand the necessity of a missile defense system).
---
Minuteman III test launches:
The Air Force operates 450 Minuteman missiles — 150 at each of three missile fields in Wyoming, Montana and North Dakota. A few times a year, one missile is pulled from its silo and trucked to Vandenberg, minus its nuclear warhead, for a test launch.

Aside from confirming technical soundness, Minuteman test launches are the U.S. military's way of sharpening the message that forms the foundation of U.S. nuclear deterrence theory — that if potential attackers believe U.S. nuclear missiles and bombs are ready for war at all times, then no adversary would dare start a nuclear fight.

The credibility of this message can be damaged by signs of weakness or instability in the nuclear weapons force. In 2013-14 the Associated Press documented morale, training, leadership and equipment problems in the Minuteman force, and in January the Air Force acknowledged to the AP that errors by a maintenance crew damaged an armed Minuteman in May 2014.

Air Force officials say the test launches are a morale booster because they give launch crews and others a chance to leave their usual duties and participate in an actual launch. They otherwise do 24-hour shifts, year-round, in underground missile command posts, hoping the call to combat never comes.

Constance Baroudos, a defense analyst at the Lexington Institute think tank, sees great deterrent value in the Minuteman test launches.

"Deterrence basically doesn't work unless the threat is deemed credible," she said. "So every time we test ICBMs, we demonstrate not only that the weapons work but also that they are ready to be launched. When those tests are conducted, the Russians, the Chinese and other international actors are watching, and they send a message to a potential aggressor that they not do anything they would regret."

Together, the United States and Russia control the vast majority of the world's nuclear weapons, and both countries regularly conduct ICBM test launches. The Russians generally do them more often, at least in part because they have new missiles in development whereas the Minuteman 3 is the only U.S. ICBM. The U.S. Air Force is planning a new-generation ICBM, but it is not scheduled to begin entering the force until about 2030.

The Minuteman 3, first deployed in 1970, has long exceeded its original 10-year lifespan. It is so old that vital parts are no longer in production. (from an ABC News report)
Resources
Visit the U.S. Missile Defense Agency website at: mda.mil
---
Daily "Answers" emails are provided for Daily News Articles, Tuesday's World Events and Friday's News Quiz.