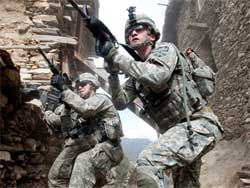 (by Sara A. Carter, WashingtonTimes.com) KANDAHAR, Afghanistan — U.S.-led forces are intensifying operations against the Taliban in southern Afghanistan to counter an anticipated increase in attacks before a presidential runoff election next month.
At Kandahar airfield, U.S. and British pilots Wednesday monitored live streaming video from an unmanned aerial vehicle flying in a clear morning sky over southern Afghanistan, where improvised explosive device (IED) attacks have become increasingly deadly and frequent.
"This is a new counter-IED operation against a very brazen Taliban insurgency," said U.S. Air Force Lt. Col. James Morgan Curry, commander of the 62nd Expeditionary Reconnaissance Squadron, whose main task is to launch the drones and recover them after missions.
"We're about to have a runoff election and we are going to be providing information to the intelligence community," he said. "We are at maximum capacity right now, but we're going to go above and beyond to ensure we're doing all we can to protect the civilian population as well as our units."
Afghan President Hamid Karzai, under intense U.S. pressure, Tuesday agreed to a runoff after a U.N.-backed panel threw out more than a third of his votes from the Aug. 20 election, pushing him below the 50 percent required for a first-round victory. On Wednesday, former foreign minister and presidential candidate Abdullah Abdullah said he was ready for a runoff to "let the Afghan people decide" who should be president.
Afghan authorities plan to close thousands of polling stations and hire new poll workers to discourage fraud, U.N. officials said Wednesday. Aleem Siddique, a spokesman for the U.N. mission in Afghanistan, said 200 of 380 district election chiefs from the government-appointed Independent Election Commission were being replaced.
U.S. military officials are concerned about providing security for voters, particularly in the southern and eastern regions of the country.
A second option would be for the two main candidates to form a coalition government, but Mr. Karzai appeared to dismiss that Tuesday. A "coalition has no legitimacy and is not possible," he said.
"This is going to be a trying time for everyone," said a U.S. military official involved in providing security for the Nov. 7 vote. The official spoke on the condition that he not be named because of the sensitive political situation in Afghanistan. "We could be looking at very dangerous and difficult times ahead. It's something everyone is concerned about and there are no real definitive security preparations to ensure that everyone is going to be safe."
Col. Curry said that drones are gathering information on known extremists in Kandahar to prevent attacks during the voting. The unmanned craft can also home in and kill with Hellfire guided missiles.
U.S. military officials said the drones are monitoring areas that have experienced numerous IED attacks. A classified map, marked with black, yellow and red dots, shows more than 50 places in southern Kandahar where the Taliban has already targeted coalition forces.
Col. Curry said the information gathered by the drones is shared with the intelligence community to develop a more comprehensive analysis of Taliban operations.
Until this year, U.S. and British pilots "flying" the drones were actually thousands of miles away in highly guarded facilities in the United States such as Creech Air Force Base in Nevada. Now, pilots are steering Predators and the MQ-9 Unmanned Aerial System, also known as the Reaper, from Afghanistan.
"We're taking advantage of all of our assets," Col. Curry said.
A U.S. defense official, who spoke on the condition of anonymity because he was discussing sensitive intelligence, said IEDs in the Kandahar region "have become extremely sophisticated and deadly." He added that there was evidence that the Afghans planting the devices had training and other assistance from members of Iran's Revolutionary Guard, who have been linked to similar support for Iraqi insurgents.
Iran has denied supplying support for the Taliban.
Col. Curry said radar technology allows the pilots, who operate out of classified locations on the Kandahar base, to find areas where insurgents have planted bombs underground.
"We have the unblinking eye in the sky," he said. "We are watching 24 hours a day, seven days a week."
On Wednesday, two British Royal Air Force pilots sat in the quiet room watching a live video feed from a Reaper. The drone, which was more than eight miles above the surface of the earth, homed in on four Afghans about four miles from the base on a rural road. One man was smoking a cigarette, which created a heat signature that made his hand look like a glowing ball of fire. A child could be seen running around the group congregated by the road.
"This is how clear it looks from here," said the British pilot, who did not give his name because of his security position.
"We see everything," Col. Curry added.
Copyright 2009 News World Communications, Inc. Reprinted with permission of the Washington Times. For educational purposes only. This reprint does not constitute or imply any endorsement or sponsorship of any product, service, company or organization. Visit the website at www.washingtontimes.com.
Questions
1. Define the following as used in the article:
IED (para. 2)
drone (para. 3)
coalition (para. 8)
2. How are U.S.-led forces in Afghanistan preparing for the runoff presidential election next month?
3. Why is there going to be a runoff presidential election in Afghanistan?
4. How do Afghan authorities plan to ensure that the runoff election is fair?
5. What specific steps are being taken to make the election as secure as possible, according to Col. Curry?
6. How is the Iranian government linked to the Taliban in Afghanistan?
7. In your opinion, which word best describes the tone of this article? lighthearted, serious, hopeful, discouraging, or other Explain your answer.
Daily "Answers" emails are provided for Daily News Articles, Tuesday's World Events and Friday's News Quiz.