(Compiled from articles by Kim Hjelmgaard at USA Today with AP at Chicago Sun-Times) – A U.S airstrike killed about 100 Syrian troops after they launched an "unprovoked" attack against a military base used by American-led coalition forces battling the Islamic State in eastern Syria, the U.S. military said.

U.S. Central Command said the strikes were launched in self-defense after as many as 500 attackers began what appeared to be a coordinated assault on the headquarters of the U.S.-backed Syrian Democratic Forces (SDF).

Syria's official state-run news agency SANA confirmed the deaths Thursday and labeled the strike an "aggression" and "new massacre."

While SANA insisted the pro-government troops were battling Islamic State fighters, it also admitted to launching an assault on the Syrian Democratic Forces, a Kurdish-led group opposed to Syrian President Bashar Assad.

[The U.S.-led coalition said in a statement said the attack took place 5 miles east of the Euphrates River de-confliction line. The United States and Russia, which back rival forces in the oil-rich Deir el-Zour province, have kept close contacts to avoid friction. The statement suggested the coalition was calling out Russia on the assault, but it stopped short of actually laying the blame.].

The U.S. involvement is a rare example of U.S. forces striking directly at Syrian regime troops. In June, a U.S. fighter jet shot down a Syrian warplane after it bombed U.S.-backed fighters.

[Last summer, the U.S.-led coalition shot down Iranian-made armed drones and aircraft affiliated with the Syrian government in southern Syria, after they came dangerously close to U.S-backed forces and advisers.

The U.S. airstrike coincides with escalating violence in Syria, where Turkey has been carrying out a military offensive to clear a U.S.-backed Kurdish militia from in a northwestern border town….].

[The airstrike] comes as battlefields in Syria have become more tangled amid military interventions from nations such as Turkey, which oppose the Kurds.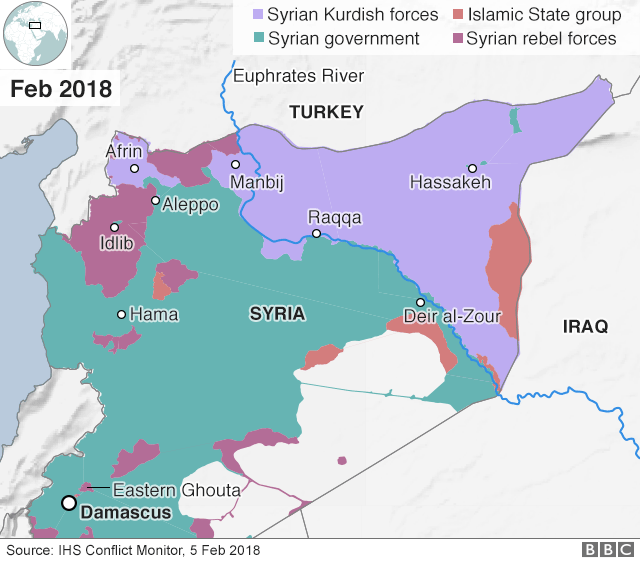 Russia's foreign ministry meanwhile claimed Thursday that the U.S. airstrike on pro-Assad troops reflected Washington's attempts to seize Syrian economic assets. Russia is a close ally of Assad and is helping the government bomb rebel-held targets. There was no immediate reaction from Washington over Moscow's allegation.
At least 19 civilians, including a medic and children, were killed in Syrian government strikes on opposition-held territory near the capital Damascus on Thursday, activists said.
Meanwhile, Turkish officials said the leaders of Turkey, Russia and Iran will meet in Istanbul to discuss peace efforts for Syria.
The officials said that Turkish President Recep Tayyip Erdogan and his Russian counterpart Vladimir Putin agreed to the summit during a telephone call on Thursday. It was not immediately clear when the Istanbul meeting would take place.
Questions
1. The first paragraph of a news article should answer the questions who, what, where and when. List the who, what, where and when of this news item. (NOTE: The remainder of a news article provides details on the why and/or how.)
2. How did U.S. Central Command explain the reason for the U.S. airstrikes on Syrian government forces?
3. While accusing the U.S. of "aggression" and "new massacre," what admission did Syria's official state-run news agency SANA make about the actions of Syrian President Assad's forces?
4. What is the SDF?
5. Which countries are aligned with Syria's President Bashar al-Assad?
Daily "Answers" emails are provided for Daily News Articles, Tuesday's World Events and Friday's News Quiz.