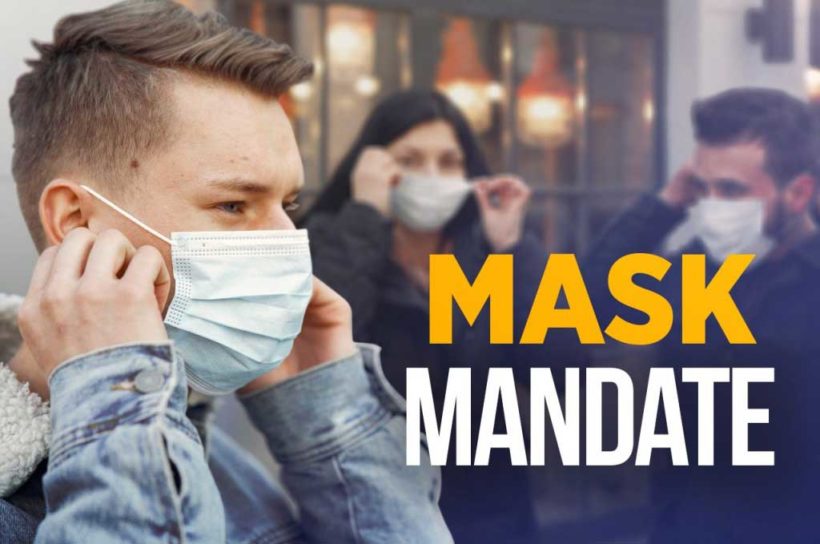 redo Jump to...
print Print...
(Compiled from UPI and Reuters) — Mississippi Gov. Tate Reeves and Texas Gov. Greg Abbott announced Tuesday that they will lift mask mandates and allow businesses to open at full capacity in their respective states.
Reeves wrote on Twitter that the changes in Mississippi will take effect Wednesday, while Abbott issued a statement declaring that Texas will lift many of its pandemic-related executive orders on March 10.
During a news conference Tuesday, Reeves said restrictions including mask mandates will remain in effect in K-12 schools.
"I believe that the most consequential debate playing out in America today is whether children should be in the classroom learning," he said. "My view is simple, all of Mississippi's children should be in the classroom."
Indoor arenas will also be required to operate at 50% capacity.
He added that businesses are "well within their right" to impose their own restrictions and that he would replace the executive orders with "recommendations."
"Executive orders that interfered with peoples' lives were the worst, but the only possible, intervention for much of the last year," he said. "Now we are putting our focus toward rapid vaccine distribution. We are getting out of the business of telling people what they can and cannot do."
In Texas, Abbott signed an executive order that will rescind most of his earlier executive orders related to COVID-19 as well as the mask mandate and allowing all businesses "of any type" to open at 100% capacity.
"We must now do more to restore livelihoods and normalcy for Texans by opening Texas 100%," Abbott said. "Make no mistake, COVID-19 has not disappeared, but it is clear from the recoveries, vaccinations, reduced hospitalizations and safe practices that Texans are using that state mandates are no longer needed."
The governor said he was able to lift the restrictions because Texas, the third second most-populous U.S. state, had administered nearly 5.7 million vaccine shots to its 29 million residents.  [Health experts expect 7 million vaccines to have been distributed in the state by next Wednesday].
Abbot said that county judges will be able to implement COVID-19 strategies if hospitalizations in any region rise above 15% of the hospital bed capacity for seven consecutive days. However, judges will not be permitted to impose jail time for failing to follow COVID-19 orders or for failing to wear a face mask.
Both governors cited declining rates of new cases and hospitalizations, and rapid distribution of vaccines as reasons their states are able to lift the restrictions.
According to Abbott's office, by the end of March every senior who wants a vaccine would be able to get one.
The decision puts Texas in conflict with President Joe Biden, a Democrat who has urged Americans to keep taking COVID-19 precautions, including wearing masks, until vaccinations have fully tamped down the virus.
In remarks at the White House on efforts to step up vaccine production, Biden did not mention Texas. But the president appeared to be referring to Abbott's executive order when he urged Americans to continue wearing face protection.
"Now is not the time to let up," he said. "I've asked the country to wear masks for my first 100 days in office. Now is not the time to let our guard down. People's lives are at stake."
Referring to Abbott's order on masks, White House COVID-19 adviser Andy Slavitt told CNN:
"I hope the governor rethinks this. It's only a small piece of cloth that's needed. I don't think it affects the economy of the state."
As of Tuesday, 35 U.S. states, along with the District of Columbia and Puerto Rico, still mandate that residents wear face masks in public. Mississippi also lifted its face-covering order on Tuesday.
More than 51 million Americans, or 15% of the total U.S. population, have been given at least one vaccine dose, according to the Centers for Disease Control and Prevention.
COVID-19 infections have plummeted in recent weeks across much of the world, including the United States.
According to a Reuters tally, roughly 68,240 new cases have been reported on average each day this week, or 27% of the peak daily average reached on Jan. 7. The United States (with a population of 329 million), has recorded 28,681,793 covid infections and 513,721 coronavirus-related deaths since the pandemic began.
Compiled from articles by Daniel Uria at UPI and by Dan Whitcomb at Reuters. Reprinted here for educational purposes only. May not be reproduced on other websites without permission.
Questions
1. The first paragraph of a news article should answer the questions who, what, where and when. List the who, what, where and when of this news item. (NOTE: The remainder of a news article provides details on the why and/or how.)
2. a) How many states do you think have statewide mask mandates?
b) See the "Background" below; what is the number?
c) Are you surprised by this number? Explain your answer.
3. a) For what reasons have both governors rescinded their covid mandates?
b) What is your reaction to this explanation? Agree/disagree? Explain your answer.
4. a) Who will (and for what reason) have authority in Texas to implement local covid restrictions going forward?
b) What won't they be able to do?
5. a) When will every senior in Texas who wants the vaccine be able to get it, according to Gov. Abbot's office?
b) What percent of the overall U.S. population (of approx. 329 million) has been vaccinated so far?
c) At least 20% of the U.S. population is under the age of 16. Ask a parent: down to what age do you think minors/teens/children should be vaccinated? Please explain your answer.
6. a) What did President Biden say about mask mandates?
b) What did President Biden's White House COVID-19 adviser Andy Slavitt say about mask mandates?
c) For a) and b) Do you agree or disagree? Explain your answers.
7. Read the "Background" below. Why do you think the smaller chains will let the customers decide if they want to wear masks, but the larger chains (like a Target) will not?
8. a) Considering the drop in number of covid cases including hospitalizations, and the ongoing distribution of vaccines, as well as treatment, do you support or oppose statewide mandates/lockdowns/restrictions going forward? Explain your answer.
b) Ask a parent the same question.
Background
Posted March 2, 2021 at US News:
U.S. states and territories with mask mandates:
Alabama | American Samoa | Arkansas | California | Colorado | Connecticut | Delaware | District of Columbia | Guam | Hawaii | Illinois | Indiana | Kansas | Kentucky | Louisiana | Maine | Maryland | Massachusetts | Michigan | Minnesota | Nevada | New Hampshire | New Jersey | New Mexico | New York | North Carolina | Ohio |Oregon | Pennsylvania | Puerto Rico | Rhode Island | Texas | U.S. Virgin Islands | Utah | Vermont | Virginia | Washington | West Virginia | Wisconsin | Wyoming
U.S. states and territories without mask mandates:
Alaska | Arizona | Florida | Georgia | Idaho | Iowa | Mississippi | Missouri | Montana | Nebraska | North Dakota | Northern Mariana Islands | Oklahoma | South Carolina | South Dakota | Tennessee (and now Texas)
---
Texas Gov. Greg Abbott and Mississippi Gov. Tate Reeves – both Republicans – announced Tuesday, March 2, 2021, that their states will lift mask requirements that have been in place for months. The announcements come as Covid-19 cases and hospitalizations continue to drop across the country and more Americans get vaccinated.
Here is how large corporations are responding:
Leading US grocery chains, pharmacies, retailers and auto manufacturers, including Target, Kroger, CVS, Walgreens, Best Buy, Macy's JCPenney, Toyota, GM and others, say they will continue to require mask wearing at their stores and facilities by both employees and customers.
GM spokesperson Patrick Morrissey said in an email, "We will continue to enforce our COVID safety practices we've had in place since we returned to work last spring." The company has 13,500 employees in Texas. "This will ensure we adequately protect our employees and continue to meet OSHA workplace protection standards," Morrissey also stated.
Kroger "will continue to require everyone in our stores across the country to wear masks until all our frontline grocery associates can receive the [Covid-19] vaccine," a spokesperson said in an email.
Not all chains are taking this approach.
Texas grocer H-E-B has never had a mask requirement for its customers, instead deferring to local and state ordinances. Now that the state will no longer require masks in public settings, H-E-B will follow that direction except in areas where masks are mandated by local officials.
"H-E-B will still require all our [employees] and vendors to wear masks while at work, and we urge all customers to please wear a mask when in our stores," Dya Campos, a spokesperson for H-E-B, said in an email.
Albertsons also said it will require its workers in Texas to wear masks, but is changing the policy for customers in the state.
"We will encourage face coverings, but will not mandate, and will be updating our signage accordingly," said Christine Wilcox, spokesperson for Albertsons, in an email.
(excerpted from CNN Business, March 3)
Resources
Watch a video from Houston's KHOU11:
---
Watch a March 2, 2021 CBS News report from Dallas-Ft. Worth:
Daily "Answers" emails are provided for Daily News Articles, Tuesday's World Events and Friday's News Quiz.