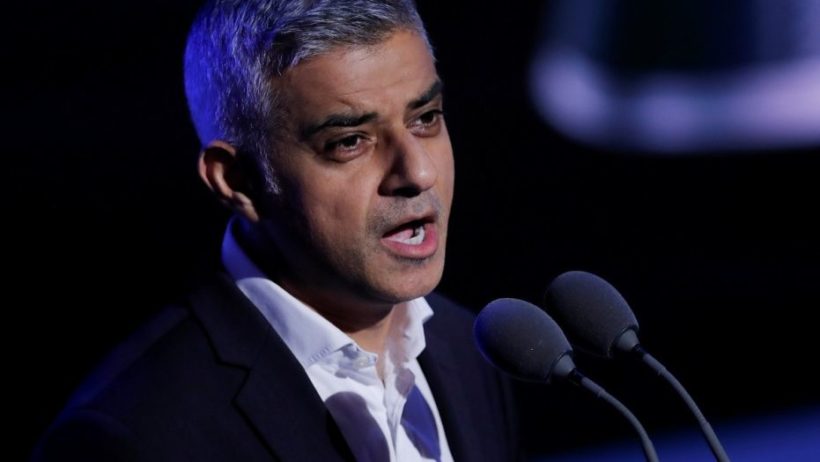 redo Jump to...
print Print...
(Compiled from reports at London's Daily Telegraph, FoxNews, the Daily Wire and Daily Caller) – London Mayor Sadiq Khan announced a tough crackdown on knives Sunday as the city reels from a spike in stabbings that have led its number of homicides to top New York City's for two straight months.
He tweeted: "No excuses: there is never a reason to carry a knife. Anyone who does will be caught, and they will feel the full force of the law." The tweet also included an action plan to boost police power and prevent future violence.
London has seen more than 50 homicides already in 2018. Most of the city's murder victims have been stabbed to death, as guns are tightly restricted in Britain and shootings are relatively rare.
If the trend continues, London will far surpass the 130 murders committed in 2017 and reach a number not seen since the early 2000s. In February and March, London hit the unwanted milestone of recording more homicides than New York, the first time in modern history. The cities are roughly the same size, with more than 8 million people, and have similar extremes of poverty and wealth, but London has never recorded more murders in a year than the U.S. metropolis. New York had 290 homicides in 2017, the lowest number in decades.
The mayor's "tough, immediate" measures involve an incredible police crackdown, a ban on home deliveries of knives and acid, and expanding law enforcement stop-and-search (stop and frisk) powers so that police may stop anyone they believe to be a threat, or planning a knife or acid attack.
Khan announced Friday that the city has created a "violent crime taskforce of 120 officers" tasked with rooting out knife-wielding individuals in public spaces, and is pumping nearly $50 million into the Metropolitan Police department so that they can better arm themselves against knife attacks. [Most British police are not equipped with firearms.]  He's also empowering the Met Police to introduce "targeted patrols with extra stop and search powers for areas worst-affected," according to a statement.
This is a turnaround for the mayor, as Khan is responsible for decreasing the number of stop-and-searches, having previously declared the tactic racist and potentially Islamophobic.
There are multiple candidates to blame for the city's rising homicide rate, investigators have said. Police and community workers say London's surge is driven in part by battles over control of the illegal drug trade and a "postcode war" between street gangs.
Metropolitan Police Commissioner Cressida Dick has insisted the force has "not lost control" of the capital's streets, but acknowledged the escalation of violence was "very worrying."
The rising wave of knife crime saw six stabbings in 90 minutes in the capital on Thursday, with a 13-year-old left fighting for his life after an attack in east London. Three teenage boys, a 13-year-old and two 16-year-olds, have been charged over the incident. …
In addition to the crackdown, Mayor Khan is also calling on family members and friends of people carrying knives to help tackle the problem.
"You could be a mum or dad, big brother, big sister, a friend, a girlfriend, a boyfriend who knows somebody carrying a knife, leaving their home with a knife, involved in criminality – there's no honour in keeping that a secret," he said.
"You should try and prevent that person carrying a knife, leaving home with a knife."
Questions
1. For GREAT BRITAIN, give the following information:
capital

location/the countries that share its borders

the religious breakdown of the population

the type of government

the chief of state (and head of government if different) If monarch or dictator, since what date has he/she ruled? – include name of heir apparent for monarch

the population
Find the answers at the CIA World FactBook website. For each country, answers can be found under the "Geography" "People" and "Government" headings.
NOTE: Before answering the following questions, read the info under "Background" below.
2. For GREAT BRITAIN:
a) list the who, what, where and when of the news item
b) What will the mayor's "tough, immediate" measures include?
c) What is ironic about the mayor's "stop and search" order to police?
d) The British Parliament is also set to take up heavy "knife control" legislation when it resumes this week. The government is expected to introduce a ban on online knife sales and home knife deliveries, declare it "illegal to possess zombie knives and knuckledusters in private" — "zombie knives" are those defined as being manufactured for the purpose of being used as a person-to-person weapon — and ban sales of caustic materials to anyone under the age of 18, the Independent reports.
Do you think banning these knives will reduce the number of knife attacks by those under 18? Explain your answer.
e) What do you think of the mayor's plan overall?
f) Would you support such a policy in the U.S.? (Consider the fact that many men carry a pocketknife, including construction workers, as well as those in various other trades, or those who live in rural or suburban areas.)
Daily "Answers" emails are provided for Daily News Articles, Tuesday's World Events and Friday's News Quiz.