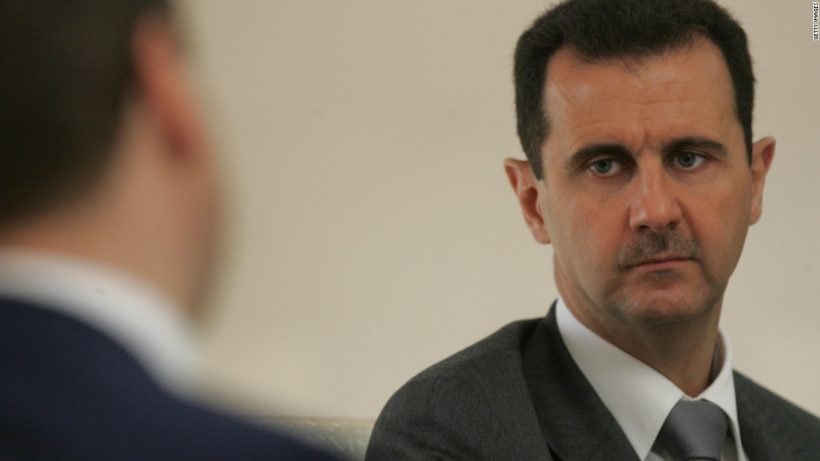 redo Jump to...
print Print...
(by Susan McFarland, UPI) — After a Russian diplomat warned that any U.S. missiles fired at Syria will be shot down and their launch sites targeted, President Donald Trump fired back Wednesday — telling Russia to "get ready."
"Russia vows to shoot down any and all missiles fired at Syria. Get ready Russia, because they will be coming, nice and new and 'smart!'," Trump said in a tweet. "You shouldn't be partners with a Gas Killing Animal who kills his people and enjoys it!"
Trump has been monitoring the situation in Syria since an attack Saturday that killed dozens and injured up to 500 people in Douma, a town in the Damascus suburb of Eastern Ghouta. Officials said at least one helicopter dropped a barrel bomb of chemicals that suffocated a number of civilians, including children.

Trump and Defense Secretary James Mattis said this week they're not ruling out the possibility of military action against President Bashar al-Assad's government after the suspected chemical attack.

Trump had said Monday a response to the Syria attack would come within days.

Trump's fiery response Wednesday comes after Russian Ambassador to Lebanon Alexander Zasypkin said Moscow would refer to President Vladimir Putin's instructions if Syria is attacked, which is to down the missiles and also attack the sources that fired them.

Russian Foreign Ministry Spokeswoman Maria Zakharova said "there are Russians present in large numbers in Syria, and Russia will do everything to protect its people on Syrian soil."

Wednesday, a Russian official [claimed] the chemical attack was staged and filmed by members of the White Helmets organization, a volunteer group inside rebel-held areas in Syria.

"Probably the last attempt to stage a chemical weapons attack in Eastern Ghouta was made," Russian Lt. Gen. Viktor Poznikhir said. "The notorious White Helmets, who operate as part of terrorist groups, staged and filmed a chemical weapons attack on civilians in the town of Douma." …

[Wikipedia writes: "The White Helmets conduct urban search and rescue in response to bombing, medical evacuation, evacuation of civilians from danger areas, and essential service delivery. The organization has been the target of a disinformation campaign by supporters of Syrian President Bashar al-Assad and Russia-sponsored media organizations such as Russia Today (RT), with claims of close ties with terrorist activities."].

Tuesday, President Trump canceled a scheduled trip to Latin America including a trade summit in Bogota, Colombia to monitor the situation.

Also Tuesday, Eurocontrol, the pan-European air traffic control agency, warned airlines to exercise caution during the next 72 hours in the eastern Mediterranean due to the possible airstrikes.

From UPI .com. Reprinted here for educational purposes only. May not be reproduced on other websites without permission from United Press International.
Questions
1. What warning did a Russian Ambassador give to the U.S.?
2. How did President Trump respond to Russia's threat?
3. For what reason is the U.S. considering a possible military strike in Syria?
4. What did the Russian Foreign Ministry spokeswoman say about Russians in Syria?
5. CNBC columnist Jake Novak contradicted Ms. Zakharova's statement when he tweeted from @jakejakeny:
"BREAKING: Multiple Israeli sources tell me the toP Russian commanders are clearing out of Syria & Bashar Assad has been moved to Lebanon. It appears the @realDonaldTrump threats are working. Remember, Soviet/Russian foreign adventurism almost always ends in them cutting & running."
1:33 PM – 11 Apr 2018
And replying to a comment, he tweeted:
"Russia is going to ditch. I have multiple sources telling me Assad has been parked in Lebanon to hide."
1:34 PM on 11 Apr 2018
It's possible CNBC's Novak is wrong. The next few days will reveal the truth.
One reader wrote: "If Trump didn't do this [threaten to take action against Assad's attack on his own civilians], would others have made the move to do so?" Some headlines:
From Reuters April 9: "Macron, Trump agree toxic gas used in Syria, need to establish responsibility"
From UK Guardian April 10: "US, France and Britain agree to respond to Syrian gas attack"
From BBC News, April 11: "[British Prime Minister] Theresa May 'to act on Syria without MPs' vote' – sources"
Several libertarian commentators are opposed to any U.S. action. What do you think: should President Trump launch an air attack on Syria military following Assad's use of chemical weapons on civilians including women and children? Or is John Glaser, a foreign policy expert at the Cato Institute, correct when he said that while there is little chance that U.S. air strikes will deter Assad from targeting civilians in the future there is a good chance that it will escalate the conflict, given that both Russian and Iranian forces continue to fight alongside the Syrian government?
Daily "Answers" emails are provided for Daily News Articles, Tuesday's World Events and Friday's News Quiz.