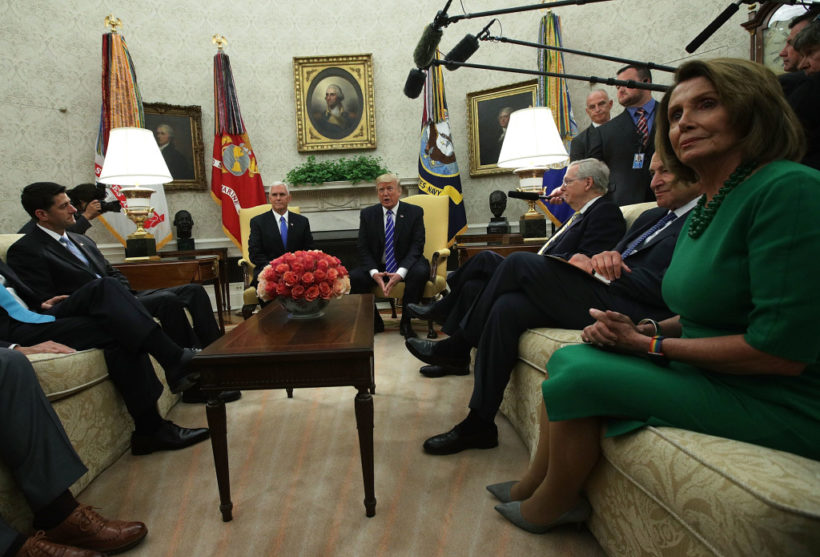 redo Jump to...
print Print...
(by Richard Cowan, Roberta Rampton, Reuters) – President Donald Trump forged a surprising deal with Democrats in Congress on Wednesday to extend the U.S. debt limit [debt ceiling – see "Background" below questions] and provide government funding until Dec. 15, embracing his political adversaries and blindsiding fellow Republicans in a rare bipartisan accord.
President Trump, living up to his reputation for unpredictability, met at the White House with congressional leaders from both parties and overruled Republicans and U.S. Treasury Secretary Steven Mnuchin, who wanted a longer-term debt-limit extension rather than the three-month Democratic proposal the president embraced.
"We could have done a one-year deal today," Mnuchin told reporters aboard Air Force One later in the day en route back to Washington from an event in North Dakota where Trump spoke about taxes.
Mnuchin said Trump chose a short-term deal to keep his options open on possibly raising military funding later this year, suggesting a longer-term government funding deal might have blocked that.
President Trump is very focused on military spending, "particularly with what's going on in North Korea and other parts of the world today," Mnuchin said. "The president wasn't willing to give up his need for additional military spending."
If passed by the Republican-led Congress, the three-month agreement would avert a default on U.S. government debt, keep the government funded at the outset of the fiscal year beginning Oct. 1 and provide aid to victims of Hurricane Harvey.
"It was a really good moment of some bipartisanship and getting things done," top Senate Democrat Chuck Schumer said.
Less than an hour before the meeting, Republican House Speaker Paul Ryan had called the Democratic proposal that President Trump later embraced a "ridiculous and disgraceful" idea that would "play politics with the debt ceiling."
Even with the three-month extension of the debt limit, a Senate Republican aide told reporters that nothing in the tentative deal would stop the Treasury Department from using its powers to extend the deadline, depending on revenue flow. In the past, the debt limit deadline has been extended for several months under those powers.
… Washington has suffered through bitter partisanship that has at times left the U.S. capital dysfunctional under Donald Trump and his Democratic predecessor, Barack Obama. …
The party in power, in this case Republicans, often argues for the longest debt limit increase as possible for two reasons. First, it protects members of Congress from casting multiple votes on the politically unpopular legislation over a short period of time, especially in the run-up to the 2018 congressional elections. Second, it helps stabilize markets.
Even though Republicans control the White House and both chambers of Congress, [they have] yet to [pass] of any major legislation [pushed by President Trump]. …
The House on Wednesday approved roughly $8 billion in initial emergency aid for relief and rebuilding after Hurricane Harvey, which tore into Texas on Aug. 25, with the measure now going to the Senate.
"Our No. 1 priority was getting funding for Harvey," Mnuchin said. "To get the funding for Harvey, we needed to extend the debt limit."
Excerpted from the Reuters .com article by Cowan and Rampton. Reprinted here for educational purposes only. May not be reproduced on other websites without permission from Thomson Reuters.
Questions
1. The first paragraph of a news article should answer the questions who, what, where and when. List the who, what, where and when of this news item. (NOTE: The remainder of a news article provides details on the why and/or how.)
2. What was President Trump's motive for making a deal with Democrat leaders Nancy Pelosi and Chuck Schumer to raise the debt ceiling? List his 3 reasons for doing so, according to Secretary Mnuchin and adviser Marc Short.
3. What will be the result of the three-month extension on the debt ceiling? (list 3 outcomes)
4. What is surprising about the Republican control of both houses of Congress?
5. a) Read the "Background" below. What overall changes will the President include in his tax reform?
b) Ask a parent: do you oppose or support President Trump's tax reform plan? Please explain your answer.
6. Watch the second video under "Resources" of former Republican governor of Arkansas Mike Huckabee discussing President Trump's surprising deal with Democrat lawmakers.
a) Why did President Trump do so, according to Gov. Huckabee?
b) What point does Gov. Huckabee make about the Republicans in Congress?
c) Do you agree with Huckabee's assertion? Explain your answer.
Background
Excerpted from an AP report by Jill Colvin at ABCNews:
President Trump traveled to North Dakota yesterday after the meeting with congressional leaders at the White House in which the president sided with Democrats on a deal to fund the government and raise the federal borrowing limit [debt ceiling] for three months, all aimed at expediting money for Harvey relief.
Marc Short, Trump's top legislative adviser, told reporters aboard Air Force One that "helping to clear the decks in September enables us to focus on tax reform for the American people. We need to get the economy growing again and that's what the president focused on."
The President used the event to talk about his tax plan, but its details are still to be determined. He said he'd be getting into "great detail" on the plan in the next two weeks.
Overall, it calls for a major simplification of the tax code and lowering personal rates, especially for the middle class, by raising the standard deduction, among other changes, and lowering business taxes to about 15 percent.
"It's your money, not the government's money," Trump said.
Trump emphasized that the last time Congress passed a major tax overhaul, under President Ronald Reagan in 1986, Democrats signed on.
"Both of the Reagan tax cuts were passed by a Democratic majority in the House, a Democratic speaker, and a vast majority of Democrats in the Senate, including a Democratic senator from the great state of North Dakota," Trump said. "So it can happen. …"

"If Democrats don't want to bring back your jobs, raise your pay and help America win — voters should deliver a clear message: Do your job to deliver for America, or find a new job," he said.
---
WHAT IS THE DEBT CEILING? (from a 9/6 Reuters report by Amanda Becker)
The "debt ceiling" is a legal cap on how much money the U.S. government can borrow through bonds and other debt issued by the U.S. Treasury. It now stands at about $19.8 trillion, very close to the actual national debt.
Once the ceiling is hit, Congress must raise it. If it does not, the government cannot keep borrowing. This matters because the government spends more than it collects in taxes and Washington continually borrows money to cover its bills. Legislation to raise the debt limit will need to be adopted by early October at the very latest.
The Treasury, however, has said that Congress must increase the debt ceiling by Sept. 29. Since March, the Treasury has been using "extraordinary measures" (which it has done regularly) to stave off hitting the ceiling and likely could be stave off default a few more weeks by using such extraordinary measures, analysts have said.
WHAT IF THE CEILING IS NOT RAISED?
If the debt ceiling is not raised and the government can no longer pay its bills, default would result, along with a likely downgrade in the U.S. credit rating.
This has never happened before, but there have been some close calls. A standoff (between President Obama and Republicans) in August 2011 cost the country its top-notch bond rating from the credit ratings agency Standard & Poors and caused the most jarring two weeks in financial markets since the 2007-2009 global financial crisis.
Resources
Watch a news report:
---
Watch former Arkansas Governor Mike Huckabee discuss this issue:
Daily "Answers" emails are provided for Daily News Articles, Tuesday's World Events and Friday's News Quiz.