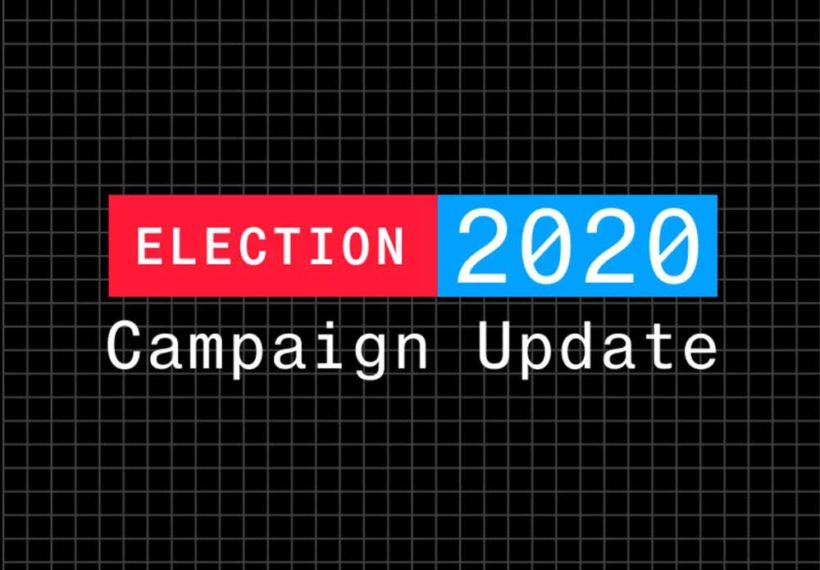 ---
Watch a clip from a news conference the Trump campaign held on Wednesday in Philadelphia detailing the lawsuits they have/are filing:
---
Three election stories to note:
Michigan county to review ballots following report of skewed results
A county in the battleground state of Michigan is reviewing the Election Day vote count after the clerk "became aware of apparently skewed results."
Antrim County Clerk Sheryl Guy learned of the skewed results in unofficial tabulations. Since then, her office has been reviewing the results "and the multiple redundancies to search out any possible discrepancies."
Guy said results on electronic tapes and a computer card were accurate but it appeared that some of the results were somehow scrambled after the cards were transported in sealed bags from township precincts to county offices and downloaded onto a computer.
Biden received 62.5 percent of the over 12,000 ballots cast in Antrim County, versus Trump's 36.3 percent, with 98% of precincts reporting.
State Rep. Triston Cole, a Republican, told a local radio station that the results were suspect. "There is no way that we flipped from 62 percent Trump (and 33% for Hillary Clinton) in 2016 to upside-down this time around," he said.
Tom McMillin, a former Republican state lawmaker…and a member of the State Board of Education, said he noticed irregularities with the Antrim County vote totals late Tuesday, when he was checking out returns for Board of Education candidates.
In some precincts, but not all, Biden and other Democratic candidates had far more votes than normal, McMillin said. "It just looked weird," he said. "Two-thirds of the townships looked really messed up."
Officials had not checked the results before posting them, but later asked: "How could Democrats take over this county?" Guy said Wednesday.
Now, officials are going over the tape of all the results and inputting the numbers manually, Guy said. They hoped to post updated numbers Wednesday night, she said.
"…We expect to have a clear answer and a clear plan of action addressing any issue," Guy said in a statement. "Until then, we are asking all interested parties to bear with us while we get to the bottom of this."
The county initially posted unofficial results on its website but later removed them, before issuing the press release.
Mr. Biden was ahead in Michigan by fewer than 42,000 votes, with less than five percent of the ballots being counted, according to Decision Desk.
Secretary of State Jocelyn Benson, a Democrat, told reporters late Tuesday that the results could be known as soon as Wednesday.  — From a Nov. 4 report by Zachary Stieber at Epoch Times
---
Data used by news outlets wrongly said 98% of ballots had been counted in Arizona; the correct number was 86%
An error in data used by a consortium of major news outlets wrongly said Wednesday that 98 percent of ballots had been counted in Arizona, despite the fact that an estimated 14 percent or more remained to be tallied.
Fox News and the Associated Press used the data to call Arizona for Biden on the night of the election.
Arizona is the first Trump-won state from 2016 that news outlets declared for Biden.
The error in data circulated by Edison Research was pointed out by New York Times breaking news editor Patrick LaForge on Twitter.
As of 1:13 pm on Nov. 4, corrected data from Edison estimates that 14 percent of Arizona ballots still need to be counted. The AP's independent data indicates 16 percent of votes are outstanding.
Edison data is used by the National Election Pool of TV outlets including ABC News, CBS News, CNN and NBC News. The NY Post uses the data via Reuters for an election results map.
In call with reporters Wednesday morning, Trump campaign manager Bill Stepien said of Arizona, "based on the math that we have been seeing as these late-arriving ballots are counted, anywhere from two-thirds to 70 percent of these votes are coming to the president, that math adds up to a margin of around 30,000 in the president's favor."
(Trump beat Hillary Clinton in Arizona 48.08% to 44.58% in 2016 – he won by 91,324 votes.)  — From a Nov. 4 NY Post report by Steven Nelson and Detroit Free Press by Paul Egan)
---
A Philadelphia poll watcher was blocked by elections workers from entering a polling place despite having legal permission to be there.
A certified poll watcher* was denied entry to a voting site in Philadelphia on Election Day, according to Mike Roman, the Trump campaign's director of Election Day operations. (*Poll watchers are members of the public who observe at the polls, with the goal of ensuring that America's democratic process unfolds in the way that it should.)
In a video posted to Twitter…a pair of poll workers appeared to tell a man that his poll watcher certificate wouldn't grant him access to the Philadelphia polling place.
"I have a citywide watcher's certificate," the man can be heard saying in the video. In a follow-up post, the man is identified as Gary Feldman, whose certificate stated that it "authorizes the individual to watch in any ward/division in Philadelphia."
After presenting the certificate, Feldman was told repeatedly that the document "is not for this location."
"Call the police, do it," the male poll worker told Feldman. "If you're legal, call the cops."
The man was later allowed in the polling site, Kevin Feeley, a spokesman for the Philadelphia City Commissioners, told ProPublica.
"The mistake was corrected, and the guy was admitted," he said, claiming it was an isolated incident.  (from the Epoch Times by GQ Pan, Nov. 3)
Questions
1. Watch the video above: "Trump Campaign Holds News Conference in Philadelphia."
a) What does Trump's attorney, former NYC Mayor Rudy Giuliani emphasize that the NY Times said about mail-in ballots?
b) Why has the Trump administration filed a lawsuit in Philadelphia?
c) Poll watchers/observers are members of the public who observe at the polls, with the goal of ensuring that America's democratic process unfolds in the way that it should. Candidates of any party can ask their supporters to be poll watchers. In most major elections, there are poll watchers from both the Democratic and Republican parties. What are poll observers permitted to do by law?
d) For what reasons does Mr. Giuliani say the count in Philadelphia was illegitimate? Be specific.
e) In what other locations does Mr. Giuliani say there is evidence of similar fraud?
f) Former Attorney General of Florida Pam Bondi said in her remarks that Trump was up by 400,000 votes. What does she say is the reason the campaign cares about the other votes their poll watchers were blocked from observing?
g) What is your reaction to Ms. Bondi's remarks?
h) Is the Trump campaign being unreasonable? If the situation with poll watchers was reversed and the Biden campaign was challenging the legitimacy of the mail-in vote count in these circumstances, would your answer be the same? Explain your answer.
2. Watch the full press conference at c-span. Go to 11:55 and watch the comments from Jeremy Mercer, a poll observer in Philadelphia.
What do you think of Mr. Mercer's experience as a poll watcher (observer)?
CHALLENGE: Conservative website Breitbart published the following report with documented video:
"Detroit Absentee Ballot Counting Chaos as Workers Block Windows, Bar Observers"
Watch the videos as you read the article.   Poll workers are supposed to be non-partisan. Should Democrats / Biden supporters be concerned about the actions of these pro-Biden poll workers? Are their actions something to be concerned about? If pro-Trump poll workers in a conservative city blocked the windows to prevent Biden poll watchers from observing, would your answer be different? Explain your answers.
Resources
Read about Mail-In Voting at StudentNewsDaily's General Election page. (scroll down for videos)
Daily "Answers" emails are provided for Daily News Articles, Tuesday's World Events and Friday's News Quiz.