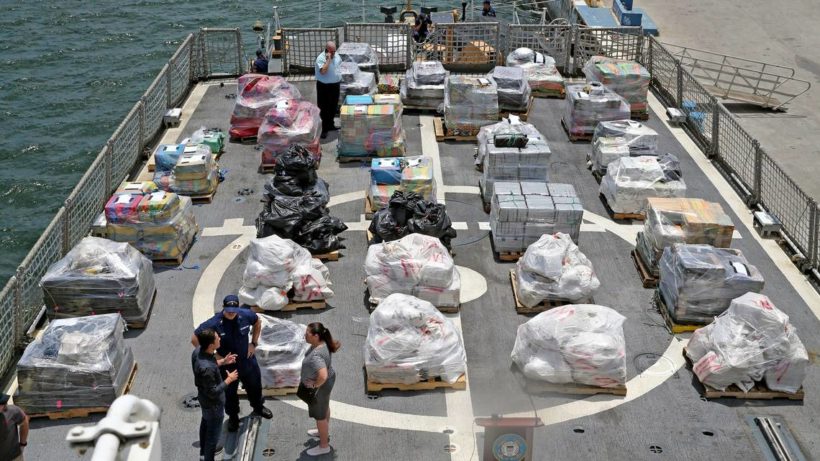 redo Jump to...
print Print...
The drugs – which carried a street value of nearly $400 million and were off-loaded in Port Everglades (Ft. Lauderdale) by the crew of the 270-foot Coast Guard Cutter Legare – were the fruits of major busts off the Pacific coast of Mexico, as well as Central and South America.
The massive pile of dope was the result of 17 separate drug-smuggling vessel seizures, including five hauls by the Legare that totaled more than 4,500 pounds of cocaine. The Coast Guard Cutter Reliance, meanwhile, was responsible for seizing roughly 2,600 pounds of marijuana in one bust alone. Canadian Naval vessels also assisted in some of the interdictions, officials said.
"What these numbers represent is an increased commitment by the US and international partners to combat transnational criminal networks and promote stability in the Central American region, along the US southern border, and in the southern maritime approaches to the US," Cmdr. Jonathan Carter, commanding officer of the Legare, said in a statement. "Today's offload sends them a message that our network of partners and allies remains resolute in our commitment to stem the flow of illicit trafficking that breeds instability."
US Coast Guard Petty Officer Third Class Brandon Murray told The Post that the confiscated drugs are usually sent to federal labs for testing, with portions kept as evidence for subsequent trials. The remainder is sent to the Drug Enforcement Administration, which destroys the drugs in a "controlled lab facility," he said.

Video released Tuesday by Coast Guard officials showed dozens of wooden pallets packed with drugs worth more than $390 million.

[Florida's Sun Sentinel reported on December 7: Massive offloads of seized drugs, typically cocaine and marijuana, at Coast Guard facilities in South Florida and elsewhere have become somewhat regular in recent years as numerous U.S. agencies and international partners have been focusing patrols on smuggling transit routes in the eastern Pacific.

In December, the Coast Guard delivered more than 12 tons of seized cocaine to Port Everglades. The cocaine, which the agency said was worth about $378 million, was intercepted in international waters of the eastern Pacific Ocean in October and November.

Those drugs represented 12 seizures by three Coast Guard cutters — the Escanaba, the Thetis and the Spencer — and a Royal Canadian Navy ship on patrol with the Coast Guard Law Enforcement Detachment team.]

The San Diego Union-Tribune reported on March 20: In a separate massive haul in March, U.S. Coast Guard crews offloaded roughly $500 million-worth of cocaine that was seized during more than a dozen operations in the Eastern Pacific. The bulk of the cocaine represented what was seized by five Coast Guard cutters during 17 separate seizures between early February and early March off the coasts of Central and South America, Coast Guard officials said. All drugs seized by the five vessels were offloaded by the crew of the Coast Guard Cutter Bertholf at San Diego's B Street Pier.

Reprinted here for educational purposes only. May not be reproduced on other websites without permission from the New York Post.
Questions
1. The first paragraph of a news article should answer the questions who, what, where and when. List the who, what, where and when of this news item. (NOTE: The remainder of a news article provides details on the why and/or how.)
2. a) Define offload (as compared to unload).
b) How much money are the confiscated drugs worth (street value)?
c) Where were the drugs seized?
3. What does the Coast Guard do with the confiscated drugs?
4. a) What is the significance of these drug seizures?
b) What is the purpose / goal of the seizures, according to Commander Jonathan Carter?
5. What do you think Cmdr. Carter means when he says the illicit drug trafficking "breeds instability"?
CHALLENGE:
In addition to confiscating massive amounts of cocaine and marijuana from smugglers' boats, the deadly drug fentanyl is also being smuggled in to the U.S. Despite media reports that the fentanyl comes directly from China, Stratfor's Scott Stewart investigated and found that fentanyl actually is being brought in to the U.S. from Mexico. He writes:
"The [illegal] manufacture and distribution of fentanyl, like methamphetamine, is lucrative for the Mexican cartels. They manufacture it in their own labs using *precursor chemicals imported from China and reap huge profits smuggling it into the United States. [Precursor chemicals are those used to make illicit drugs.] Fentanyl's potency (it is many times stronger than heroin) allows the cartels to deal in smaller shipments, boosting the return on trafficking. It would take 50 kilograms (110 pounds) or so of heroin to equal the dosage from 1 kilogram of fentanyl.
Read Mr. Stewart's report "The Chinese Connection to the Flood of Mexican Fentanyl"
What 3 facts did you learn from this article that you think people should know? Explain your answer.
Background
Florida's Sun Sentinel reported on April 24:  The 17 seizures, according to the Coast Guard, were:
The Coast Guard Cutter Reliance was responsible for one case, seizing an estimated 1,200 kilograms of marijuana.
The Coast Guard Cutter Legare was responsible for five cases, seizing an estimated 2,051kilograms of cocaine and 8 kilograms of marijuana.
The Coast Guard Cutter Harriet Lane was responsible for one case, seizing an estimated 907 kilograms of cocaine.
The Coast Guard Cutter Decisive was responsible for two cases, seizing an estimated 430 kilograms of cocaine.
The Coast Guard Cutter Steadfast was responsible for four cases seizing an estimated 1730 kilograms of cocaine.
HMCS Whitehorse was responsible for two cases, seizing an estimated 1,540 kilograms of cocaine.
HMCS Edmonton was responsible for one case, seizing an estimated 451 kilograms of cocaine kilograms of cocaine.
In addition to Coast Guard crews, numerous U.S. agencies were involved in the drug seizures, including the Department of Homeland Security, Department of Defense and the Justice Department.
Resources
In Fort Lauderdale Tuesday morning the Coast Guard unloaded 12 tons of cocaine and one ton of marijuana that was seized recently international waters:
Daily "Answers" emails are provided for Daily News Articles, Tuesday's World Events and Friday's News Quiz.