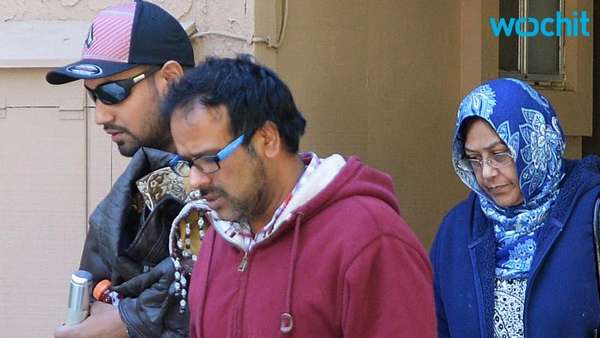 redo Jump to...
print Print...
(by Alex Dobuzinskis, Reuters) Los Angeles — FBI agents arrested the brother of  terrorist who carried out the December mass shooting in San Bernardino, California, as well as two women on Thursday on charges of federal conspiracy, marriage fraud and making false statements, U.S. prosecutors said.
Officials said the charges against Syed Raheel Farook, whose brother Syed Rizwan Farook and sister-in-law, Pakistan-born Tashfeen Malik, murdered 14 people at a Dec. 2 holiday party, follow an immigration-related investigation that began with the probe into the massacre.
Authorities have said that Syed Rizwan Farook and Malik were Islamic terrorists, calling their attack the deadliest such attack on U.S. soil since Sept. 11, 2001. They died in a shootout with police hours after the mass shooting.
The three people arrested on Thursday were not charged with any crimes related to terrorism or the December terrorist attack.
Syed Raheel Farook, 31 (who is a U.S. Navy veteran), his wife, Tatiana Farook, 31, and her sister Mariya Chernykh, 26, were arrested by agents from the Federal Bureau of Investigation after they were charged in an indictment with conspiracy to make a false statement to immigration officials while under oath, the U.S. Attorney's Office said in a statement.
The investigation determined that in 2014 Enrique Marquez, who had been a friend of Muslim terrorist Syed Rizwan Farook, agreed to marry Chernykh, a Russian citizen, so that she could apply for permanent residence in the United States, charging documents stated.
Chernykh also was charged with fraud and two counts of making material false statements to federal agents, prosecutors said.
She submitted immigration paperwork declaring that she lived in Corona with Marquez, which was false because she lived in the nearby community of Ontario with her child and another man, according to charging documents.
Syed Raheel Farook and Tatiana Farook, who were arrested at their home in Corona, had staged photos of Marquez and Chernykh to make them look like a married couple and created a joint bank account for the two, the charging documents stated.
"Today's arrests open a new phase in the process of bringing to justice all individuals who allegedly committed crimes that were uncovered during our exhaustive investigation," U.S. Attorney Eileen Decker said in a statement.
Marquez was charged on Dec. 18 with conspiring with Syed Rizwan Farook in 2011 and 2012 to support a militant attack in Southern California that was never carried out. He has pleaded not guilty and is awaiting trial.
The alleged sham marriage of Marquez and Chernykh surfaced in December, when Marquez was charged with defrauding immigration authorities by entering into the union (marrying her).
Syed Raheel Farook and Tatiana Farook if convicted of conspiracy each face a maximum sentence of five years in prison, while Chernykh if convicted of all charges faces up to 25 years, prosecutors said. They are scheduled to appear in court on Thursday afternoon.
Chernykh could also be deported to Russia if convicted, an immigration service spokeswoman said.
An attorney who has represented the Farook family could not be reached for comment.
(Additional reporting by Julia Edwards in Washington)
Reprinted here for educational purposes only. May not be reproduced on other websites without permission from Thomson Reuters. Visit the website at Reuters.com.
Questions
1. Define the following as used in the article:
conspiracy
indictment
marriage fraud/sham marriage
defrauding
convicted
2. The first paragraph of a news article should answer the questions who, what, where and when. List the who, what, where and when of this news item. (NOTE: The remainder of a news article provides details on the why and/or how.)
3. a) What crimes were the three not charged with committing?
b) With what crimes were they charged?
4. What did they do to be charged with these crimes?
5. Why wasn't Enrique Marquez arrested along with the other three?
6. a) What punishment does each face if convicted?
b) Do you think 5 years maximum is a just punishment for this crime? Explain your answer.
7. a) Do you think Chernykh should be deported? Explain your answer.
b) Ask a parent the same question.
Daily "Answers" emails are provided for Daily News Articles, Tuesday's World Events and Friday's News Quiz.