redo Jump to...
print Print...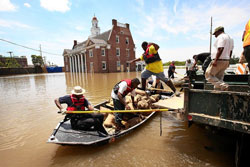 (by Mike Esterl, The Wall Street Journal, WSJ.com) – The U.S. Army Corps of Engineers likely will open a giant spillway in Louisiana as early as this weekend to avert flooding in Baton Rouge and New Orleans as rising waters in the Mississippi River move toward the Gulf of Mexico. (photo: City workers collect sandbags Wednesday to be used for reinforcing a levee gate in Vicksburg, Miss.)
The probability of opening the Morganza Floodway, one of four such structures built along the Mississippi after the record floods of 1927, is "high," a Corps spokesman said, and an announcement could be made by Thursday.
But opening the spillway, located about 40 miles northwest of Baton Rouge, could inundate as much as 90,000 acres of farmland and force the evacuation of thousands of residents in the neighboring Atchafalaya River Basin before the runoff spills into the Gulf.
Some parts of northern Louisiana already have been flooded after the Mississippi River crested at its highest level in more than 70 years in Memphis on Tuesday. Emergency crews reinforced levees in Mississippi on Wednesday, amid flooding in that state.
Authorities on Monday began opening the smaller Bonnet Carré Spillway south of Baton Rouge, a six-mile-long channel that diverts water from the river through environmentally sensitive recreation areas into Lake Pontchartrain and the Gulf, bypassing New Orleans. Last week, the Corps blew a nearly two-mile hole in a levee in Missouri to activate the Birds Point-New Madrid Floodway, flooding more than 130,000 acres of farmland.
"Everyone's cautiously optimistic" there won't be flooding in Baton Rouge or New Orleans if water is diverted through the spillways, said Christina Stephens, a spokeswoman at the Governor's Office of Homeland Security and Emergency Preparedness.
Forecasters estimate the Mississippi River will crest at 19.5 feet in New Orleans around May 24, half a foot below the height of the levees. Without the spillways being opened, it would crest at 21.5 feet, topping the record of 21.27 feet set in 1922.
The Mississippi River was 42 feet high in the state capital Baton Rouge on Wednesday and is expected to crest at 47.5 feet May 22, near its record of 48.1 feet set in 1927, if the Morganza is opened. It has only been opened once, in 1973.
Authorities say 2,500 people live along the Morganza and that another 20,000 could be flooded out if it is opened. Residents in seven parishes to the west and south of Baton Rouge and New Orleans are being told to prepare for possible evacuations.
Emergency workers were shoring up defenses Wednesday in Morgan City, a town of 13,500 people about 70 miles west of New Orleans.
"This is a very significant event," said Mayor Tim Matte. "We're the end of the spigot for the funnel that is the floodway."
He said Morgan City's 22-foot-high floodwall directly along the Atchafalaya River was expected to hold as the river rises another six feet by May 23, and that no forced evacuations were planned.
But dozens of workers were laying sandbags Wednesday to raise the height of levees to nine feet from six feet behind the town, amid fears that floodwaters will back up in area bayous. Authorities also were planning to sink a barge in a nearby bayou to provide further protection.
About 1,500 residents in nearby St. Landry Parish were bracing for flooding, much of it in the town of Krotz Springs, said Lisa Vidrine, the parish's director of emergency preparedness.
The surging Mississippi is destroying crops and threatening energy production and transport in many parts of the South.
Oil refineries are preparing for potential shutdowns and disruptions to fuel shipments as floodwaters move toward the Louisiana refining corridor.
Motiva Enterprise LLC's 237,000 barrel-a-day refinery in Norco, La., is bracing for supply interruptions due to the opening of flood gates, said a spokesman for Royal Dutch Shell PLC, which is part of a joint venture operating the plant.
The Morganza spillway can divert up to 600,000 cubic feet of Mississippi River water per second, though authorities haven't yet decided how much they will divert. The Bonnet Carré can divert up to 250,000 cubic feet of water per second.
Copyright 2011 Dow Jones & Company, Inc. All Rights Reserved. Reprinted here for educational purposes only. Visit the website at wsj.com.
Questions
1. A spillway/floodway is a structure used to provide for the controlled release of water flows from a dam or levee into a downstream area. Four floodways were build along the Mississippi River after the record floods of 1927. Why might the U.S. Army Corps of Engineers open the Morganza Floodway in Louisiana this weekend?
2. What negative impact would the opening of the Morganza have on the surrounding area?
3. What would happen if the spillways were not opened?
4. Aside from flooding residents' homes and businesses, what negative impact is the surging Mississippi having on the area?
5. Watch the videos under "Resources" below.
a) What do you think of the U.S. Army Corps of Engineers flood management program (spillways/levees etc.) on the Mississippi? Explain your answer.
b) Should the Army Corps of Engineers open the Morganza floodway? Explain your answer.
Background
Swollen by weeks of heavy rain and snowmelt, the Mississippi River has been breaking high-water records that have stood since the 1920s and `30s. It is projected to crest at Vicksburg on May 19 and shatter the mark set there during the cataclysmic Great Flood of 1927. The crest is expected to reach New Orleans on May 23. Even after the peak passes, water levels will remain high for weeks, and it could take months for flooded homes to dry out.
In southeast Missouri, where floodwaters were receding, residents of hard-hit towns were getting their first look at the damage.
The Southeast Missourian reported Thursday that streets in the town of Morehouse, where about 280 homes were damaged, were lined with piles of ruined couches, beds, clothing and carpeting. The stench of mold filled the air.
"Everything was ruined. Even if it didn't get wet, it got mold on it," said Melissa Massey, whose home had five inches of water in it for five days. "Mold is growing up the walls right now."
(from startribune.com/nation/121696704.html?page=1&c=y)
Resources
Info on the Mississippi River and Morganza Spillway by the U.S. Army Corps of Engineers:
Louisiana Gov. Bobby Jindal talking about the impact of opening the spillway:
Watch a news report from the Morganza spillway:
Daily "Answers" emails are provided for Daily News Articles, Tuesday's World Events and Friday's News Quiz.