redo Jump to...
print Print...
PLEASE NOTE: Daily posting and "Answers" emails will end for the school year on Friday, May 26th.
Check the website during the summer for occasional posts.
(by Romeo Ranoco, Reuters and Raul Dancel, StraitsTimes) PANTAR, Philippines — Thousands of Filipino civilians fled fighting on Wednesday as troops tried to fend off Islamist militants who took over large parts of Marawi city, capturing Christians, seizing and torching buildings and setting free scores of prisoners.
Islamic State claimed responsibility for the rampage.
The terrorist attacks on Tuesday in Marawi in the southern Philippine island of Mindanao forced President Rodrigo Duterte to impose martial law across the island, which is home to some 20 million Filipinos.
About a hundred extremists from the Maute group mounted attacks across Marawi, a mainly Muslim city in the southern island of Mindanao on Tuesday, after after a botched raid by security forces on a hideout of the Maute, a militant Islamist group that has pledged allegiance to Islamic State. The operation was aimed at capturing Isnilon Hapilon, a leader of the Abu Sayyaf group notorious for piracy, banditry and for kidnapping and decapitating Westerners. Abu Sayyaf is a Jihadist militant group that follows the Wahhabi doctrine of Sunni Islam based in and around Jolo and Basilan islands in the southwestern part of the Philippines. It is one of the smallest and most violent jihadist groups in the southern Philippines.
Hapilon was designated by ISIS last year as its top man in Southeast Asia. He is designated a terrorist by the US State Department, which has a bounty of up to $5 million for his arrest. Security analysts say Hapilon has been trying to unite groups in the Philippines that have professed allegiance to ISIS. These include the Islamist terrorist Maute group, which is based near Marawi.
After the failed attempt to capture Hapilon, more than 100 Islamic fighters quickly dispersed, torching buildings and taking over bridges, a hospital, two jails, a church and a college.
Soldiers and guerrillas set up rival checkpoints and roadblocks on routes in and around Marawi as civilians fled the city of 200,000 in droves, leaving behind what one official described as a ghost town.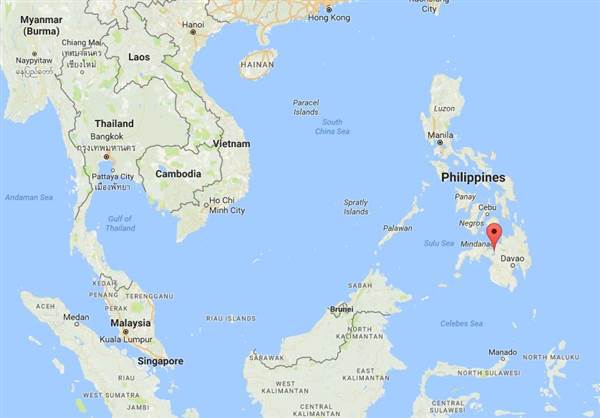 Long lines of pickup trucks and jeeps crammed full of people and loaded with belongings crawled along roads into nearby towns as troops searched vehicles for weapons and bombs.
The military said it had rescued 120 people from a school and a hospital and was trying to isolate Maute fighters while awaiting reinforcements that were being blocked by rebels.
Maute snipers and booby traps were hampering operations, which the army said could last three more days.
The Catholic church said militants were using Christians and a priest as human shields and had contacted cardinals with threats to execute hostages unless government troops withdrew.
Thirteen militants and seven security personnel have so far been killed and 33 troops wounded, the army said.
Mujiv Hataman, governor of the Autonomous Region in Mindanao, said the terrorists freed 107 prisoners from the local prison, among them Maute rebels.
Duterte said martial law would mean checkpoints and arrests and searches without warrant, and it would go on for as long as necessary – that Islamic State must be repelled from the Christian-majority Philippines and he would use all means possible to crush the Maute group and the allied Abu Sayyaf.
"Anyone now holding a gun, confronting government with violence, my orders are spare no one, let us solve the problems of Mindanao once and for all," said Duterte, who is from the island, after cutting short a visit to Russia and returning to Manila.

"If I think you should die, you will die. If you fight us, you will die. If there's an open defiance, you will die, and if it means many people dying, so be it. That's how it is."
"I made a projection, not a prediction, that one of these days the hardest things to deal with would be the arrival of ISIS," Duterte said, referring to Islamic State. "The government must put an end to this. I cannot gamble with ISIS because they are everywhere."
Duterte said he would not tolerate abuses of power by security forces under martial law, but critics said the military rule in all of Mindanao, an island the size of South Korea with a population of 22 million, was an overreaction.
Referring to Senior Inspector Freddie Solar, the police officer who had been murdered by the terrorists, President Duterte said,
"Things like this the government cannot allow… Government must put an end to this… I will not allow the country to go to the dogs."
Compiled and adapted from news reports at Reuters and StraitsTimes. Reprinted here for educational purposes only. May not be reproduced on other websites without permission.
Questions
PLEASE NOTE: Daily posting and "Answers" emails will end for the school year on Friday, May 26th.
Check the website during the summer for occasional posts.
1. a) What is the population of the Philippines?
b) What is the religious breakdown of the Philippines?
2. The first paragraph of a news article should answer the questions who, what, where and when. List the who, what, where and when of this news item. (NOTE: The remainder of a news article provides details on the why and/or how.)
3. What is the Maute group?
4. Who is Isnilon Hapilon? Be specific.
5. What is the Abu Sayyaf group?
6. What did Islamic State aligned fighters do after a botched police attempt to arrest terrorist Isnilon Hapilon in the Philippine city of Marawi?
7. a) Filipino president Rodrigo Duterte cut short a trip to Russia upon learning of the attacks in the city. What action did he immediately take?
b) What statements did President Duterte make about martial law and the how the government will deal with Islamic extremists?
8. Critics say Duterte's action is an overreaction. Ask a parent:
a) What do you know about President Duterte?
b) During former dictator Ferdinand Marcos' rule, the Philippine people lived under martial law for 14 years. The new constitution allows for 60 days of martial law. (See "Background" below for the text.) Based on what you have read about how Duterte governs, do you think his decision to deal with Islamic terrorists is an overreaction or the right way to handle this crisis? Please explain your answer.
c) What is the purpose of martial law? Do you think this is a case where it should be used?
Background
Did you know?
Islamist militancy is not new to the southern Philippines, where a decades-long Muslim separatist insurgency has claimed more than 120,000 lives.
Muslim rebels orchestrated a siege in the southern city of Zamboanga in 2013 that left more than 200 people dead.
What happens under martial law?
Martial law allows the president to 'call out the armed forces to prevent or suppress lawless violence, invasion or rebellion', according to the Philippines constitution.
Defense Secretary Delfin Lorenzana said security forces would be able to arrest suspected militants and hold them for three days without charge. (from UK Daily Mail)
The following is a paragraph from the provision in the Philippines Constitution of 1987 about the declaration of martial law:
Art. VII, Sec. 18. – The President shall be the Commander-in-Chief of all armed forces of the Philippines and whenever it becomes necessary, he may call out such armed forces to prevent or suppress lawless violence, invasion or rebellion. In case of invasion or rebellion, when the public safety requires it, he may, for a period not exceeding sixty days, suspend the privilege of the writ of habeas corpus or place the Philippines or any part thereof under martial law. …
Daily "Answers" emails are provided for Daily News Articles, Tuesday's World Events and Friday's News Quiz.