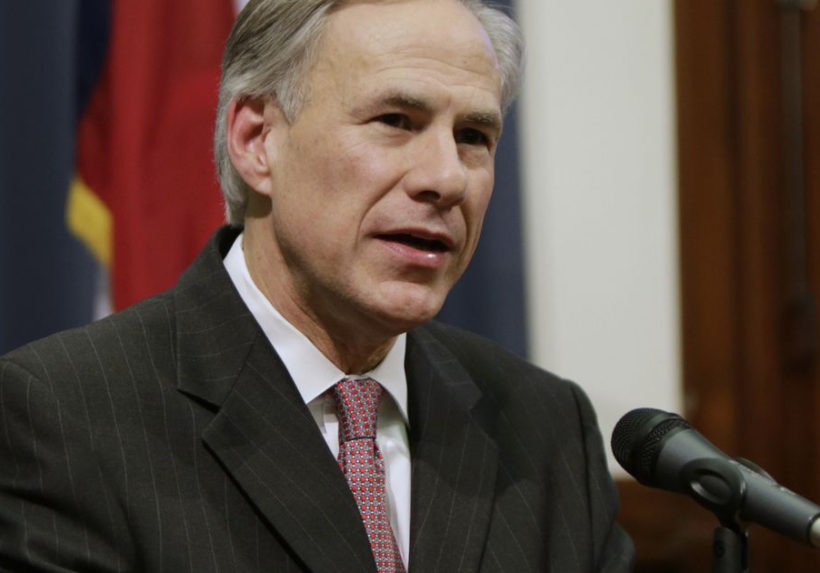 redo Jump to...
print Print...
Republican Texas Governor Greg Abbott on Wednesday threatened to withhold state grant money to Dallas County if the Democratic sheriff there does not detain undocumented immigrants as requested by federal authorities.
Dallas County Sheriff Lupe Valdez has said her office is abiding by federal guidelines.
In October, Abbott warned Valdez that he will crack down on local officials who do not report undocumented immigrants to federal authorities.
So far this year, Abbott's office said it has issued over $4 million in funding to sheriffs, with $78,000 in grants to Dallas County.
The governor's Criminal Justice Division (CJD) provide counties with funding for drug courts, juvenile justice programs, body cameras and a crime victim compensation program.
"As governor, I simply will not allow CJD grant funding administered by this office to support law enforcement agencies that refuse to cooperate with a federal law enforcement program that is intended to keep dangerous criminals off Texas streets," Abbott wrote.
"Your refusal to fully participate in a federal law enforcement program intended to keep dangerous criminals off the streets leaves the state no choice but to take whatever actions are necessary to protect our fellow Texans," Abbott wrote, as reported by the Texas Tribune. "Policies like yours compel Texas to take action to protect Texans' safety."
In particular, Valdez has been refusing to adhere to a federal law mandating all undocumented immigrants in jail be held at least 48 extra hours after their release dates to afford the U.S. Immigration and Custom Enforcement ample time to investigate the circumstances surrounding the jailings. For her part, Valdez, a Democrat who is in the throes of a re-election campaign, has said her decisions are made on a case-by-case basis and are what's best for her jurisdiction. Dallas County has a population that is 39.3 percent Hispanic or Latino, according to the most recent Census estimates.
"No matter what we do, someone is going to get upset," she told the Dallas Morning News earlier this month. "We can't base our decisions on who is going to get upset with us. We have to base our decisions on what is best for the whole." It was unclear if she had responded to Abbot's letter Monday.
The funding that could be lost would likely be less than what a county would spend on holding immigrants charged with minor offenses for at least two days past their scheduled release, according to Southern Methodist University political science professor Cal Jillson.
Republicans have been taking aim at immigration policies in the state's largest metropolitan areas including Dallas and Houston, which have turned into Democratic bases and been notable exceptions to Republican control of the state.
Some Republicans believe Dallas and Houston are among the so-called sanctuary cities that do not report undocumented immigrants to federal authorities.
The concept of sanctuary cities — or cities that extend certain legal liberties to undocumented immigrants — has come under scrutiny lately as immigration becomes an increasingly contentious topic during the national and local election season. The Republican Party has been pressuring Abbott to encourage legislative members of his party to draft a bill to rid the state of so-called sanctuary laws that do not encourage deporting undocumented immigrants, according to the Texas Tribune.
Compiled from news reports by Reuters and IB Times.  Reprinted here for educational purposes only. May not be reproduced on other websites without permission.
Questions
NOTE TO STUDENTS: Many issues can be controversial. While you might not feel strongly about a certain topic, others around you might take a strong position on one side or the other. Learn to logically defend your position, and politely respect your neighbor's point of view. And if your neighbor gets argumentative with you, remind each other that both sides need to be tolerant of the other's point of view.
1. The first paragraph of a news article should answer the questions who, what, where and when. List the who, what, where and when of this news item. (NOTE: The remainder of a news article provides details on the why and/or how.)
2. Why might Gov. Abbott's withholding of grant money not make any difference to Dallas county Sheriff Lupe Valdez?
3. What specifically is Sheriff Valdez refusing to do?
4. How did Sheriff Valdez respond to Gov. Abbott's criticism of her decision to ignore federal law?
5. Sheriff Valdez is not upholding federal law. What do you think should be done about people who have come here illegally? Should law enforcement across the country do the same? Do we let everyone come, as Europe is doing? Do we regulate the number of people entering the country, screening them with background checks to weed out the criminals?
6. If people break the law to come into the country, what should be done about it? (Note: until recently, people in the country unlawfully were referred to as illegal immigrants. Liberals say that term has a negative connotation – that people should not be referred to as "illegal" and instead identify them as "undocumented" immigrants.
7. Those who insist that local law enforcement increase its vigilance point to the San Francisco murder in July of a woman by an immigrant in the U.S. unlawfully, who had been deported from the U.S. multiple times. There had been a federal request to hold him for immigration officials, but San Francisco Sheriff Ross Mirkarimi ignored the request.
Mirkarimi is known nationally for his strident defense of sanctuary city policies. (He lost his re-election bid this week. He was the subject of national criticism after Mexican illegal immigrant Francisco Sanchez shot and killed 32-year-old Kate Steinle on San Francisco's waterfront July 1. Sanchez had been released from Mirkarimi's jail in March even though federal immigration officials had requested he be detained for possible deportation.
San Francisco declared itself a sanctuary city in 1989, passing an ordinance that bans city officials from enforcing immigration laws or asking about immigration status unless required by law or court order. A follow-up ordinance in 2013 allows detention only under a court order targeting violent felons. In October, San Francisco's board of supervisors unanimously approved a resolution to maintain the city's sanctuary status.
Apart from the horrific murder of Kate Steinle, do you think sanctuary cities are beneficial to the citizens of a city/state, to the "undocumented" immigrants, both, or neither? Explain your answer.
Background
How often does the Texas legislature meet?
The Legislature of the State of Texas, operating under the biennial system, convenes its regular sessions at noon on the second Tuesday in January of odd-numbered years. The maximum duration of a regular session is 140 days. The governor is given authority under the state constitution to convene the legislature at other times during the biennium. Such sessions are known as called or special sessions and are reserved for legislation that the governor deems critically important in the conduct of state affairs. Called sessions are limited to a period of 30 days, during which the legislature is permitted to pass laws only on subjects submitted by the governor in calling for the session. (from house.state.tx.us)
Political affiliation of Texans:
Per wikipedia: Texas Republicans control all statewide offices, both houses of the state legislature and have a majority in the Texas congressional delegation. This makes Texas one of the most Republican states in the U.S. (Despite overall Republican dominance, Austin, the state capital, is primarily Democratic, as are El Paso and the Rio Grande Valley. However, the suburbs of these cities remain heavily Republican.)
Daily "Answers" emails are provided for Daily News Articles, Tuesday's World Events and Friday's News Quiz.