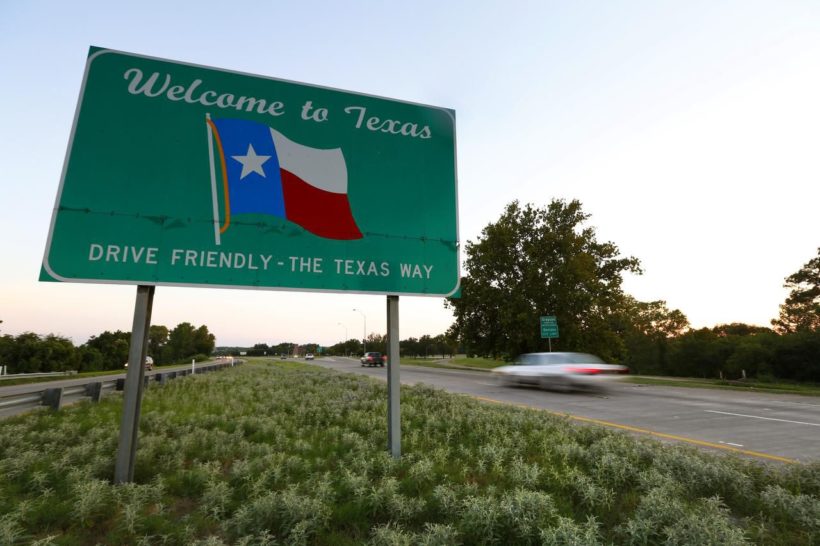 redo Jump to...
print Print...
(by Heather Somerville, The Wall Street Journal) — Tesla Inc. Chief Executive Elon Musk said he has moved to Texas, taking aim at Silicon Valley and becoming one of the highest-profile executives yet to leave California during the coronavirus pandemic.
Mr. Musk's companies continue to maintain extensive operations in California, and other tech firms are expanding their presence there. Yet his decision to move underscores a growing discontent, particularly among wealthier tech professionals, with the cost of living in the state, a pre-pandemic real-estate crunch and clogged roads.
Taking up residence in Texas comes with personal benefits for Mr. Musk: The state doesn't collect state income or capital-gains tax for individuals. The auto executive qualified this year for billions of dollars in stock-option compensation as part of a pay-package agreement, making him the second-richest person in the world.
During the spring, when Mr. Musk was sparring over coronavirus shelter-in-place orders that shut his factory near San Francisco, California Gov. Gavin Newsom told CNBC he was "not worried about Elon leaving any time soon" and the state was committed to the car maker's success.
"We may not be the cheapest place to do business but we are the best place to do business," Mr. Newsom, a Democrat, said. Silicon Valley remains home to some of the hottest companies— Airbnb Inc. and food delivery company DoorDash Inc. are poised for multibillion-dollar public listings this month and are both based in San Francisco.
Mr. Newsom's office didn't immediately respond to a request for comment about Mr. Musk's move.
…Since Covid-19 struck, executives and employees have fled the San Francisco Bay Area for cheaper locales since remote working conditions have become the norm for many people. Last week, Hewlett Packard Enterprise, whose origins trace back to the founding of Silicon Valley, said it planned to shift its headquarters to Texas. The departures have led many tech leaders and industry watchers to question whether the geographic region is losing its position as the nation's leading technology hub.
Palantir Technologies Inc., founded in the Bay Area in 2003, moved its headquarters to Denver this year. CEO Alex Karp, who co-founded the company, linked the departure to what he says is a view in Silicon Valley that is out of touch with American principles and societal needs.
Mr. Musk echoed that sentiment Tuesday, arguing the San Francisco Bay Area "has too much influence on the world." That power is shifting, he said. "I think we'll see some reduction in the influence of Silicon Valley."
Mr. Musk made the comments from Texas during The Wall Street Journal's CEO Council annual summit in an interview with Editor in Chief Matt Murray.
Palantir co-founder Joe Lonsdale, a venture capitalist, moved to Austin this year. The city has become an attractive alternative to Silicon Valley for tech industry professionals. He wrote in a Journal opinion article last month that California has turned into a place where "bad policies discourage business and innovation, stifle opportunity and make life in major cities ugly and unpleasant."  …
California's taxes underlie many of the complaints. Its personal income tax tops out at 13.3% for amounts over $1 million a year, the highest in the nation. Capital gains are taxed at a similar rate. Many who call the Bay Area home have expressed relief at the departure of tech professionals who have been blamed for driving up the cost of living and congesting the freeways.
Tesla's new car plant, its first U.S. factory outside Silicon Valley, is slated to open in Austin next year. Mr. Musk's rocket company, Space Exploration Technologies Corp., or SpaceX, has operations in South Texas, leading Mr. Musk to spend a lot of time in the state. He filed paperwork in late October to move his personal foundation from California to Austin, according to local records….
Mr. Musk likened California to a sports team with a long winning streak, saying "they do tend to get a little complacent, a little entitled, and then they don't win the championship anymore." California, he said, "has been winning for a long time. And I think they're taking that for granted a little bit."
…[During the WSJ interview], Mr. Musk broadly criticized government regulations as stifling startup creation and favoring monopolies or duopolies. He called for the government to "just get out of the way" of innovators.
Mr. Musk has criticized regulators in the past. He threatened to move Tesla's operations out of California while sparring with authorities there in May, after local shelter-in-place orders required him to shut down his lone U.S. car factory as part of measures to slow the spread of the coronavirus. He criticized local officials at the time as "breaking people's freedoms" by imposing the curbs.
The executive later filed a lawsuit against Alameda County, home of the Tesla factory, and defied local authorities by proceeding to reopen the plant, daring them to arrest him. The county eventually [dropped their opposition to] the plant's reopening and didn't pursue an arrest. …..
Mr. Musk said both Tesla and SpaceX retain large operations in California.
—Eliot Brown contributed to this article. Published at wsj .com. Reprinted here for educational purposes only. May not be reproduced on other websites without permission from The Wall Street Journal.
Questions
1. What is Silicon Valley?
2. a) What is significant about Elon Musk's move from California to Texas?
b) What two companies does Musk own?
3. a) What is Elon Musk's personal net worth?
b) What benefit does Mr. Musk gain by moving to Texas?
4. Elon Musk has lived much of his life in California, but he moved his residence to Texas. What did he say about California?
5. a) What company, original to Silicon Valley, is moving its headquarters to Texas?
b) Why did Palantir Tech CEO Alex Karp move his company's headquarters to Denver this year?
c) What did Elon Musk say about Silicon Valley?
d) What did Palantir co-founder Joe Lonsdale, who moved to Austin this year, say about California's governmental policies?
6. Watch the videos under "Resources" below. What do you think of Elon Musk's view of government, innovation and California? – What is your reaction to his remarks?
Background
Earlier this month, Hewlett Packard Enterprise Co., part of one of Silicon Valley's founding companies, said it is relocating its global headquarters based in San Jose to suburban Houston. The company is building a state-of-the-art campus in the spring to accommodate the 2,600 workers it has in the Houston area. HPE also has operations in Plano and Austin.
"HPE's largest U.S. employment hub, Houston, is an attractive market to recruit and retain future diverse talent," the company said.
And in July, Musk picked Austin as the site for Tesla's largest U.S. assembly plant — a $1.1 billion investment that is expected to employ at least 5,000 workers.
It'll be one of Texas' largest job-creating projects in the last decade. Toyota invested $1 billion and about 4,000 jobs when it moved its North American headquarters from California to Plano in 2017.
Resources
Watch a Dec. 9 Wall Street Journal interview:
---
Watch a Dec. 9 CNBC report:
Daily "Answers" emails are provided for Daily News Articles, Tuesday's World Events and Friday's News Quiz.