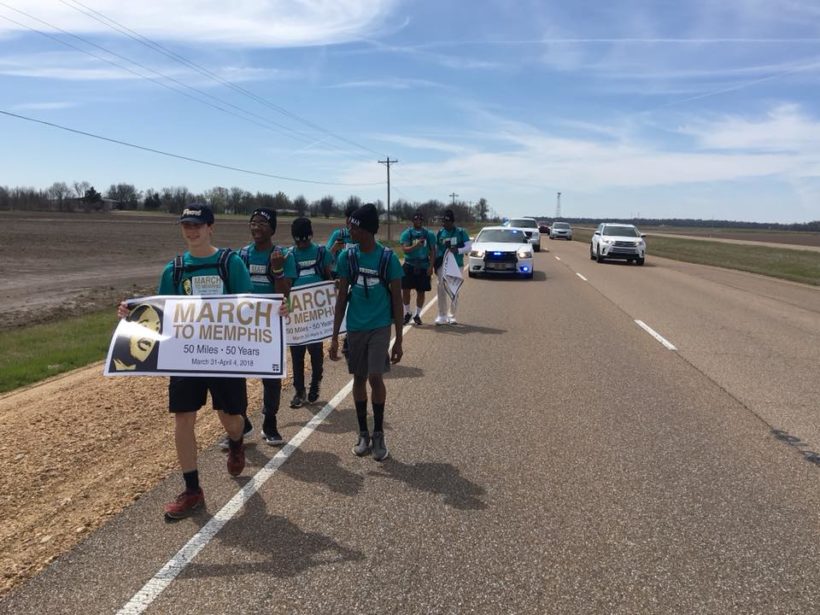 redo Jump to...
print Print...
(by Gianluca Mezzofiore, CNN) – Six teenagers are walking to Memphis, Tennessee, on a symbolic journey to honor the Rev. Martin Luther King Jr., the civil rights hero who was assassinated at the Lorraine Motel in Memphis, on April 4, 1968.
Their march, which started March 31 on Highway 61 near Dundee, Mississippi, is 50 miles long — one for each year since King was assassinated.
Five of the participants — JaQuon Ohara, Damonte' Steele, Cameron Allison, Davonta Pate and Raphael Williams — are black. Benjamin Rutledge is white.
Aged 14 to 19, they are all from Pearl and Richland, Mississippi.
"Our hope is to not only honor all that Dr. King achieved, but to be part of continuing his work," said Jarvis Ward, organizer of the trek and president of Pearson Foundation, a community service organization based in Pearl, Mississippi.

"We want to show how racial justice, economic justice and racial reconciliation can be advanced in and by the next generation. ["We will not be walking in anger or protest. We will be walking in honor and in hope, believing that Dr. King's dream of biblical racial & economic justice and racial reconciliation and peace can yet one day be realized."]
Along the way, the teenagers are discussing "civil rights and justice issues and model reconciliation and healthy racial relations" with the help of two adult mentors who are also walking with them, a press release said. The marchers all wear aquamarine T-shirts and carry a banner with an image of King's face.
["It's a way to show people that you can have friendships with different people of different backgrounds, different races, on all levels," said Damonte Steele, a 15-year-old sophomore at Pearl High School.
Steele is in ROTC at Pearl High School with his 18-year-old friend Benjamin Rutledge, who is white. Rutledge said King "changed a lot of our viewpoints here in America."
"I like doing events that challenge me and improve my character, and allow me to meet people too," Rutledge said.]
The group also has a police escort provided by the Pearl Police Department, the Mississippi Highway Patrol and municipal and county law enforcement agencies.
[They left their starting point on March 31 walked 15 miles a day until they reached their destination on April 3. The group took part in community meetings after they finished each day's walk, and spent their nights in hotels, Mr. Ward said.]
Once in Memphis, they joined a youth rally Tuesday evening and attended anniversary activities on Wednesday at the National Civil Rights Museum, located at the site of the former Lorraine Motel where Dr. King was assassinated.
"Physical training hasn't been much, frankly. Jarvis is training them to handle civil rights and reconciliation issues," Ron Forseth, co-director of the march, told CNN.

"After 28 miles, they are certainly sore and tired with some blisters and worn ankles. But their spirits are high."
From CNN. First published March 31, 2018. Reprinted here for educational purposes only. May not be reproduced on other websites without permission from CNN.
Questions
1. The first paragraph of a news article should answer the questions who, what, where and when (although in this article see paragraphs 1 and 2). List the who, what, where and when of this news item. (NOTE: The remainder of a news article provides details on the why and/or how.)
2. What is significant about the number of miles the teens are walking?
3. a) What is the purpose of the march?
b) What did organizer Jarvis Ward say he hoped to achieve?
c) What did high school sophomore Damonte Steele say about the purpose of the march?
4. Watch the news reports under "Resources" below. Today's Daily News Article is a human interest news story. Human interest stories differ from the regular news – they are sometimes referred to as "the story behind the story." The major news articles of the day tell of important happenings. Human interest stories tell of how those happenings have impacted the people or places around the story.
Do you think this human interest story is newsworthy? Why or why not?
5. Check out some of the links about Rev. Martin Luther King Jr. under "Background" below. What 2 or 3 facts did you learn about him that you did not know?
Background
Visit the group's Facebook page: March to Memphis.
The teens are participating through the Pearson Foundation. Visit the website at pearson.org.
2013 saw the 50th Anniversary of MLK's "I Have a Dream" speech.  Read/watch Dr. King's "I have a dream" speech
Learn more about how Dr. King was honored in his lifetime and beyond:
Did you know?…
At the White House Rose Garden on November 2, 1983, President Ronald Reagan signed a bill creating a federal holiday to honor Dr. King. Observed for the first time on January 20, 1986, it is called Martin Luther King, Jr. Day. Following President George H. W. Bush's 1992 proclamation, the holiday is observed on the third Monday of January each year, near the time of King's birthday. On January 17, 2000, for the first time, Martin Luther King Jr. Day was officially observed in all fifty U.S. states. (from wikipedia.org)  The National Holiday in Dr. Martin Luther King Jr.'s honor is celebrated in all 50 states and over 100 countries around the world.
Resources
Watch a local news report:
---
Watch a video from the walk:
Daily "Answers" emails are provided for Daily News Articles, Tuesday's World Events and Friday's News Quiz.