redo Jump to...
print Print...
Note: This article is from the Australian newspaper The Herald Sun.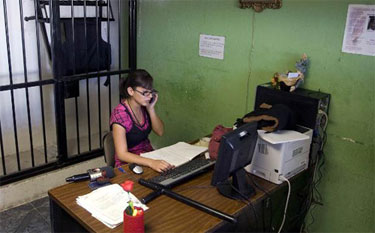 (from HeraldSun.com.au) AFP – A 20-Year-old female criminology student has been named police chief of a northern Mexican border town plagued by drug violence because no one else wanted the job.
Marisol Valles became director of municipal public security of Guadalupe "since she was the only person to accept the position", the mayor's office of the town of some 10,000 people near the US border told local media yesterday.
Ms Valles is studying criminology in Mexico's most violent city of Ciudad Juarez, some [37 miles] west of Guadalupe.
Raging turf battles between rival drug gangs have left some 6500 people dead in Ciudad Juarez alone in the past three years.
Much of Chihuahua state has suffered from the spiral of drug violence, including in Guadalupe, where the mayor was murdered in June and police officers and security agents have been killed, some of them beheaded.
Last week alone there were at least eight murders in Guadalupe, in an area deemed a high-traffic transit point for illegal drugs across the border into the US state of Texas.
More than 28,000 people have died nationwide in suspected drug violence since December 2006, when the Mexican government launched an offensive against its criminal gangs with the deployment of some 50,000 troops.
The Guadalupe mayor's office has only one police patrol car and receives security assistance from the army.
Reprinted here for educational purposes only. May not be reproduced on other websites without permission from The Herald Sun. Visit the website at heraldsun.com.au.
READ AN UPDATED ARTICLE FROM YAHOONEWS.
Questions
1. What is unusual about the new police chief of Guadalupe, Mexico?
2. Why did Ms. Valles get the job?
3. What is Ms. Valles studying in college? – where is her college?
4. a) What is the population of Guadalupe?
b) How many people were murdered in Guadalupe last week?
5. a) What do you think of Ms. Valles' decision to take the job of police chief in the violent town of Guadalupe? Be specific.
b) What do you think of the town's decision to hire Ms. Valles?
6. More than 28,000 people have died due to suspected drug violence in the past 3 1/2 years in Mexico. How do you think the Mexican government should be handling this huge problem in Mexico?
Background
Watch a news report on Marisol Valles from Guadalupe. This report is in Spanish. Currently news reports in English are not available. If you speak Spanish, translate for your classmates who do not. If you do not have access to translation, watch the video to get the main idea.
Daily "Answers" emails are provided for Daily News Articles, Tuesday's World Events and Friday's News Quiz.