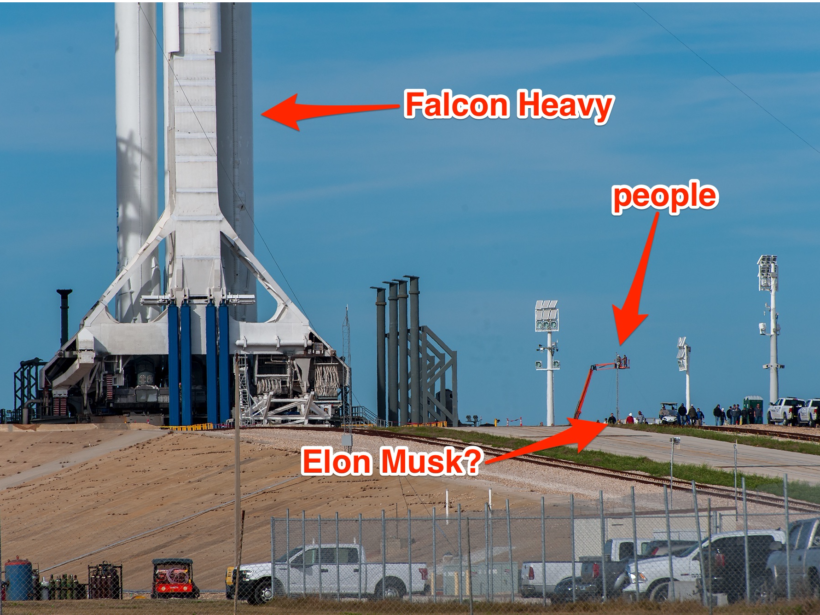 redo Jump to...
print Print...
(by Jackie Wattles, CNN Money) – The pioneering rocket firm SpaceX just pulled off the unexpected, and carried out what appears to be a seamless first-ever launch of its massive new rocket, called Falcon Heavy.
That makes SpaceX, the game-changing company helmed by billionaire Tesla CEO Elon Musk, the owner of the world's most powerful operational rocket.
Falcon Heavy took flight Tuesday around 3:45 pm ET from Kennedy Space Center in Florida.
About two and a half minutes after launch, the two side boosters on the rocket detached and headed back to Earth.
Thousands of onlookers in Florida could be heard cheering on the company's livestream, which was viewed by about 3 million people.
In the run up to launch, it wasn't at all clear that the rocket would work.
"People [came] from all around the world to see what will either be a great rocket launch or the best fireworks display they've ever seen," Musk said in an interview with CNN's Rachel Crane Monday.
The rocket's smooth takeoff wasn't the only stunning thing about this launch.
In a never-before-seen feat, SpaceX also managed to guide at least two of the Falcon Heavy's first-stage rocket boosters to land upright back on Earth. They cut back through the Earth's atmosphere and landed in unison at a Kennedy Space Center landing pad. The third booster was supposed to land on a sea-faring platform called a droneship, but it wasn't immediately clear if that landing was successful.
On board the rocket that's now headed deeper into space is Musk's personal Tesla roadster. At the wheel is a dummy dressed in a spacesuit, and the car is blaring David Bowie's "Space Oddity" on an endless loop. Cameras on board the car showed it headed deeper into space. Musk plans to put the car into orbit around the sun. …
Tuesday's success marked a huge step forward for a company that's already managed to shake up the rocket industry with its groundbreaking technology.
The company made the world take notice when it proved it can safely return first-stage rocket boosters to Earth with its Falcon 9 rocket, which the company has used for more than 40 missions dating back to 2012.
Those rockets have a single first-stage booster, and SpaceX has safely recaptured them after 21 Falcon 9 launches.
Now, SpaceX routinely puts used boosters back to work. In fact, the inaugural Falcon Heavy flight actually used two pre-flown Falcon 9 boosters (the center booster was new.)
Reusing hardware is part of SpaceX's plan to drive down the cost of launches.
Before SpaceX came along, companies just discarded rockets after each mission.
It's not, however, the most powerful rocket in history. That honor belongs to NASA's Saturn V rocket, which was used for the Apollo moon landings and was retired in the 1970s.
CNNMoney (New York) First published February 6, 2018: 2:30 PM ET. Reprinted here for educational purposes only. May not be reproduced on other websites without permission from CNN Money.
Questions
1. The first paragraph of a news article should answer the questions who, what, where and when. [Although in this article see paragraphs 1 and 3]. List the who, what, where and when of this news item. (NOTE: The remainder of a news article provides details on the why and/or how.)
2. What is significant about today's successful SpaceX launch?
3. What was in question before Tuesday's launch?
4. a) What other significant feat did SpaceX successfully carry out with Tuesday's Falcon Heavy?
b) What is the goal for this advancement?
5. a) There are no people on the Falcon Heavy. What is on board the rocket?
b) What is Elon Musk's plan for his Tesla?
c) Musk said of his plan: "I love the thought of a car drifting apparently endlessly through space and perhaps being discovered by an alien race millions of years in the future." What do you think of this idea? (brilliant, foolish, …)? Explain your answer.
6. Musk's ultimate goal is to send humans to Mars. As part of his plan to create a colony on the planet, he hopes the first spacecraft carrying humans will set off in the mid-2020s. What do you think of the idea of attempting to colonize Mars?
Background
SpaceX is a company that aims to reduce the cost of space transportation with the long-term goal of creating a colony on Mars.
What does SpaceX do?
SpaceX is developing the Dragon spacecraft and Falcon reusable rockets with a goal of sending manned missions to Mars. It is researching and developing ways to create cost efficient rockets that can be used more than once, an interplanetary transport system and a global communications network.
It is funded through a combination of venture capital, commercial and public contracts, which include deals with NASA and the US Air Force, and privately contributed cash. Billionaire Elon Musk plans to keep the company private until after its Mars Colonial Transporter flying regularly.
What is its next goal?
SpaceX plans to send two private citizens around the Moon in its Dragon 2 spacecraft in 2018. The company has selected two participants for the mission, which is being funded by NASA and cash from the citizens.
The trip will mark the first time humans have been sent to deep space in 45 years and will launch from the same pad the Apollo program used to send humans to the Moon in 1969. If all goes to plan, those on board will break a record for traveling the fastest and farthest into the Solar System.
Musk's ultimate goal is to send humans to Mars. As part of his plan to create a colony on the planet, he hopes the first spacecraft carrying humans will set off in the mid-2020s. Before then, he hopes SpaceX will send an unmanned mission to Mars in 2020.
(from a July 2017 article at the UK Daily Telegraph)
Resources
Visit the SpaceX website for details.
Watch a CNN Tech video: "SpaceX Falcon Heavy: Everything you need to know":
---
Watch Tuesday's successful launch of SpaceX's Falcon Heavy, the world's most powerful rocket, from the Kennedy Space Center in Florida:
Daily "Answers" emails are provided for Daily News Articles, Tuesday's World Events and Friday's News Quiz.