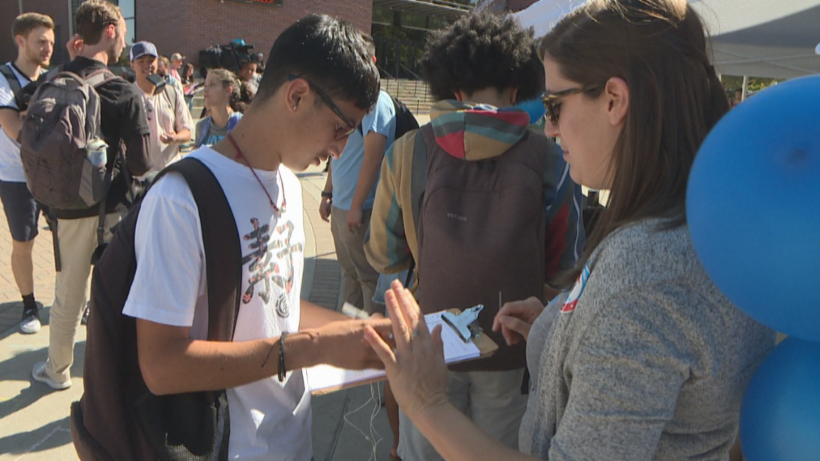 redo Jump to...
print Print...
(by Zachary Stieber, The Epoch Times and Ellis Arnold, Colorado Community Media) — Over 10,000 17-year-olds voted last week in Colorado's [first primary elections in 20 years].
The Democratic and Republican primary elections were the first time in Colorado's history where 17-year-olds voted. The voting came after the 2019 Colorado Votes Act  passed the state legislature last year.
Only 17-year-olds who turn 18 by November's general election were allowed to vote. Out of 23,504 active registered 17-year-olds, 10,634 voted, Secretary of State Jena Griswold said this week.
"As the youngest Secretary of State in the country, it is important to me that young people's voices are heard in Colorado elections," Griswold, 35, said in a statement. …
Of the 17-year-olds that cast ballots, 6,841 voted in the Democratic primary and 3,235 voted in the Republican primary. The others were still being processed as of March 10.
The state allows early voting  – voter service and polling centers opened for the March 3 primary starting Feb. 24. The state also allows same-day registration, so if voters hadn't registered by March 3, they were able to register and vote on that day.
Colorado's counties counted ballots through March 11. As of Monday, the state's overall turnout for the presidential primary among registered voters was 45.5 percent. (The turnout for 17-year-olds was 45.24 percent].
Sen. Bernie Sanders (I-Vt.), 78, won the Democratic primary in Colorado with 36.8 percent of the vote as of March 10. Former Vice President Joe Biden, 77, came in second with 24.7 percent of the vote.
Former New York City Mayor Michael Bloomberg, 78, and Sen. Elizabeth Warren (D-Mass.), 70, came in third and fourth, respectively. Both have since dropped out of the race.
Eligible 17-year-olds will be able to vote again on June 30 in the state's primary (which selects candidates for offices such as U.S. Senate, U.S. House, state Senate and House, and other regional or local races such as for district attorneys and University of Colorado regents) and the general election on Nov. 3.
According to Griswold's office, 17 other states and the District of Columbia also let 17-year-olds vote in primaries as long as they're 18 by that year's general election. Those states include Connecticut, Illinois, Maryland, North Carolina, and Utah, according to the National Conference of State Legislatures.
The federal voting age is 18.
Compiled from The Epoch Times and Colorado Community Media
Questions
1. Why were 17 year-olds in Colorado able to vote in the March 3 presidential primaries?
2. How many 17-year-olds voted? – What percent of eligible 17-year-olds voted?
3. How many of these voters voted in each party's primary?
4. How many other states have passed a voter law for 17-year-olds? Is your state one of them?
5. Why hasn't Colorado held a primary in 20 years?
6. Secretary of State Jena Griswold said in a statement, "As the youngest Secretary of State in the country, it is important to me that young people's voices are heard in Colorado elections."
a) How important is it to you? Explain your answer.
b) Congressional Democrats in 2019 voted to lower the federal voting age from 18 to 16, although it was not passed by the Republican-controlled Senate. With whom do you agree, Democrats or Republicans? Should 16-year-olds be allowed to vote? Why or why not?
c) Why do you think Democrats want to lower the voting age and Republicans do not?
d) Ask a parent what he/she thinks the voting age should be and to explain.
Background
In 2016, Colorado voters passed two initiatives, Propositions 107 and 108, which established a presidential primary system and allowed unaffiliated voters to participate in primary elections.
In the typical caucus — and some other states' primaries — voters are limited to the contest of the party with which they are affiliated.
Colorado's last presidential primary happened in 2000 — since then, presidential nominees were voted on at caucuses, which are overseen by political parties.
In primary elections, voters submit ballots in favor of their chosen candidate. A caucus is a system of local gatherings where voters decide which candidate to support — engaging in discussions at places such as high-school gyms — and select delegates that will ultimately cast votes at conventions to nominate candidates.
(from the Feb. 7 report at Colorado Community Media)
Daily "Answers" emails are provided for Daily News Articles, Tuesday's World Events and Friday's News Quiz.