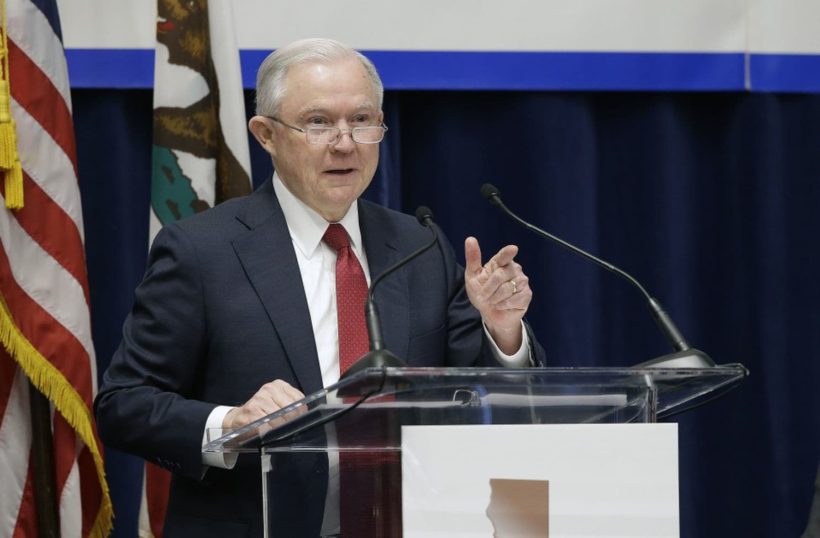 redo Jump to...
print Print...
(by Brett Samuels, The Hill) – [The Trump administration filed a lawsuit Tuesday against California over the state's "sanctuary" laws that aim to restrain the federal government's ability to apprehend undocumented immigrants.] Attorney General Jeff Sessions [also] issued a warning to California the same day he announced the lawsuit…
"I understand that we have a wide variety of political opinions out there on immigration. But the law is in the books and its purposes are clear and just," Sessions said during a speech to the California Peace Officers' Association in Sacramento on Wednesday.
"There is no nullification. There is no secession. Federal law is the supreme law of the land. … This matter has been settled. [The Department of Justice and the Trump administration are going to fight these unjust, unfair, and unconstitutional policies that have been imposed on you.  We are fighting to make your jobs safer and to help you reduce crime in America. And I believe that we are going to win.]"
The Department of Justice's (DOJ's) lawsuit against California aims to block three so-called sanctuary laws the state's legislature passed last year.
In the complaint, filed late Tuesday, DOJ asks the U.S. District Court for the Eastern District of California to block the three laws, which it argues are designed to intentionally obstruct and discriminate against the enforcement of federal immigration law [and harm public safety].
The laws at the center of the dispute prohibit private employers from voluntarily cooperating with federal immigration officials; prevent state and local law enforcement officials from giving federal immigration officials information about the release date of removable immigrants in their custody; and create an inspection and review scheme that requires the California Attorney General to investigate the immigration enforcement efforts of federal agents.
"The provisions of state law at issue have the purpose and effect of making it more difficult for federal immigration officers to carry out their responsibilities in California," the administration says in the complaint.
The DOJ said the laws are invalid because they violate the Supremacy Clause of the Constitution, which establishes that federal law generally takes precedence over state laws.
"The Supremacy Clause does not allow California to obstruct the United States' ability to enforce laws that Congress has enacted or to take actions entrusted to it by the Constitution," DOJ argued.
On Wednesday, Sessions argued that California's laws are harmful to the state's residents, and prevent law enforcement officers from doing their jobs.
He singled out Oakland Mayor Libby Schaaf, who last month warned residents of an impending Immigration and Customs Enforcement (ICE) raid. Schaaf defended her decision even after ICE said it was unable to locate more than 800 undocumented immigrants [at least half of whom had previous criminal convictions – some for violent crimes] as part of its sweep of the city.
"Here's my message to Mayor Schaaf: How dare you," Sessions said Wednesday. "How dare you needlessly endanger the lives of our law enforcement officers to promote a radical open borders agenda."
He said the Justice Department isn't asking the state to enforce federal immigration law, but rather is asking California and local jurisdictions to "stop actively obstructing federal law enforcement."
"California is using every power it has, and some it doesn't, to frustrate federal law enforcement," Sessions said. "So you can be sure I'm going to use every power I have to stop them."
California lawmakers have pushed back against the lawsuit since it was first reported and vowed to continue upholding the state's policies.

[Justice's lawsuit also comes less than a month after California Attorney General Xavier Becerra warned employers that they would be prosecuted if they help federal immigration officers find illegal immigrants.

The Immigration Worker Protection Act, a state law passed in December, would give employers and businesses fines of up to $10,000 if they provide employee information to U.S. Immigration Customs, Becerra said.

"It's important, given these rumors that are out there, to let people know – more specifically today, employers – that if they voluntarily start giving up information about their employees or access to their employees in ways that contradict our new California laws, they subject themselves to actions by my office," Becerra said at the time.  "We will prosecute those who violate the law."] [Reacting to AG Sessions' announcement, Gov. Jerry Brown (D) called the lawsuit a "political stunt." Sen. Kamala Harris (D-Calif.) said the Trump administration was attempting to "bully California."

Sacramento Mayor Darrell Steinberg told The Sacaramento Bee that the state and city would be undeterred by Sessions's visit. "We are a proud safe haven, a proud sanctuary city, a proud sanctuary state, and we stand with our neighbors," he said.

Lydia Wheeler contributed to this report.

Reprinted here for educational purposes only. May not be reproduced on other websites without permission from The Hill. Visit the website at thehill .com.
Questions
1. The first paragraph of a news article should answer the questions who, what, where and when. List the who, what, where and when of this news item. (NOTE: The remainder of a news article provides details on the why and/or how.)
2. What arguments did the Department of Justice (DOJ) make in its complaint to the U.S. District Court for the Eastern District of California? Be specific.
3. Describe the California state laws the federal government is challenging in the lawsuit.
4. Why are California's laws invalid (not legally effective), according to the DOJ?
5. What argument did AG Sessions use in explaining the government's opposition to the laws? (see para. 10)
6. What isn't the Justice Department asking the state to do? What is the DOJ asking the state to do, per AG Sessions?
7. a) Do you think the state should pass laws that actively block and fine employers from complying with federal immigration laws? Explain your answer.
b) If you answered yes, do you think it is OK for a state to pass laws that block residents from complying with other federal laws (e.g. same-sex marriage, abortion, the minimum legal drinking age, etc.)? Explain your answer.
8. The federal government's job is to enforce federal laws. Do you think it would be OK for the federal government to NOT enforce federal law because people don't like the law? Explain your answer.
Daily "Answers" emails are provided for Daily News Articles, Tuesday's World Events and Friday's News Quiz.