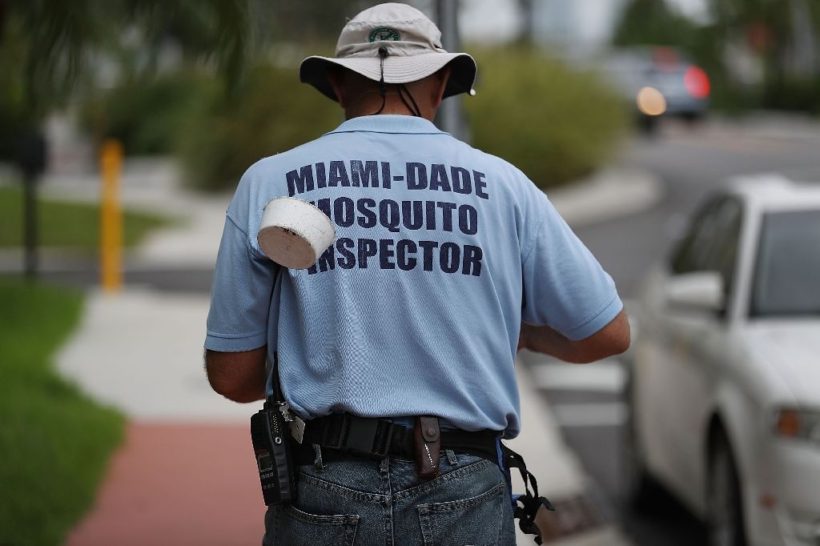 redo Jump to...
print Print...
(by Emmarie Huetteman and Sabrina Tavernise, NY Times) WASHINGTON — As Congress returned from a seven-week recess on Tuesday, Senate Democrats again stymied a $1.1 billion plan to fight the Zika virus, demanding that Republicans drop an effort to block Planned Parenthood from receiving money to combat the mosquito-borne disease.
Democrats, who had essentially blocked the same legislation in late June, had enough votes Tuesday to prevent Congress from moving emergency funding public health experts say is desperately needed as they prepare for the possibility that Zika will spread to other states along the gulf coast. The vote was 52 to 46, and Republicans needed 60 votes to advance the bill.
Republican majority leader Senator Mitch McConnell of Kentucky said that although efforts to fight the virus had produced encouraging results, the problem was far from over.
"It's hard to explain why, despite their own calls for funding, Democrats would block plans to keep women and babies safe from Zika," Mr. McConnell said before the vote.
Because of the standoff, lawmakers say they expect to address the funding issue by the end of the month as part of a must-pass, stopgap spending measure. That legislation would be intended to keep the government funded because it seems increasingly likely that Congress will not pass its annual spending bills by then.
But that may not be soon enough, some health experts say. Calls for additional funding gained urgency last week when Dr. Thomas R. Frieden, the head of the Centers for Disease Control and Prevention (CDC), announced that his agency has used almost all of the $222 million it was allocated to fight the virus. He warned that some plans, such as a mosquito control program in hard-hit Puerto Rico, would have to be axed without more money soon.
Florida, in particular, has been burning through funds quickly, undertaking the costly work of spraying and otherwise controlling the mosquito population, and health experts worry that another cluster of cases elsewhere might cost more money than they have.
The Republican-driven package was supposed to resolve the differences between a bipartisan Senate plan and a less Democrat-friendly House version. The bill would exclude Planned Parenthood from the list of providers that get new funding for contraception to combat spread of the virus, which can be sexually transmitted.
Democrats regard any restriction on Planned Parenthood as setting a dangerous example, and they have shown they are willing to risk looking as if they are blocking funding for a public health crisis to prevent that precedent.
Democratic minority leader Senator Harry Reid of Nevada said Republicans had sabotaged efforts to address Zika by including the restrictions on Planned Parenthood. "Now with this Zika virus frightening women all over America, they want to cut it off?" Mr. Reid said before the vote.
Such questions awaited lawmakers on both sides as they returned to their districts this summer, vexing those from Florida and other Southern states. NARAL Pro-Choice America, a prominent abortion rights group, released an ad Tuesday slamming Senator Marco Rubio, a Florida Republican who is running for re-election, over the Planned Parenthood provisions in the bill. …
Sylvia Mathews Burwell, the secretary of the Department of Health and Human Services (HHS), said in a briefing last week that the administration was still holding out hope that a bipartisan agreement could be struck, particularly given the growing number of cases in Florida and Puerto Rico.
Florida announced seven new Zika cases Tuesday, bringing the total number of homegrown cases in Florida to 56, according to the state Department of Health. Six of the cases surfaced in an area in Miami Beach where the infection is circulating, the department said, and one elsewhere in Miami-Dade County.
"We need a bipartisan agreement," Ms. Burwell said. "I believe that is possible and I think that can be done." …
Published September 7 at NYTimes.  Reprinted here for educational purposes only. May not be reproduced on other websites without permission from The New York Times. Visit the website at nytimes .com.
Questions
NOTE:  The 2014 elections gave the Republicans control of the Senate (and control of both houses of Congress) for the first time since the 109th Congress [2005-2007]. With 247 [of the 435] seats in the House of Representatives and 54 seats in the Senate, this Congress began with the largest Republican majority since the 71st Congress of 1929–1931.
1. The first paragraph of a news article should answer the questions who, what, where and when. List the who, what, where and when of this news item. (NOTE: The remainder of a news article provides details on the why and/or how.)
2. Why did Democrats block the emergency funding bill?
3. Who is Mitch McConnell? How did he respond to the Democrats decision to block the emergency spending bill for Zika?
4. How did the head of the CDC and the secretary of the HHS react to the Democrats blocking of the bill?
5. What specifically would the funding bill blocked by Democrats do?
6. Who is Harry Reid? What accusation did he make about Republicans?
7. This bill would not take away any funding Planned Parenthood already receives from the government. Read the "Background" below the questions and then answer the following:
a) How does this explanation of what the Republicans included in the spending measure regarding Planned Parenthood differ from the Times article?
b) With whom do you agree: Senate Democrats or Republicans? Explain your answer.
CHALLENGE:
What revelation about Planned Parenthood last year is the reason Republicans don't want additional funding to go to Planned Parenthood?
Background
Why did the Republicans block Planned Parenthood from receiving any of the Zika funds? (The Times' reporters neglect to inform readers of the reason)
The Democratic leadership blocked it because the bill does not specifically earmark a portion of funding for Planned Parenthood.

While most of the funding outlined in the bill would go to mosquito prevention and vaccine research, a small segment is dedicated to public-health efforts. According to Don Stewart, deputy chief of staff for Senate majority leader Mitch McConnell, Senate Democrats chose to block the entire bill because none of this small portion was earmarked for Planned Parenthood.

"The conference committee increased health-care block-grant funding and provided guidance on who could receive the funding," Stewart said. "Planned Parenthood was not listed as a potential recipient, and Democrats want them to be explicitly listed as a recipient — even though the president's initial request didn't ask for any."

Democrat leader Harry Reid claimed that women would have nowhere to go to obtain birth control under the bill, but, in fact, nothing in the legislation would cut any federal funding currently going to Planned Parenthood. It simply does not add more funding in the context of treating Zika.

Planned Parenthood's executive director, Dawn Laguens, spoke alongside Reid and Schumer, implying that it is more important for Planned Parenthood to receive direct funding under the bill than it is to pass a bill quickly.

A letter from Planned Parenthood to the Senate offices prior to the most recent vote stated that "a vote against this bill will be seen as a vote for women's health care." But a vote against the bill is actually vote against women's health care, particularly if the women in question have contracted the Zika virus. And, even from the perspective of Senate Democrats, there is no rational objection to the bill given that Planned Parenthood still would receive as much federal funding as it did before the Zika virus became an issue. (from "Senate Dems want Zika funding to be earmarked for Planned Parenthood" -Aug. 4, 2016)
Daily "Answers" emails are provided for Daily News Articles, Tuesday's World Events and Friday's News Quiz.