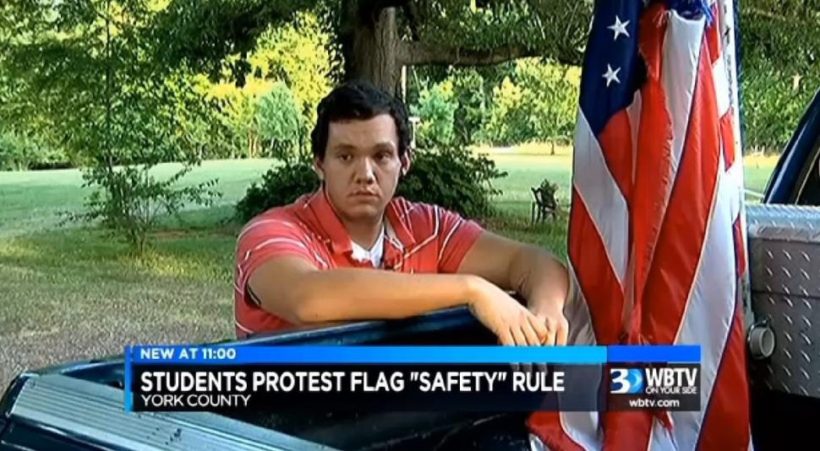 redo Jump to...
print Print...
(by Melissa Chan, NY Daily News) – Don't tread on this patriotic teen.
Peyton Robinson, 18, who was barred from flying an American flag on his truck at his South Carolina high school, helped get the controversial ban lifted Thursday after he rallied students and veterans for a peaceful protest.
"I'd understand if it was the Confederate flag or something that might offend somebody," Robinson told WBTV. "I wouldn't do that. But an American flag? That's our country's flag. I have every right to do it."
The York Comprehensive High School student had been freely flying his 4-by-6 flag on his pick-up truck for about a month, he told the news station.
But administrative officials told him it was offending people. They took the liberty of removing the bolts that were securing the Stars and Stripes to his truck, taking the flag down themselves Wednesday, WBTV reported.
The fuming teen ranted about the freedom breach on Facebook, sparking outrage from his peers who promised to protest and wave their own flags.
Dozens of his peers, their parents and veterans answered the call Thursday.
It prompted school district officials to change the controversial policy.
"Over the last 24 hours, an issue has been brought to light regarding our policy of flags not being allowed on our students' vehicles in the student parking lot," York School District 1 said in a statement.
"Due to the outstanding display of patriotism through peaceful demonstration, it is apparent to us that many are not happy about this policy."
An "exception" will be made for American flags, as long as its size doesn't create a driving hazard, officials said.
"As administrators of York Comprehensive High School, we are extremely passionate Americans and have deep seeded feelings of patriotism," the statement continued.
"We believe today is a great example of peaceful demonstration leading to positive change."
Reprinted here for educational purposes only. May not be reproduced on other websites without permission from the New York Daily News.
Questions
PLEASE NOTE: Daily posting and "Answers" emails will end for the school year on Friday, May 29th.
1. For how long had South Carolina high school student Peyton Robinson been flying an American flag on his truck?
2. a) For what reason did school administrators say he was not permitted to fly the flag on his truck?
b) Do you think this is a valid reason for the school's ban on Peyton's American flag? Explain your answer.
3. a) What did school officials do on Wednesday?
b) Do you think the school had the right to take that action? Explain your answer.
c) Ask a parent the same question.
4. What did Peyton do that led to school officials making an "exception" for American flags?
5. School officials said an "exception" would be made for American flags, as long as the size of the flag doesn't create a driving hazard. If the size of Peyton's flag is not illegal in the town/state, is the school justified in making this determination? Explain your answer.
Resources
Watch a local News 9 report from Thursday morning (May 14):
Daily "Answers" emails are provided for Daily News Articles, Tuesday's World Events and Friday's News Quiz.