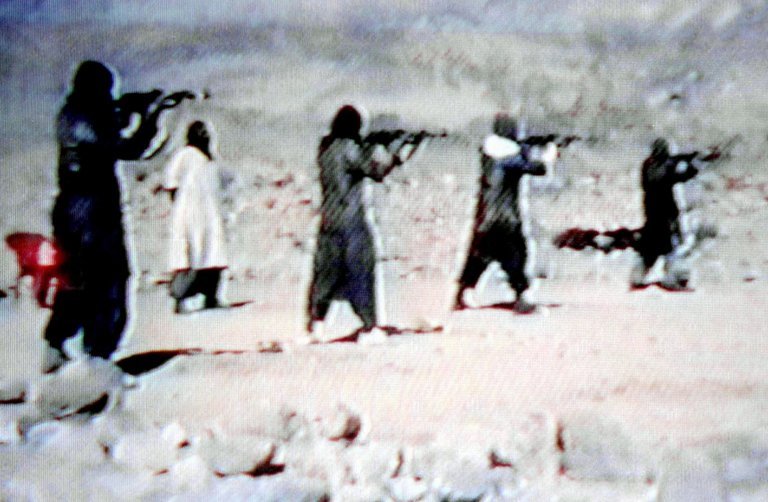 redo Jump to...
print Print...
(by Eric Walsh, Reuters) WASHINGTON – A Saudi man who attended flight school in Oklahoma was charged on Tuesday with visa fraud for allegedly having lied about attending an al Qaeda training camp in Afghanistan in 2000, the U.S. Justice Department said.

A federal grand jury returned a three-count indictment against Naif Abdulaziz M. Alfallaj, 34, after his fingerprints turned up on documents found by the U.S. military at an al Qaeda safe house in Afghanistan, the Justice Department said in a statement. [The documents were a five-page application for an al-Qaeda terrorist training camp, where four of the 9/11 Saudi hijackers trained.]

Court documents show that Alfallaj, of Weatherford, Oklahoma, was issued a private pilot's certificate in November 2016, but it was revoked last year because federal authorities considered him at risk for air piracy or terrorism.

Based on a criminal complaint signed in U.S. District Court for the Western District of Oklahoma and unsealed on Tuesday, Alfallaj was taken into custody by the Federal Bureau of Investigation on Feb. 5, the Justice Department said. (see DOJ press release)

According to the complaint, the FBI found 15 of Alfallaj's fingerprints on an application to a training camp known as al Farooq, which was one of al Qaeda's key training sites in Afghanistan [and where 4 of the 9/11 hijackers were trained, according to the New York Times].

Alfallaj is alleged to have first entered the United States in late 2011 on a nonimmigrant visa based on his wife's status as a foreign student, the Justice Department said.

According to the complaint, he answered several questions on his visa application falsely, including whether he had ever supported terrorist organizations.

Alfallaj faces up to 10 years in prison on each of two charges of visa fraud and up to eight years for lying about his involvement in international terrorism, the statement said.

There was no immediate response to a request for comment from Alfallaj's attorney in Oklahoma City, Kyle Wackenheim.

In a series of four attacks coordinated by al Quaeda on Sept. 11, 2001, four passenger airliners were hijacked and used in suicide attempts to target buildings in New York and the Washington, D.C., area, resulting in the deaths of nearly 3,000 people. Most of the 19 attackers were Saudis, and several took flight training in Florida.

[The NYT reported: "Mr. Alfallaj should never had been able to enter the country, said James W. McJunkin, the former head of counterterrorism at the F.B.I. 'I'd say there was a number of breakdowns going back to where the original intelligence was maintained and stored,' Mr. McJunkin said. 'He should have been on a watch list.'].

From Reuters .com. Reprinted here for educational purposes only. May not be reproduced on other websites without permission from Thomson Reuters.
Questions
NOTE TO STUDENTS: Before answering the questions, read the "Background" and watch the videos under "Resources"
1. The first paragraph of a news article should answer the questions who, what, where and when. List the who, what, where and when of this news item. (NOTE: The remainder of a news article provides details on the why and/or how.)
2. When/how did Abdulaziz Alfallaj come to the U.S.?
3. a) When did Alfallaj obtain a U.S. private pilot's license?
b) Why was his certificate revoked last year?
4. Why did a federal grand jury return a three-count indictment against Alfallaj?
5. What sentence does Alfallaj face on the charges against him?
6. Currently, foreign students must give fingerprints when applying for flight school.
a) Should there be a law banning non-citizens from attending flight schools in the U.S.? Explain your answer.
b) There was no mention in any news report as to why Alfallah wanted to obtain a pilot's license.  Should foreign students be required to show a legitimate purpose for why they would need to obtain a pilot's license in the U.S.? Explain your answer.
7. The news reports do not provide a photo of Alfallaj. No information on why he did not attend college with his wife – or whether he had a job or what he was doing while his wife has been going to college in Oklahoma for the past 6 or 7 years. Supposedly Saudi students (and their families) can receive up to a five-year visa. Alfallaj has been here almost seven years.
There is no information on how the Saudi government chooses the students they send to the U.S.  (The Saudi government pays tuition and expenses.)
Going forward, should the Saudi student visa program continue, or should the federal government put the program on hold? Explain your answer.
8. Mr. Alfallaj, who is from Riyadh, Saudi Arabia came to the U.S. in late 2011 on a nonimmigrant visa based on his wife's status as a foreign student. The huge increase in Saudi students to the U.S. came about in 2005 after George W. Bush met with Crown Prince (now King) Abdullah; President George Bush made the agreement as a way to strengthen ties between the U.S. and Saudi Arabia in the wake of the 2001 terrorist attacks.
Universities support it because they get millions in foreign tuition. What do you think of this agreement? Does this program benefit the U.S. and U.S. citizens? Explain your answers.
Background
From the Feb. 6 New York Times article:
Mr. Alfallaj, who is from Riyadh, came to the United States in late 2011 on a nonimmigrant visa based on his wife's status as a foreign student. He had been living in Weatherford, Okla., about 70 miles west of Oklahoma City, the authorities said. Prosecutors say that he falsely answered questions on his visa application, including about whether he had supported terrorists. The F.B.I. said he lied about whether he had contacts with anyone from a terrorist group when agents interviewed him in December. The next month, Mr. Alfallaj confirmed that the telephone number found on the application belonged to his father, the F.B.I. said.

The F.B.I. had been watching him for several months and had been trying determine whether Mr. Alfallaj was involved in terrorist activity in the United States.

Mr. Alfallaj and his family did not interact with neighbors and stayed mostly to themselves. Mr. Alfallaj's apartment complex was not far from Southwestern Oklahoma State University. A student there said that many Saudis attended the school and that they often mingled and had cookouts, but that Mr. Alfallaj did not attend these gatherings.

The case highlights the difficulty facing the government in processing the large amounts of fingerprints, photographs, messages, email addresses, phone numbers and DNA samples that have been collected in nearly two decades of war.

Many documents and electronic media collected in Afghanistan land on the shelves of a unit in the F.B.I.'s counterterrorism division. The materials, which are stored in federal facilities in Northern Virginia and at F.B.I. Headquarters in Washington, have been a vexing problem for the agency. American officials have long wanted to exploit the materials but lacked the resources as the F.B.I. has focused on other pressing terrorism investigations over the years.

The number of documents was staggering, perhaps in the hundreds of thousands, said a former F.B.I. official who worked in the unit. Much of the information is in other languages, such as Arabic. To inspect the materials, the F.B.I. would need to reassign linguists from other cases.

The case of Mr. Alfallaj is similar to one brought in 2011 against two Iraqi men who were arrested in Bowling Green, Ky., after they had entered the United States. The F.B.I. discovered the men after finding fingerprints on explosive devices that had been used to attack American soldiers in Iraq. The two men were later convicted of terrorism charges and sentenced to life in prison.

After the men were discovered, the F.B.I. deployed hundreds of people to pull fingerprints off of improvised explosive devices stored at the Terrorist Explosive Device Analytical Center, known around the bureau as the Bomb Library of America. Officials said a similar effort is underway to make sure other materials similar to the training camp application are examined.

In March 2017, the F.B.I. decided to go through the terrorist camp applications to determine whether any fingerprints could be identified as part of a renewed effort to identify possible terrorism suspects, federal court documents show. Seven months later, the F.B.I. matched the fingerprints taken from Mr. Alfallaj when he applied to become a pilot.
---
From a 2013 USA Today article "Saudi students flood U.S. colleges":
Thousands of international students arrive each year in the U.S. to study English as the first step toward a college degree. They come from all over the world, but Saudi Arabia, where the government has poured billions of dollars into a generous scholarship program for its citizens, is driving the recent surge.
Saudi student enrollments skyrocketed from 11,116 in 2006 to 71,026 in 2012, according to the Saudi Arabian Cultural Mission to the United States, the Virginia-based agency that administers the scholarship. Nearly all recipients (95%) start with language training, which can take anywhere from a month to a year or more, officials say.
The infusion of full-paying international students has been a boon for cash-strapped U.S. colleges.
The Saudi scholarship grew out of a meeting in 2005 between Crown Prince (now King) Abdullah, and President George W. Bush as a way to strengthen ties — and ease tensions — between the two countries in the wake of the 2001 terrorist attacks. [No word on how the U.S. benefitted, other than to give universities millions of dollars in foreign enrollment.]

Saudi scholarship students can receive up to a five-year visa. The scholarship covers full tuition, housing and health benefits for students and family members. All that, plus round-trip tickets home once a year. After language training, business and engineering are the top fields of study.
Skeptics argue for stricter visa policies. Fifteen of the 19 hijackers in the Sept. 11 attacks were from Saudi Arabia; and one had entered the USA with student visas.
In 2011, after a Saudi engineering student was charged in a failed plot to bomb U.S. targets, Investor's Business Daily repeated its concern that a new initiative for Saudi students opened the door for terrorist attacks. "How many will overstay their visas and become sleeper agents?"
Daily "Answers" emails are provided for Daily News Articles, Tuesday's World Events and Friday's News Quiz.