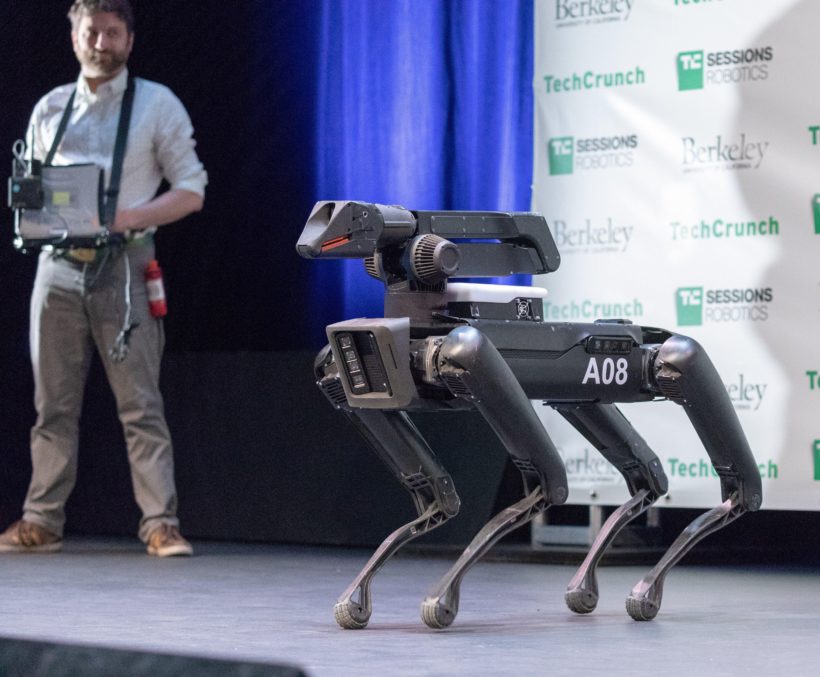 redo Jump to...
print Print...
(by Stephen Shankland, CNet) – SpotMini, Boston Dynamics' agile four-legged robot, will go on sale next year for companies that want a mechanical quadruped to get to places a wheeled device can't reach.
Boston Dynamics has 10 SpotMini prototypes now and will work with manufacturing partners to build 100 this year, company co-founder and President Marc Raibert said at a TechCrunch robotics conference Friday. "That's a prelude to getting into a higher rate of production" in anticipation of sales next year, he said.
Who'll buy it? Probably not you, at least to start.
Raibert didn't reveal price plans, but said the SpotMini robots could be useful for security patrols or for helping construction companies keep tabs on what's happening at building sites. SpotMini can be customized with attachments and extra software for particular jobs, he said.
Eventually, though, the company hopes to sell it for use in people's homes.
"Most places have something where wheels don't get you everywhere," Raibert said. "We think SpotMini can go to a much larger fraction of places."
Boston Dynamics is among the highest-profile robot companies out there. It made a bang with its gas-powered Big Dog quadruped, which could navigate challenging terrain while keeping its balance. Later, the company unveiled Atlas, a humanoid robot that can do flips, pick up boxes and can now run.
…Boston Dynamics, which was owned by Google for a few years but was then purchased by Japan's Masayoshi Son's firm Softbank, combines near-term commercial priorities with "blue sky" projects that won't bear fruit for a long time. Atlas isn't close to being a product today, but technology like its hydraulics and power supply benefit today's work, Raibert said.
Atlas isn't the only long-term idea. One request Boston Dynamics gets is for a legged device that can carry wheelchair-bound people on more demanding terrain, such as a hike through the wilderness. "We're not actively working on that one yet," Raibert said.
On Thursday, Boston Dynamics…demonstrated its SpotMini autonomous navigation. The robot uses its four cameras to figure out where obstacles are and how to surmount them. That includes walking up steps without bumping into railings, Raibert said.
"This robot is using cameras facing forward, backward and on two sides to navigate through space," Raibert said.
In an onstage demo Friday, a human operator piloted the dog, giving commands about where the dog should go but not exactly how it should position its legs. The robot walked over some small obstacles — moving sideways at one point. And it can hold its canine-like, grabber-equipped [arm] stationary as the rest of its body moves around.
The autonomous navigation abilities require SpotMini to be driven manually across an area so that it can build its own map, Raibert said. Then it can figure out how to move on its own.
"The motion planning software is taking into account where the obstacles are, where the good places are, and coming up with motion control, all in real time," he said.
In the long run, robots could be more important than the internet, Raibert said.
"The internet lets you touch all the information in the world, but robots let you touch everything in the world and manipulate it," he said. "That's a bigger idea."
Published May 11. Updated 11:46 a.m.: Adds further detail from the SpotMini demonstration. From Cnet .com. Reprinted here for educational purposes only. May not be reproduced on other websites without permission from Cnet.
Questions
1. The first paragraph of a news article should answer the questions who, what, where and when. List the who, what, where and when of this news item. (NOTE: The remainder of a news article provides details on the why and/or how.)
2. For what purposes does Boston Dynamics intend the SpotMini Robots to be used?
3. In what other area does the company eventually hope to sell the SpotMini?
4. What is Atlas?
5. Watch the videos under "Resources" below. For what additional purposes do you think the SpotMini or Atlas could be used? (For what purposes around the house, or with children, the elderly or disabled?)
Daily "Answers" emails are provided for Daily News Articles, Tuesday's World Events and Friday's News Quiz.