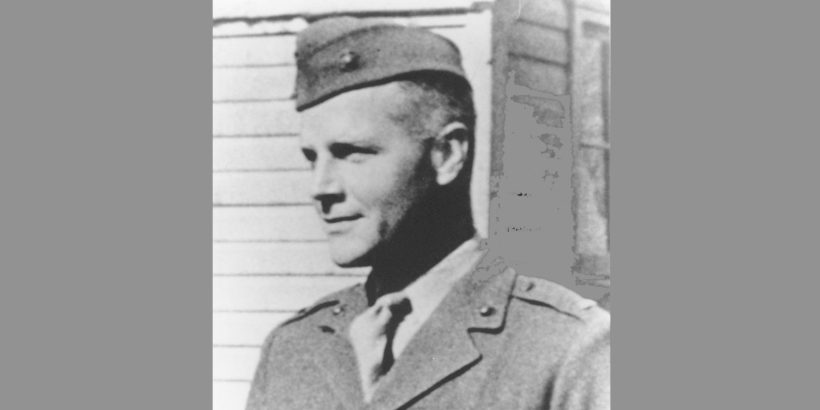 redo Jump to...
print Print...
(by John Shearer, KnoxNews.com) — The recently identified remains of a Marine hailed for his bravery in battle were returned home 72 years after he was killed on a remote Pacific atoll during World War II.
First Lt. Alexander "Sandy" Bonnyman died at age 33 while leading Marines against entrenched Japanese forces during a three-day fight for the strategically important island of Tarawa in 1943. He was posthumously awarded the Medal of Honor in 1947, but his remains weren't found until earlier this year by a nonprofit organization called History Flight that has been searching for missing servicemen.
Bonnyman was among 36 unidentified servicemen the group History Flight exhumed in Tarawa in the Republic of Kiribati earlier this year. The remains were brought to Hawaii for identification in July.  The Department of Defense POW/MIA Accounting Agency then announced it had identified Bonnyman using dental records and other evidence.
On Sept. 27, Bonnyman's remains were laid to rest in a family plot in West Knoxville.
Some 200-300 people plus a Marine honor unit and band were on hand for the unique burial service, which was nearly 72 years after the first lieutenant died leading an assault on a Japanese bomb shelter on the Pacific atoll of Tarawa.
Marines and civilians, the young and old, and family members and strangers gathered to pay respects during the brief ceremony.
"It doesn't matter what generation they serve, they are a brother and you've got to come out and support them," said Josh Burnett, who served in the Marines from 2000-04. "They are family."
Donna Buswell said after the service that she also felt a pull to come and salute him. "This is a once-in-a-lifetime event, so I had to see it," she said. "It was beautiful."
The formal service included a procession led by a Civil War-style caisson wagon operated by Burroughs Battery of Blaine in Grainger County, a missing man formation flyover, a 21-gun salute, the playing of "Taps" and a Marine band musical salute.
Bonnyman's grandson, Clay Bonnyman Evans, who has researched his grandfather's life and was at Tarawa when his remains were found, said the Marine's parents, Alexander and Frances Bonnyman, would have felt peace Sunday.
"It broke their hearts when he died, and as a small measure, they wanted to get him back to Knoxville," he said during a reception for family and friends at Berry Highland Memorial Funeral Home off Kingston Pike after the burial.
Also on hand were two of Bonnyman's daughters, Fran Evans and Alexandra Prejean.
Prejean, now living in Hawaii and only 2 when her father died, said she had been to Tarawa and called it a beautiful place. But she felt Knoxville is where he should be buried. "He's home in Knoxville," she said at the reception.
Her older sister was 9 years old when her father died and remembers the family living in Santa Fe, N.M., while he operated a copper mine after leaving Knoxville. She recalled that they would go to church in Santa Fe and go to a local pharmacy afterward for lunch, and it was there that he heard the news about the attack on Pearl Harbor.
"He was very distressed and agitated," she said. "It was very, very memorable."
Although he did not have to serve due to his work with the copper mine, Bonnyman soon enlisted and eventually met his unfortunate death in the Pacific. Fran Evans accepted her father's Medal of Honor in 1947 from Secretary of Navy/Defense James Forrestal and said Sunday that she still has vivid memories of the long train ride from New Mexico to Washington, D.C., and the ceremony.
Bonnyman's nephew, Robert McKeon, who led the liturgies along with Anne Bonnyman, a niece, recalled after the service that the noted Marine had a very likable manner.
"He was a very pleasant guy," he said. "He was so good he could sell coal to a coal mine. He had a great personality and a leadership quality that all of us looked up to."
Reprinted here for educational purposes only. May not be reproduced on other websites without permission from KnoxNews .co.. For the original article, visit the KnoxNews website.
Questions
NOTE:  Today's Daily News Article is a human interest story.  Human interest stories differ from the regular news – they are sometimes referred to as "the story behind the story."
The major news articles of the day tell of important happenings.  Human interest stories many times motivate the reader or viewer.
1. The first paragraph of a news article should answer the questions who, what, where and when. In this article, find more details in paragraph 2. List the who, what, where and when of this news item. (NOTE: The remainder of a news article provides details on the why and/or how.)
2. Why was Lt. Bonnyman awarded the Medal of Honor in 1947? What did the citation say?
3. What type of ceremony was held for Lt. Bonnyman when his remains were buried in Knoxville, TN last week? — Who attended the service?
4. What did Bonnyman's daughter Fran remember about her father's reaction to the Japanese attack on Pearl Harbor?
5. Read the "Background" below and watch the video under "Resources." What surprises you most about Lt. Bonnyman's story and/or the Battle of Tawara?
Background
ABOUT LT. BONNYMAN:
First Lt. Bonnyman had grown up in Knoxville as the son of Alex Bonnyman Sr., who was the chairman of the Blue Diamond Coal Co.
After attending J.A. Thackston School in Knoxville and later boarding high school in New Jersey, the younger Bonnyman played on the football team at Princeton University.
He was briefly in the Army Air Corps in the early 1930s as a flying cadet, but later married, had three daughters and bought a copper mine in New Mexico before entering military service in World War II in the Marines.
According to his Medal of Honor citation, Bonnyman, a combat engineer, was on the South Pacific atoll of Tarawa in November 1943 when he led his demolition team on an assault on a Japanese bomb shelter.
He was eventually able to reach the top of the shelter and help flush out several of the enemy. As the Japanese began to fight back, Bonnyman remained in a forward position and was eventually killed, but not before he killed several Japanese troops, his citation said.
For his actions, he was posthumously awarded the Medal of Honor in 1947 by the secretary of the Navy, and his 12-year-old daughter, Frances, accepted the award for the family. (from knoxnews.com)
Read Bonnyman's official Marine Corps biography at mcu.usmc.mil
Visit the History Flight website.
ABOUT THE BATTLE OF TARAWA:
More than 990 U.S. Marines and 30 sailors died in the Battle of Tarawa.
Japanese machine gun fire killed scores of Marines when their boats got stuck on the reef at low tide during the U.S. amphibious assault. Americans who made it to the beach faced brutal hand-to-hand combat.
Only 17 of the 3,500 Japanese troops survived. Of 1,200 Korean slave laborers Japan brought to the island, just 129 lived.
Bonnyman led his Marines over a pier to the beach, where they used flamethrowers and demolitions to destroy installations and attack a bombproof shelter that was protecting about 150 Japanese soldiers. The Marines flushed out more than 100 of the occupants into the open, where they were shot down.
Bonnyman killed three attackers before he was mortally wounded.
The U.S. secured the island the day Bonnyman died.
His Medal of Honor citation noted his "dauntless fighting spirit, unrelenting aggressiveness and forceful leadership through three days of unremitting, violent battle." It said he "inspired his men to heroic effort, enabling them to beat off the counterattack and break the back of hostile resistance."
The U.S. quickly buried the thousands of dead on the tiny atoll, about 2,400 miles southwest of Hawaii. But the graves were soon disturbed as the Navy urgently built a landing strip to prepare to attack the next Pacific island on their path to Japan.
Bonnyman was among 36 unidentified servicemen the group History Flight exhumed in Tarawa in the Republic of Kiribati earlier this year. The remains were brought to Hawaii for identification in July.
The Department of Defense POW/MIA Accounting Agency announced Monday it had identified Bonnyman using dental records and other evidence. (from an Associated Press report)
Read more about the Battle of Tarawa at Wikipedia.
Resources
Watch a WBIR news report:
---
Watch a Knoxville News Sentinel report:
Daily "Answers" emails are provided for Daily News Articles, Tuesday's World Events and Friday's News Quiz.