(By Chip Cummins in Dubai, Roshanak Taghavi in Tehran and Jay Solomon in Washington, WSJ.com) – Senior U.S. commanders are finalizing plans to send tens of thousands of reinforcements to Afghanistan's main opium-producing region and its porous border with Pakistan, moves that will form the core of President Barack Obama's emerging Afghan war strategy.
Mr. Obama is likely to formally approve additional deployments this week, and Pentagon officials hope the full complement of 20,000 to 30,000 new troops will be on the ground by the end of the summer, pushing the U.S. military presence to its highest level since the start of the war in 2001.
U.S. commanders said the moves are part of a push to beat back the resurgent Taliban and secure regions of Afghanistan that are beyond the reach of the weak central government in Kabul. Unlike Iraq, where violence has typically been concentrated in cities, the war in Afghanistan is being increasingly waged in isolated villages and towns.
Virtually none of the new troops heading to Afghanistan will go to Kabul or other major Afghan cities. By contrast, when the Bush administration dispatched 30,000 new troops to Iraq as part of the so-called surge, the bulk of the new forces went to Baghdad.
Pentagon officials said troops will be deployed along the Helmand River Valley, which produces the bulk of the world's opium; along the two main highways of southern Afghanistan that have been hit by growing numbers of roadside bombs; in two provinces outside Kabul believed to serve as staging grounds for the insurgents planning attacks in the capital; and along the Afghan-Pakistani border.
"We'll array our troops to secure the population," Brig. Gen. John M. Nicholson, the top U.S. commander in southern Afghanistan, said in an interview. "We're going to go out to where the people are."
The deployments, part of a planned doubling of the U.S. military presence in Afghanistan, are almost certain to spark heavier casualties and push the war squarely onto the public agenda. "I hate to say it, but yes, I think there will be [more U.S. casualties]," Vice President Joe Biden said on CBS Sunday. "There will be an uptick."
The planned deployments also highlight the changing nature of the U.S. mission in Afghanistan. After years of focusing on bolstering the country's central government, the U.S. is ramping up efforts to crack down on drug eradication and border infiltration from Pakistan.
Afghanistan's security situation has continued to deteriorate. Militants are entering from bases in Pakistan and carrying out attacks that are destabilizing both countries. The Taliban have strongholds throughout southern Afghanistan and are using drug money to buy weapons and hire new fighters.
Last year was the bloodiest to date for American and North Atlantic Treaty Organization [NATO] forces and 24 Western troops have been killed in Afghanistan in 2009.
Afghanistan's violence has historically tapered off in the winter, but this year is shaping up differently. On Tuesday, militants destroyed a bridge in northwest Pakistan that is part of the main supply route for U.S.-led forces in Afghanistan, temporarily halting the shipments of food, gas and military equipment into the country. On Monday, a suicide bomber killed 21 Afghan police officers in one of Afghanistan's deadliest attacks in months.
NATO statistics show that 19 of the 20 areas with the highest numbers of attacks in Afghanistan are rural. The most dangerous city is the southern metropolis of Kandahar at No. 13; Kabul is No. 42.
The vast majority of the new troops will be deployed to southern Afghanistan, a Taliban stronghold that houses many of the shadow local governments run by the armed group. The Taliban are also profiting from the south's skyrocketing opium production, which allows the militants to continually replenish their supplies of weapons and fighters.
Some of the new forces are deploying to the border province of Kunar, a main transit route for the militants who cross into the country from Pakistan to carry out attacks on U.S., NATO and Afghan targets.
"We'll thicken our lines in Kunar," Maj. Gen. Jeffrey Schloesser, the top U.S. commander in eastern Afghanistan, said in a recent interview. "We'll be able to get out into some villages we haven't been in before."
In a potential complication to the U.S.-led war effort, the Kyrgyz government renewed its threat to close an American base that is a main transit point for troops deploying to Afghanistan. But U.S. officials dismissed the threat as political posturing designed to improve Kyrgyzstan's relationship with Russia.
Write to Chip Cummins at chip.cummins@wsj.com, Roshanak Taghavi at Roshanak.Taghavi@dowjones.com and Jay Solomon at jay.solomon@wsj.com
Copyright 2009 Dow Jones & Company, Inc. All Rights Reserved. Reprinted here for educational purposes only. Visit the website at wsj.com.
Questions
1. As part of his Afghan war strategy, how many new troops will President Obama authorize for deployment to Afghanistan?
2. Deploy is defined as positioning troops in readiness for combat. What are the goals for deploying these additional troops, according to U.S. commanders?
3. How is the war in Afghanistan different from Iraq, and how will the deployment of additional troops to Afghanistan reflect that difference?
4. To what 4 main locations will the new troops will be deployed?
5. What results are the doubling of the U.S. military presence in Afghanistan expected to have on the troops and the American public?
6. With the increased number of troops being sent to Afghanistan, how is the nature of the U.S. mission in that country changing?
7. OPTIONAL: Read an article by an analyst who believes the U.S. does not need to be ultimately victorious in Afghanistan, and that we should pull the troops out at studentnewsdaily.com/news-issue/strategic-divergence.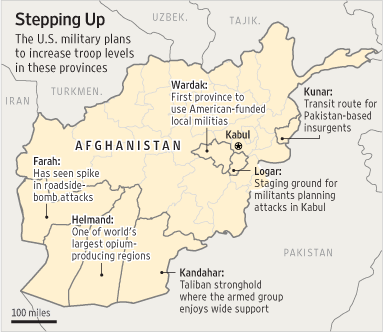 Daily "Answers" emails are provided for Daily News Articles, Tuesday's World Events and Friday's News Quiz.