redo Jump to...
print Print...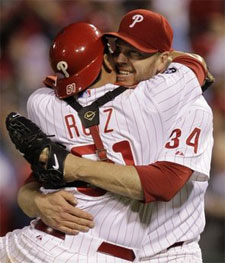 (by Rob Maaddi, WashingtonTimes.com) AP, PHILADELPHIA – …Roy Halladay threw the second no-hitter in postseason history, leading the Philadelphia Phillies over the Cincinnati Reds 4-0 in Game 1 of the NL division series on Wednesday. (PHOTO: Philadelphia Phillies starting pitcher Roy Halladay (#34) celebrates with catcher Carlos Ruiz (#51) after throwing a no-hitter to defeat the Cincinnati Reds 4-0.)
"It's surreal, it really is," Halladay said. "I just wanted to pitch here, to pitch in the postseason. To go out and have a game like that, it's a dream come true."
Don Larsen is the only other pitcher to throw a postseason no-hitter. He tossed a perfect game for the New York Yankees in the 1956 World Series against Brooklyn. The 54th anniversary of Larsen's gem is this Friday. …..
The All-Star right-hander, who threw a perfect game at Florida on May 29, dominated the Reds with a sharp fastball and a devastating slow curve in his first playoff start.
The overmatched Reds never came close to a hit. Halladay allowed only one runner, walking Jay Bruce on a full count with two outs in the fifth, and struck out eight.
"To get a no-hitter in this fashion, in your first postseason game, you've got to put it right up there," Phillies first baseman Ryan Howard said.
Halladay threw 104 pitches, 79 for strikes.
"It's no fun out there," Reds slugger Joey Votto said. "It's like trying to hit nothing. He's an ace among aces."
Halladay spent 12 seasons with Toronto, far from the postseason. A trade last December brought him to the defending two-time NL champions, and gave him this chance. …..
With a sellout crowd standing in the ninth and chanting "Let's Go, Doc!" Halladay got a loud ovation when he jogged to the mound to start the inning.
Ramon Hernandez popped out to second baseman Chase Utley for the first out. Pinch-hitter Miguel Cairo then fouled out to third baseman Wilson Valdez.
Halladay then retired Brandon Phillips on a tapper in front of the plate to end it. Catcher Carlos Ruiz pounced on the ball, getting down on his knee as the ball rolled near Phillips' bat, and made a strong throw for the final out.
"If I was catching, I probably would've picked up the ball and bat and threw them both," Phillies manager Charlie Manuel said.
Halladay pumped his fist into his glove as Ruiz rushed to the mound. Just like catcher Yogi Berra did with [Don] Larsen, Ruiz started to jump into Halladay's arms. Unlike Berra, the 5-foot-8 Ruiz didn't wrap up his pitcher in a bear hug.
"I felt like we got in a groove early," Halladay said. "Carlos has been great all year, he helps me get into a rhythm early, throwing strikes."
…………………
There were five no-hitters in the majors this year as pitchers dominated. But five no-hit bids got broken up in the ninth inning, too.
Halladay became the fifth pitcher to throw two no-hitters in the same year. He joined Nolan Ryan (1973), Virgil Trucks (1952), Allie Reynolds (1951) and Johnny Vander Meer (1938).
The last time a pitcher came close to a no-hitter in the postseason was quite a while ago. Boston's Jim Lonborg went 7 2-3 innings against St. Louis in the 1967 World Series before Julian Javier broke up it with a double, STATS LLC said.
The Phillies led the majors in wins (97) for the first time in franchise history, captured their fourth consecutive division title and are trying to become the first NL team in 66 years to win three straight pennants.
They are prohibitive favorites in this best-of-five against the NL Central champion Reds, who are making their first postseason appearance since 1995.
Game 2 is Friday at Philadelphia.
……………………
Halladay was so eager to join the Phillies that he passed up a chance to test free agency after this season and signed a $60 million, three-year extension to complete a trade. Halladay probably would've received the richest contract ever for a pitcher if he held off, but he wanted to play in Philadelphia.
…………………..
Copyright 2010 The Washington Times, LLC. Associated Press. Reprinted from the Washington Times for educational purposes only. Visit the website at washingtontimes.com.
Questions
1. Read the definitions for no-hitter and perfect game under "Background" below the questions. What is significant about Phillies pitcher Roy Halladay's no-hitter?
2. Who was the only other pitcher to throw a no-hitter in the postseason?
3. How many batters did Halladay walk during the game?
4. Why do you think Halladay's nickname is Doc?
5. What credit did Halladay give to Phillies catcher Carlos Ruiz?
6. What else was significant about Halladay's record?
Background
Postseason is defined as the period after the end of a regular season in which additional games or playoffs are held, especially to determine a champion. (from answers.com)
The postseason in baseball consists of:
Playoffs, followed by
Division championship series, after that
League championship series and finally
The World Series
A no-hitter is a game where no batter gets to base by hitting, but may get there because the pitcher walks a batter or accidentally hits the batter with a pitch.
A perfect game occurs when a pitcher faces 27 batters and none of them get on base. They all strike out, fly out or are tagged out while getting to first base. (For a list of pitchers who have pitched a perfect game, go to
entertainment.howstuffworks.com/question199.htm.)
Daily "Answers" emails are provided for Daily News Articles, Tuesday's World Events and Friday's News Quiz.