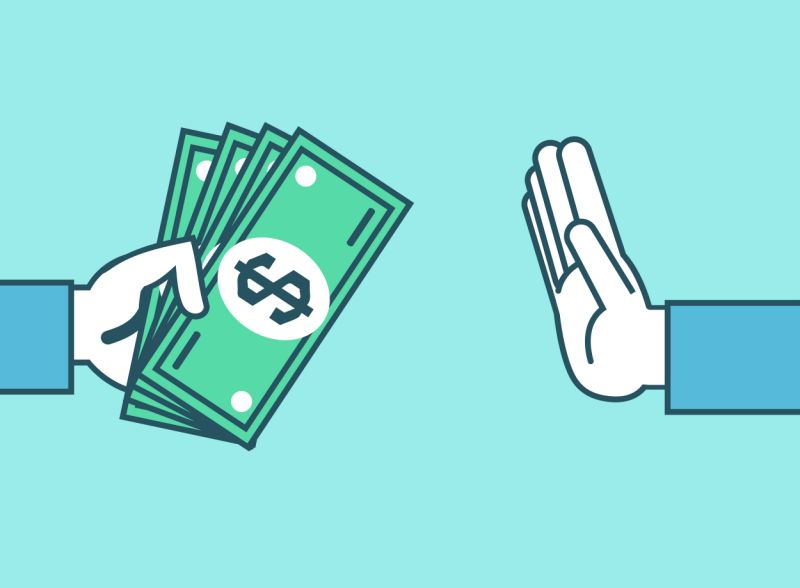 redo Jump to...
print Print...
(Compiled from PhillyVoice and WSJ) — Philadelphia is the first major city in the U.S. to ban cashless stores. Mayor Jim Kenney signed the ban on cashless businesses bill on Thursday, which will [prohibit] retailers and restaurants from not accepting cash as payment in their establishments and imposes fines on those that do not comply.
The legislation is a response to a growing trend nationally among restaurants and retailers the refuse cash for food, goods and services, according to the Wall Street Journal. It's a direct hit for Philly stores like the fast-casual restaurant Sweetgreen (for payment only via app or card) and coffee shop Bluestone Lane (for payment only by card).
Amazon was also reportedly [opposed] the ban because of its own plans to bring brick-and-mortar retail stores to Philadelphia, which would be payment by plastic only.
Similar legislation to ban the cash-free option has been introduced in New York city and New Jersey.
Lawmakers and supporters of the bill argue that banning cash in stores and restaurants is classist and discriminates against minority groups of people, like senior citizens and the homeless.
The bill was passed in City Council last month after City Councilman Bill Greenlee, a Democrat, introduced the legislation in the fall. It will go into effect on June 1, according to the Wall Street Journal, and will not only prohibit cashless stores in Philadelphia but also stop business owners from imposing a surcharge on customers using cash. Businesses who violate the law face fines up to $2,000.
The law has several exceptions. The cash requirement won't apply to parking garages or lots; wholesale clubs like Costco that sell to consumers through a membership model; or rental-car companies or hotels where a credit-card deposit is often required for incidentals.
Councilman Greenlee said he was inspired to introduce the bill after noticing some Center City sandwich shops had gone cashless.
"Most of the people who don't have credit tend to be lower income, minority, immigrants. It just seemed to me, if not intentional, at least a form of discrimination," he said. Now, he said, stores will be required "to do what businesses have been doing since Ben Franklin was walking the streets of Philadelphia."
"It's really a fairness issue. It's equal access is what we're trying to get," Greenlee told CBS in February.
Philadelphia Mayor Jim Kenney, a Democrat, signed the bill into law last week. His spokesman noted that 26% of city residents live below the poverty line and many don't have a bank account. Cash can be loaded onto prepaid debit cards, but those come with various fees.
Sylvie Gallier Howard, a top official in the city's Commerce Department, told City Council members last month she hoped the ban proves to be temporary. "Modernization is going to happen with or without Philadelphia, and we want to be part of it," she said.
Compiled from articles at PhillyVoice by Emily Rolen and The Wall Street Journal by Scott Calvert.  Reprinted here for educational purposes only. 
Questions
1. What does the Philadelphia law do?
2. Where else has similar legislation been introduced?
3. For what reasons has the law been introduced?
4. The Wall Street Journal reports: "The National Retail Federation, which represents the retail industry, opposes the new Philadelphia law and proposals like it, saying businesses should be able to choose which payment methods to accept. Cashless stores are uncommon in the U.S., and many businesses prefer cash payments because they avoid the credit-card transaction fees, it said."
Do you think businesses should be able to choose which payment methods to accept? Explain your answer.
5. Read the "Background" below the questions. Some people would just prefer to pay cash for privacy reasons. Also, some people just prefer paying for their purchases with cash. Cash is legal tender: money that is legally valid for the payment of debts and that must be accepted for that purpose when offered. Does this fact change your answer to question #4? Explain your answer.
Background
From The Wall Street Journal:
Businesses that have gone cashless point to greater efficiency for employees, who don't have to make change or count cash at closing time, and improved safety because workers don't have to carry large bank deposits.
But backers of measures [requiring] stores to accept cash say they worry about people who don't have credit or debit cards. Supporters also say some consumers prefer to pay with currency for privacy reasons.
"I think it's more the future than a fad, and that's why there is a need for a legislative response," said New York City Councilman Ritchie Torres, a Democrat, who is sponsoring legislation to ban cashless stores.
Mercedes-Benz Stadium in Atlanta said starting Sunday it will be the first NFL stadium to go fully cashless. The stadium, home to the NFL's Falcons and Major League Soccer's Atlanta United, said requiring fans to use plastic or make mobile payments will speed up transactions and reduce lines. Officials also cite safety benefits and say it will make it easier to lower food prices.
For fans who prefer to carry cash or who either don't have a credit or debit card or don't want to use one, 10 kiosks around the arena will convert cash to a prepaid debit card with no transaction fee.
Daily "Answers" emails are provided for Daily News Articles, Tuesday's World Events and Friday's News Quiz.