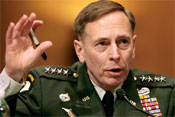 (by Eli Lake, NYSun.com) WASHINGTON – The general whose successful counterinsurgency campaign in Iraq reshaped the Republican primary, David Petraeus, will now turn his attention to hunting down Osama bin Laden in the mountains of Pakistan.
General Petraeus told the Senate Armed Services Committee here that is weighing President Bush's proposal to promote him to head of the Central Command that one of his first actions would be to visit Pakistan and meet with leaders there to discuss strategies for taking back control of the tribal border provinces where Osama bin Laden and his deputies lurk.
If General Petraeus is successful in pressing Pakistan and capturing or killing the Qaeda kingpin, it would have the potential to reshape not only the war on Islamist terrorism, but also the American presidential campaign. It could benefit Senator McCain by undermining Senator Obama's argument that the war in Iraq has drained the resources the military needs to focus on capturing the terrorist leader. On the other hand, if the perception is that the war largely has been won, it could benefit Mr. Obama by turning the focus to domestic policy and de-emphasizing foreign policy, which Mr. McCain perceives as his strong suit.
General Petraeus, who helped subdue Al Qaeda in Iraq's Anbar province, said he would turn his focus to the Pakistani border provinces known as the Federally Administered Tribal Areas, and assess whether the new Pakistani government's approach of cutting cease-fire deals with the Taliban-affiliated governors of the border provinces is working. According to the latest National Intelligence Estimate, Al Qaeda, operating from its new base in Pakistan, has restored the capabilities it had before September 11, 2001.
"The key need is to assess whether the overall concept that is guiding them on the Pakistani border is adequate or not," he said. "One of the first trips I would make if confirmed as Centcom commander would be to go to Pakistan to sit down with the fellow U.S. Army command and staff college graduate [Ashfaq] Kayani and of course other members of the Pakistan government." General Kayani is the head of Pakistan's military.
As it did in Anbar in the summer of 2006, Al Qaeda exercises de facto control in the Pakistan border area by intimidating and eliminating tribal leaders that challenge the group's authority. If General Petraeus can find a coalition of sheikhs willing to work with the Pakistani military in the border provinces, as he found sheikhs willing to work with American and Iraqi troops in Anbar, it's possible he could capture Osama bin Laden.
In a written answer to a question on Pakistan, General Petraeus wrote that a purely military strategy would likely not be effective in the border provinces in Pakistan. But he also said there was a role for military operations.
"While it is true that a purely military approach would likely not be successful, it is also unlikely that purely political approach would have the desired effect–as demonstrated by what is general assessed to be the failure of the negotiated 'permanent peace' in Waziristan in 2006," he wrote.
The tone of yesterday's hearing was conciliatory on both sides. Senator Clinton chatted amiably with both General Petraeus and General Odierno, who is Mr. Bush's nominee for taking over the Multinational Forces Iraq. She also went over to meet with General Odierno's son, who is now serving as a captain in Iraq.
The one contentious moment in the hearing came when Senator Webb, a Democrat from Virginia who has tried and failed to mandate the amount of leave time soldiers must take between tours in Iraq and Afghanistan, pressed General Petraeus on Iran.
Mr. Webb quoted back written answers General Petraeus provided the committee on Iran, challenging his choice of the word "malign" to describe Iran's influence and activities in Iraq and the Middle East.
"I am characterizing that influence, it is malign and it is lethal and it is illegitimate. They are arming, training, funding and directing militia extremists that have killed our soldiers and killed Iraqi soldiers," General Petraeus said before Senator Webb cut him off, saying he had heard this before.
Mr. Webb referred in part to a written question, "Could a protracted deployment of U.S. troops in Iraq strengthen Iran's influence in the region?" Mr. Petraeus responded in writing: "On the contrary, one impact of the U.S. effort in Iraq been to bring into focus Iran's destabilizing regional impact. The presence of U.S. troops in Iraq and elsewhere in the region has the potential to counter malign Iranian influence against the Government of Iraq, build common cause in the region, and expose the extent of malign Iranian activities to the world."
Mr. Webb and Mrs. Clinton have worked together on legislation requiring Mr. Bush to seek congressional permission before taking any military action against Iran. The legislation has not been passed into law.
Anti-war Code Pink activists disrupted the hearing in its first 15 minutes. But activists kept quiet after the initial outburst. Capital Hill police now station an officer directly in front of the citizen's gallery, three feet away from the audience, in anticipation of such disruptions.
General Petraeus, who earned his fourth star last year, is expected to be voted out of the Senate Armed Services Committee by the end of the month. A full Senate floor vote on his nomination is expected in early June. As the commander of central command, the general will be taking over a command space that includes Iraq and Afghanistan as well as northern Africa and southwest Asia.
Reprinted here with permission from The New York Sun. Visit the website at NYSun.com.
Questions
1. If the Senate Armed Services Committee approves President Bush's nomination of Gen. Petraeus to head of Central Command (CENTCOM) and he is voted in by the Senate, what has the General said one of the first actions will be?
2. a) How could General Petraeus' success in Pakistan benefit Senator McCain?
b) How Could General Petraeus' success in Pakistan benefit Senator Obama?
3. a) Who is Ashfaq Kayani?
b) If he is confirmed as the leader of CENTCOM, why does General Petraeus plan on meeting with Ashfaq Kayani?
4. a) Define "de facto" as used in the article.
b) How does al Qaeda have de facto control of the Pakistan-Afghanistan border area?
5. What two solutions to the problem of al Qaeda operating from the northern Pakistani border area are possible under General Petraeus' command?
6. What success has General Petraeus had in Iraq that indicates he could be successful in Pakistan as well?
7. If confirmed by the Senate to become the new leader of CENTCOM, do you think that Gen. Petraeus will be successful in driving al Qaeda out of Northern Pakistan and/or capturing bin Laden? Explain your answer.
Daily "Answers" emails are provided for Daily News Articles, Tuesday's World Events and Friday's News Quiz.