redo Jump to...
print Print...
(by Shaun Waterman, WashingtonTimes.com) – Thousands of Palestinian demonstrators clashed with Israeli security forces on three hostile borders Sunday in an unprecedented wave of protests marking an annual ritual against the founding of the Jewish state in 1948.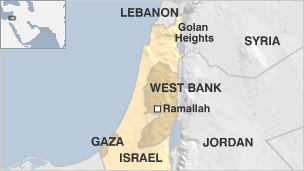 Israeli soldiers opened fire, leaving at least 15 dead and many more injured, as rioting Palestinians poured across the [Israeli] borders with Syria, Lebanon and the Palestinian territories.
Israeli officials said 13 troops were wounded and blamed Syria and Iran for orchestrating the clashes. …..
The riots erupted as U.S. efforts to promote Israeli-Palestinian peace talks appeared close to collapse with the sudden resignation Friday of U.S. special Middle East envoy George Mitchell.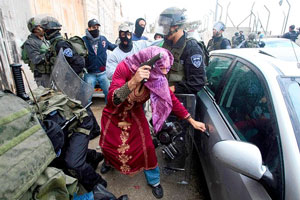 The resignation leaves already stalled U.S. peace efforts in tatters, a circumstance that President Obama is expected address this week in a major speech on the Middle East.
[Top photo on right: An undercover Israeli policeman opens a car door after detaining a protester in the West Bank on Sunday.]
"We hope calm and quiet will quickly return, but nobody should be mistaken. We are determined to defend our borders and sovereignty," Israeli Prime Minister Benjamin Netanyahu said in brief remarks broadcast live on Israeli TV stations.
Mr. Netanyahu said he ordered the military to act with "maximum restraint" but vowed a tough response to any further incursions. The Israeli leader is due in Washington for talks with Mr. Obama this week.
Despite the upcoming visit, observers said recent events in the region – the fall of several Arab autocracies and a deal between the Palestinian factions Fatah, which controls the West Bank, and Hamas, which controls Gaza – have effectively paralyzed U.S. efforts.
……………
The unprecedented breakthrough by Palestinian demonstrators on the Syrian border in the disputed Golan Heights area – tightly controlled by the Syrian military – brought allegations that Damascus [capital of Syria; the Syrian government] had encouraged the protests as a way of distracting attention from the two-month-long uprising against the regime of President Bashar Assad.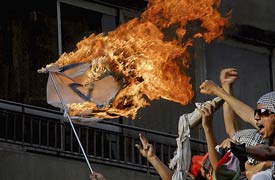 The clashes sparked demonstrations in Egypt, where police fired tear gas at demonstrators trying to storm the Israeli Embassy in Cairo. [Bottom photo on right: Demonstrators burn an Israeli flag near the Israeli embassy in Cairo, Egypt Sunday, May 15, 2011.]
The demonstrations were part of annual protests by Palestinians marking the foundation in 1948 of Israel – an event they call "al-Naqbah," or "the Catastrophe." Hundreds of thousands of Palestinians fled when Arab nations attacked Israel. They became refugees in the West Bank and Gaza and in neighboring countries, where many remain in camps.
Crowds were larger than expected because activists used Facebook and other social networking websites to mobilize Palestinians and their supporters in neighboring Arab countries to march on the border with Israel, including its…border with Syria in the Golan Heights
Israel captured the Golan from Syria in the 1967 war [after Syria, Egypt and Jordan mobilized against Israel], and Syria demands the area back as part of any peace deal. Israel has annexed the territory.
Despite hostility between the two countries, Syria has carefully kept the border quiet since the 1973 war, and the breakthrough by demonstrators was unprecedented.
About midday, thousands of people approached the border, hoisting Palestinian flags, shouting slogans and throwing rocks and bottles at Israeli forces.
When hundreds of people burst across the border fence into the Israeli-controlled town of Majdal Shams, Syrian forces did not intervene, and surprised Israeli soldiers opened fire.
Israeli defense officials, speaking on the condition of anonymity because of the sensitive nature of the information, acknowledged the military was caught off guard by the violent marches.
Officials also said there were strong signs that Syria and its Iranian-backed Lebanese ally, Hezbollah [a terrorist group whose goal is to destroy Israel], orchestrated the unrest.
"The Syrian regime is intentionally attempting to divert international attention away from the brutal crackdown of their own citizens to incite against Israel," said Lt. Col. Avital Leibovich, an Israeli military spokeswoman.
Israel's military spokesman, Brig. Gen. Yoav Mordechai, told Channel 2 TV he also saw "fingerprints of Iranian provocation and an attempt to use 'Naqbah day' to create conflict."
Hezbollah's al-Manar TV was in place to film much of the day's clashes, and the Israeli officials said the activists were bused in from Palestinian refugee camps throughout Syria.
In a television interview Sunday, Iranian President Mahmoud Ahmadinejad said the day's events proved again the character of the Jewish state and reiterated his calls for its destruction. …..
• This article is based in part on wire service reports.
Copyright 2011 The Washington Times, LLC. Reprinted from the Washington Times for educational purposes only. Visit the website at washingtontimes.com.
Questions
1. How did Palestinian protesters mark the 63rd anniversary of Israel's founding?
2. How did Israeli Prime Minister Benjamin Netanyahu respond to the unprecedented Palestinian riots?
3. Who did Israel blame for instigating Sunday's riots against Israel? For what reasons did they make the accusations?
4. a) What did Syria's military do when hundreds of Palestinian protesters burst through the border fence from Syria into Israel?
b) What did Israeli soldiers then do?
5. Opponents of Israel criticize the military for firing on the Palestinians.  Read the information under "Background" and watch the video under "Resources" below.
a) How do you think Israel should respond when angry protesters storm their borders on three sides?
b) What should the military do to protect Israeli citizens from potential violence and invasion?
Background
Hamas, a violent Iranian-backed group, is considered a terrorist organization by the U.S, EU and others because it has killed hundreds of Israelis in suicide bombings and other attacks. Hamas' official charter calls for the destruction of Israel.
Sunday's unrest occurred as the Palestinians marked the "nakba," or "catastrophe" – the term they use to describe their defeat and displacement in the war that followed Israel's founding on May 15, 1948 when Israel overcame the armies of surrounding Arab states as well as local Arabs who attacked after the Jewish state was declared. (from yahoonews.com)
—————
LEBANON BORDER: About 25 miles to the west [of the Syrian border], Israeli troops clashed with a large crowd of Lebanese demonstrators who approached that border. The military said it opened fire when protesters tried to damage the border fence. Security officials in Lebanon reported 10 dead.
It was the deadliest incident along the volatile border since Israel fought Lebanese Hezbollah [terrorists] during a monthlong war five years ago.
Sunday's shooting erupted at the tense border village of Maroun el-Rass, which saw some of the fiercest fighting in 2006. Thousands of Palestinian refugees travelled to the village in buses adorned with posters that said: "We are returning." Many came from the 12 crowded refugee camps in Lebanon where some 400,000 Palestinian refugees live.
Hundreds of Lebanese soldiers, U.N. peacekeepers and riot police deployed heavily in the area, taking up positions along the electrified border fence and patrolling the area in military vehicles. Young Hezbollah supporters wearing yellow hats and carrying walkie-talkies organized the entry to the village and handed out Palestinian flags.
EGYPT: In Cairo, a security official said more than 1,000 protesters tried to push their way past a tight security cordon toward the Israeli Embassy, located on the top floor of a building. Egyptian soldiers guarding the embassy fired tear gas to disperse the crowd. One protester burned an Israeli flag.
GAZA STRIP:  There was also violence in a predictable location – Gaza.
Palestinian medics said 125 people were wounded when demonstrators in the Gaza Strip tried to approach a heavily fortified border crossing into Israel. One man was killed by an Israeli sniper. The military said he was trying to plant a bomb.
JORDAN:  In Jordan, meanwhile, police blocked a group of protesters trying to reach the border with Israel.
WEST BANK:  In addition, hundreds of West Bank Palestinian threw stones at Israeli police and burned tires at a checkpoint outside Jerusalem before they were dispersed.
TEL AVIV, ISRAEL:  Inside Israel, police were on high alert for disturbances among the country's large Arab minority, and Israeli police spokeswoman Sigal Toledo said a deadly traffic incident involving an Arab truck driver in Tel Aviv was "most likely" an attack.
The truck plowed through a crowded street, crashing into a bus, several cars and pedestrians, killing one and injuring 16 others. Police said the 22-year-old driver claimed it was an accident, but a witness said he had to subdue the man and that he was shouting slogans against Jews. (from winnipegfreepress.com)
Daily "Answers" emails are provided for Daily News Articles, Tuesday's World Events and Friday's News Quiz.