redo Jump to...
print Print...
(by Chris Brummitt, Detroit Free Press, Freep.com) AP – ISLAMABAD, Pakistan — The floods tearing through Pakistan's breadbasket have further weakened the already unstable country, inflicting more economic pain on its people and threatening a key pillar of the U.S.-led war against Islamic militants — who stand to gain from the misery.
For now, attention is focused on meeting the needs of the millions of people affected by the still-spreading disaster. But the floods — Pakistan's worst-ever natural calamity — already are complicating U.S. goals of defeating al-Qaida and the Taliban and stabilizing neighboring Afghanistan.
With international aid still not coming in fast enough, public anger at the government is likely to swell, threatening turmoil just as Washington and the region need stability in the nuclear-armed nation.
…
About one-fifth of the country has been affected by flooding. At least 8 million people need water, shelter or other assistance.
Even before the flood, the country was blighted by soaring food inflation, chronic unemployment, crumbling schools and hospitals and rolling power cuts. About 60% of its 170 million people get by on less than $2 a day.
The floods are expected to shave at least 1% of Pakistan's gross national product this year, in large part because of the impact on agriculture and the textile industry.
Already, the prices of vegetables, meat and dairy products have risen sharply.
Looking after the victims is a huge task that would strain even the best government. Authorities also must start thinking ahead to rebuilding homes and infrastructure and getting people — most of them poor farmers — back to work.
Historical precedents are hard to find for a disaster on this scale, but Pakistan has proved resilient in past crises. With a committed government and support from the international community, the worst-case scenarios may not play out. But the government — unpopular before the floods — faces anger if it fails to help the victims.
"There is no electricity, no water, no sanitation, no food. The only thing there are in numbers is mosquitoes," said Mahboob Ali, who blocked a road Friday to protest conditions in his relief camp. "We cannot bear the screams of our children. They are hungry."
For now, the opposition has been largely quiet in its criticism of the relief effort. But that could change if the rebuilding effort is badly handled or allegations of corruption surface.
Some of the worst-hit areas are strongholds of al-Qaida, the Taliban and associated groups and have long been used as recruiting grounds.
U.S. and Pakistani officials warn that extremists could get recruits and legitimacy by their actions in the flood zone and have called for more international aid. The U.S. has been the most generous donor so far.
"If the Pakistan government and the international community don't help these people, you will get the classic conditions that allow for insurgent groups to step into the role," said Adam Holloway, a British lawmaker who sits on Britain's Defense Select Committee.
The U.S. needs Pakistan to keep pressure on militants in the northwest to stop Afghan insurgents from using it as a base for regrouping and rearming.
For now, the flood appears to have dashed U.S. hopes for a sustained military effort in the tribal region of North Waziristan, from where a network of insurgents blamed for much of the violence in Afghanistan is believed to be based.
…
Copyright ©2010 The Associated Press. All rights reserved. Reprinted here for educational purposes only. The information contained in this AP News report may not be published, broadcast, rewritten, or redistributed without the prior written authority of The Associated Press. Visit he Detroit Free Press website at freep.com/article/20100822/NEWS07/8220499 for the original post.
Questions
1. What is unusual about this year's monsoon flooding in Pakistan?
2. How has the flooding affected the people of Pakistan? Be specific.
3. a) What group of people could possibly benefit from the disaster?
b) What two major factors could prevent this from happening?
4. How might the Pakistani government's handling of the flood disaster affect the U.S.?
Background
From earthobservatory.nasa.gov:
Monsoon rains fall in Pakistan every summer, but the rains beginning in late July 2010 were unusually heavy.
By August 1, 2010, entire villages had washed away, more than 1,100 people had died, and an estimated 2.5 million people were affected, according to news reports.
A shortage of safe drinking water and a possible outbreak of cholera were among the most pressing dangers.
Officials described the flooding in northwestern Pakistan as the worst since 1929.
News reports documented some 30,000 residents stranded on rooftops, and some 65 bridges completely washed away.
As governments and international aid organizations struggled to assist the flood victims, weather officials forecast more monsoon rains starting August 2, 2010.
Resources
For background on Pakistan, go to the U.S. State Department website at state.gov/r/pa/ei/bgn/3453.htm or the BBC at news.bbc.co.uk/2/hi/south_asia/country_profiles/1157960.stm.
For photos of the floods in Pakistan, go to yahoo news.
For a map, timeline and satellite photos, go to bbc.co.uk/news/world-south-asia-10986220.
Reuters map of the flooding as of August 4, 2010: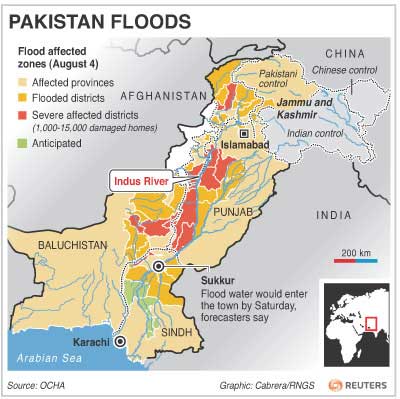 Daily "Answers" emails are provided for Daily News Articles, Tuesday's World Events and Friday's News Quiz.