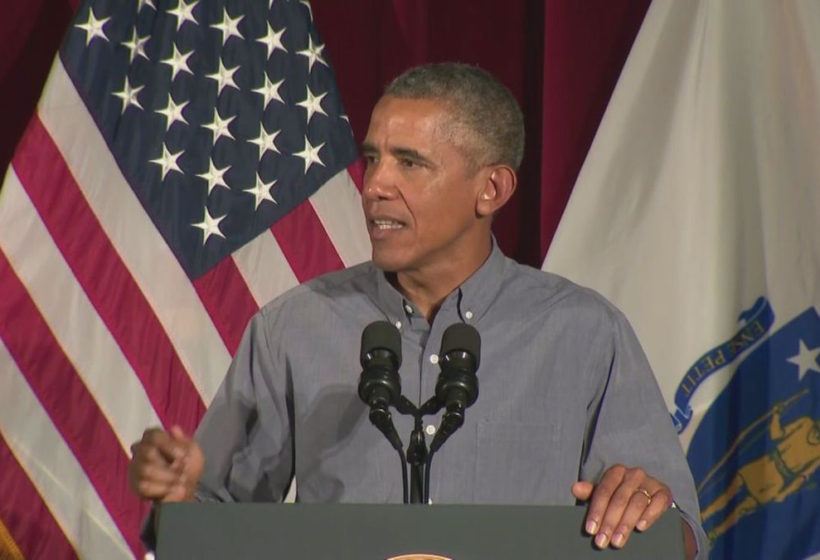 redo Jump to...
print Print...
(by Jeff Mason and Lucia Mutikani, Reuters) BOSTON/WASHINGTON – President Barack Obama on Monday ordered government contractors to give their employees seven days of paid sick leave a year and, without naming them, knocked Republican presidential candidates for advocating what he said were anti-union policies.
Obama signed an executive order on sick leave, which the White House said would affect some 300,000 people, during a flight to Boston, where he spoke at a union event. "Unfortunately, only Congress has the power to give this security to all Americans," the president said. "But where I can act, I will. And by the way, I just did."
Starting in 2017, workers on government contracts will earn a minimum of one hour of paid sick leave for every 30 hours worked. Contractors can offer more at their discretion but must provide at least the 7 days per year of paid sick leave.
Speaking to a friendly crowd without a tie or jacket, Obama said such policies were beneficial to employers and said more worker-friendly measures, such as paid maternity leave, were needed.
"Right now, we are the only advanced nation on Earth that does not guarantee paid maternity leave," he said.
"Now, for the men in the audience in particular, think about that. We wouldn't even go to work if we had to carry around somebody for nine months. The human race would evaporate," he said, drawing laughter and applause from the crowd.
Unions and organized labor are a key constituent for the Democratic Party, and their support will be critical in the 2016 presidential election.
Obama, who joked that he was glad not to be on the ballot next year, made thinly veiled references to Wisconsin Governor Scott Walker and New Jersey Governor Chris Christie for anti-union remarks and policies. He did not name them by name.
"It's clear [President Obama] stands with the big government union bosses while we stand with the people," Gov. Walker, during a campaign stop in New Hampshire, said in response to the president.
The executive order follows a series of measures by the White House to [mandate] paid leave. In January, Obama issued a presidential memorandum directing the government to advance up to six weeks of paid sick leave for the birth or adoption of a child, or for other sick leave-eligible uses. [An Associated Presss report explained: Unable to push much of his agenda through a Republican-controlled Congress, Obama has in recent years used executive orders with frequency to apply policies to federal contractors that he lacks the authority to enact nationwide. His aim is to lay the groundwork for those policies to be expanded to all Americans.]
Obama is also pressing Congress to pass legislation giving government employees six additional weeks of paid parental leave. Labor Secretary Thomas Perez said he could not say what the cost of implementing the seven-day paid leave rule would be to contractors. [According to a Sept. 7 Associated Press report, the White House wouldn't specify the cost to federal contractors to implement the executive order.
The Labor Department said any costs would be offset by savings that contractors would see as a result of lower attrition rates and increased worker loyalty, but produced nothing to back that up.]
Obama also used the trip to Boston to renew his call for Congress to pass the Healthy Families Act, which would require all businesses with 15 or more employees to offer up to seven paid sick days each year.
According to the White House, an estimated 44 million private-sector workers, about 40 percent of the total private-sector workforce, do not have access to paid sick leave.
Reprinted here for educational purposes only. May not be reproduced on other websites without permission from Thomson Reuters. Visit the website at Reuters .com. (Note: The article above was published on Sept. 7)
Questions
1. What is an executive order? (Read about Executive orders under "Background" below.)
2. What executive order did President Obama sign on Monday? Be specific.
3. In addition to sick leave for government contractors, what employee benefits would President Obama like to mandate?
4. What will the mandated (required by law) paid sick leave cost contractors who work for the federal government?
5. Readers responded to this Reuters article with similar comments:
"The problem with stuff like this is that American tax payers are going to absorb these costs. The Gov contractors will just build this into their proposals, resulting in our $5,000 hammer costing us $6,000."
"This is just another TAX on you and me. These are Federal contractors. So President Obama just RAISED the cost of ALL FEDERAL CONTRACTS Who pays? YOU DO!!"
"All the contractors will do is pass that cost on in contract changes and it is we the taxpayers who will foot the bill."
"These employers will most likely reduce the number of vacation days offered to employees as they increase the number of sick days, resulting in the same number of paid days off for the employee."
a) Do you agree with these assertions? Explain your answer.
b) Ask a parent the same question.
6. a) Do you think Congress should pass laws requiring (mandating) all business owners to give their employees a certain amount of paid sick leave and paid family/maternity leave, as well as require employers to increase the minimum wage they pay employees? Explain your answer.
b) Ask a parent the same question.
c) Generally Democrats believe the government should make such laws. Some argue that even conservatives in Europe support these types of measures. Do you support the argument that the U.S. should model our laws on European laws? Explain your answer.
7.  From a commentary at nj .com:
As a former small-business owner, I can safely say that each of these policies (mandatory paid family leave, paid sick leave, an increase in mandatory minimum wage), while well-intentioned, ultimately drives up costs for small businesses, which can harm employees and endanger a business' existence.

It's important to understand that government mandates such as the paid sick leave bill disproportionately affect small businesses. According to the Bureau of Labor Statistics, most large businesses already provide paid sick leave. However, only 52 percent of small businesses provide such a benefit. Considering that 89.8 percent of all businesses have fewer than 20 employees, this is a massive gap.

So why does it exist? Simple: Small businesses don't have the same profit margins as multinational corporations. Most are constantly teetering on the edge of profitability – and 80 percent fail in their first 18 months. Given this reality, small businesses can't always offer the most generous benefits.
What do you think of this explanation?
Background
ON EXECUTIVE ORDERS:
"America does not stand still, and neither will I," President Obama has said. "So wherever and whenever I can take steps without legislation to expand opportunity for more American families, that's what I'm going to do."
Various news reports state that President Obama signed executive orders; others refer to them as executive actions.  The difference is:
A presidential executive order is a directive issued to federal agencies, department heads, or other federal employees by the President under his statutory or constitutional powers.
Executive orders are legally binding and published in the Federal Register, though they also can be reversed by the courts and Congress.
The terms executive action and executive order are not interchangeable.
Executive actions are any informal proposals or moves by the president. The term executive action itself is vague and can be used to describe almost anything the president calls on Congress or his administration to do. But most executive actions carry no legal weight. Those that do actually set policy can be invalidated by the courts or undone by legislation passed by Congress.
Executive memoranda are similar to executive orders in that they carry legal weight allowing the president to direct government officials and agencies. But executive memoranda are typically not published in the Federal Register unless the president determines the rules have "general applicability and legal effect." (from about .com)
So how is an executive order different from a law? According to USA.gov, the federal government's official website, "presidents use executive orders to direct and manage how the federal government operates."
The executive order is a directive from the president that has much of the same power as a federal law. And like a federal law, Congress can pass a new law to override an executive order, subject to a presidential veto.
With the Democrats controlling the Senate, the chance of a successful veto of an executive order would be slim at best. For its part, the Supreme Court can overrule an order in the same way it would find a law unconstitutional.
In historical terms, there have been significant decisions made via executive order or its ancestor, the presidential proclamation.
President Abraham Lincoln suspended the writ of habeas corpus during the Civil War using a presidential proclamation, and two orders comprised Lincoln's Emancipation Proclamation.
President Franklin Roosevelt established internment camps during World War II using Executive Order 9066. Roosevelt also used an executive order to create the Works Progress Administration. (blog.constitutioncenter.org)
…How far-reaching have President Obama's orders and actions been and how do they compare to what other presidents have done?
On immigration, the president has signed orders to halt the deportation of those who came to the U.S. when they were young, those who care for children and those who haven't committed crimes. He's also started to allow some relatives of U.S. service members living here illegally to stay. There's more to come…
Obama has also signed far reaching orders on climate change in November 2013 – forcing power plants to cut their emissions by 30 percent by 2030 – which will be much discussed in this year's elections.
The president has instigated 23 separate executive orders on gun control…
Through his executive powers, Obama has slowly extended the rights for same-sex couples
and raised the minimum wage for federal workers to $10.10. (from a July 10 washpost blog post)
Resources
Watch President Obama's announcement on Labor Day:
Daily "Answers" emails are provided for Daily News Articles, Tuesday's World Events and Friday's News Quiz.