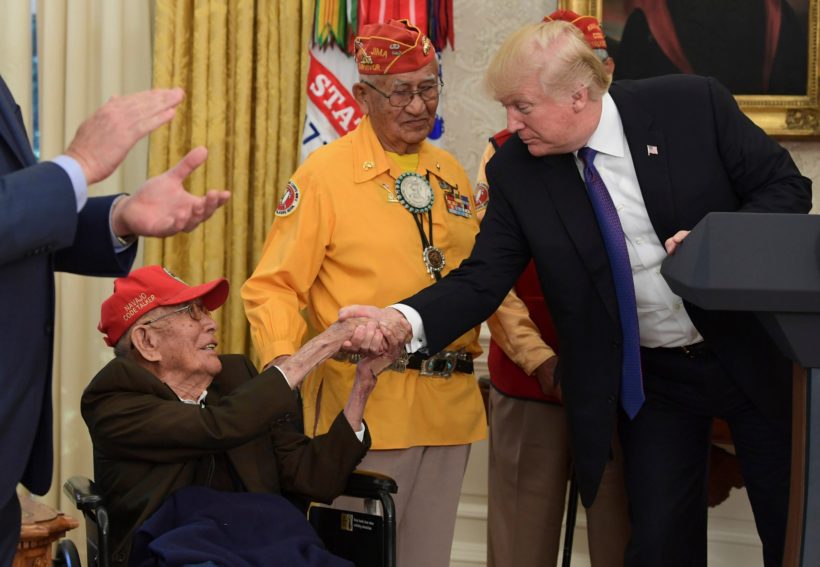 redo Jump to...
print Print...
(by Perry Vandell, Arizona Republic) – Navajo Code Talker Fleming Begaye Sr., one of more than 400 Navajo Code Talkers who developed a secret military code during World War II, died on Friday at age 97.
Born Aug. 26, 1921, Begaye was Tódích'íi'nii (Bitter Water Clan) and born for Kinłichii'nii (Red House People Clan) in the community of Red Valley, Arizona, Navajo Nation President Jonathan Nez and Vice President Myron Lizer, announcing Begaye's death in a Facebook post on Friday.
"The Navajo Nation has lost another brave and selfless Diné warrior, who sacrificed more than we'll ever know to defend our country," Nez wrote in the statement. "We offer our heartfelt appreciation to the family for sharing his life with us. May the Creator bless you and your family with strength and comfort."
Begaye died in Chinle, Apache County, Arizona.  He became interested in joining the Marine Corps when someone from the military spoke to him and other Navajo men at their high school in Fort Wingate near Gallup, New Mexico.
Begaye told his granddaughter how he dropped out of high school to enlist, where he and other Code Talkers attended classes to develop a code that referred to ships as various kinds of animals in the Navajo tongue over the radio and telephone.
The Japanese were never able to break it.
Begaye served in the Marines from 1943 to 1945.  He was one of three Code Talkers honored at the White House in 2017 for their service in World War II.
Former Navajo Code Talker Peter MacDonald was with Begaye at the White House and recalled Begaye surviving the Battle of Tarawa, swimming to the beach after his landing craft was destroyed.
He also spoke of how Begaye was badly shot in another battle and had to be hospitalized at a naval hospital for a year.
After returning to the United States, Mr. Begaye owned and operated a trading post in Chinle, where he lived with his wife, Helen M. Begaye, and three children. He later added a car repair shop, a cafe and a small grocery store and then went into farming, growing apple, cherry and plum trees and raising cattle and sheep.
The Navajo Code Talkers were successful because they provided a fast, secure and error-free line of communication by telephone and radio during World War II in the Pacific. The 29 initial recruits developed an unbreakable code, and they were successfully trained to transmit the code under intense conditions.
Half of the 29 were shipped overseas to join the first division of the U.S. Marines because they were prepping their first offensive move in the Pacific arena, which was on Guadalcanal.
Once the Navajo Code Talkers proved to be successful in the field, more were recruited. It is estimated that more than 400 Navajo men served as Code Talkers during World War II.
Compiled from Arizona Republic and New York Daily News. Reprinted here for educational purposes only. 
Questions
1. The first paragraph of a news article should answer the questions who, what, where and when. List the who, what, where and when of this news item. (NOTE: The remainder of a news article provides details on the why and/or how.)
2. How many Navajo Code Talkers were there during WWII?
3. How did the Code Talkers use the Navajo language during WWII?
4. a) Why didn't anyone know anything about the Code Talkers until 1968?
b) b) Why do you think this was so?
5. a) What did President Ronald Reagan do to honor the Code Talkers in 1982?
b) What did President Trump do in 2017 to honor the Code Talkers?
6. Read the "Background" and check out some of the links. Then watch the videos under "Resources." How do you think Americans can/should honor these brave men today?
Background
How were the Code Talkers honored?
The Navajo Code Talkers returned from World War II without praise or parades to welcome them home. Even after the program was declassified in 1968, the Navajo Code Talkers' role was not widely shared.
In 1982, President Ronald Reagan declared Aug. 14 as National Code Talkers Day. In 2000, the Honoring the Navajo Code Talkers Act was signed into law, and by 2001, the Navajo Code Talkers were honored with Congressional Gold and Silver Medals.
An annual celebration for Navajo Code Talkers Day is held on the Navajo Nation each year in Window Rock, Arizona. For more information about the Navajo Code Talkers, visit the website for the Navajo Code Talkers Association.
---
Resources
Watch a local ABC15 report:
---
Watch a DOD report:
---
November 2017: President Trump met with World War II veteran Navajo code talkers, including Mr. Begaye, in the Oval Office at the White House
Daily "Answers" emails are provided for Daily News Articles, Tuesday's World Events and Friday's News Quiz.