redo Jump to...
print Print...
(by Bill Gertz, WashingtonTimes.com) – A North Korean general who is a confidant of the country's leader, Kim Jong-il, has been identified by U.S. and foreign intelligence agencies as a key figure in the covert production and distribution of high-quality counterfeit $100 bills called supernotes, according to documents and interviews with intelligence officials.
North Korean Gen. O Kuk-ryol, who was recently promoted to the country's powerful National Defense Commission, and several of his family members are said to be in charge of producing the fake $100 bills, which are so carefully crafted that they are difficult to tell apart from real U.S. banknotes.
A foreign-government report obtained by The Washington Times from a diplomatic source in Washington said Gen. O has emerged in recent months as one of the most powerful military figures in the North Korean regime and the person in charge of arranging the succession of Mr. Kim by his third son, Kim Jong-un. Kim Jong-il suffered a stroke in August and has appeared in public recently looking thin and frail.
The information about the general in the report was confirmed by a senior U.S. intelligence official as well as by other current and former officials with knowledge of North Korean activities. They asked not to be named because of the sensitivity of the issue.
Although North Korea has been linked to counterfeiting for many years, the report is unusually detailed in its account of how North Korea is using illegal activities to raise hard currency for use by the regime and Mr. Kim. The new details were disclosed as the United Nations considers additional economic sanctions against North Korea for an underground test of a nuclear weapon last week.
An assistant to North Korea's ambassador to the United Nations, Sin Son Ho, rejected any allegation of counterfeiting. "As far as I know, this has already been, how to say, rejected by my government," the assistant, who asked not to be named, said in New York. "We have nothing to do with counterfeiting of American money. This was stated by my officials several times."
He said many European nations, including Germany, have not found any truth to the North Korean counterfeiting reports. "We have never been involved in illegal activities such as counterfeiting. We lack the equipment," he said.
The first North Korean counterfeit supernote was found by a cashier in Manila in 1989, said U.S. Secret Service officials who spoke on the condition of anonymity because of the sensitivity of the subject. In 1994, North Korean trading company officials carrying diplomatic passports of North Korea were arrested after depositing $250,000 in supernotes in Banco Delta Asia in Macao, the officials added.
In the United States, North Korean supernotes have been traced to Las Vegas. In the case of Chen Chiang Liu, a Los Angeles resident who was convicted in federal court in September of conspiracy to sell and pass counterfeit currency, the supernotes he used looked authentic enough to trick bill validators in casino slot machines.
The most recent evidence of North Korean trafficking in supernotes surfaced in Pusan, South Korea, in November when police seized about $1 million in supernotes. According to the report, the case "shows that Pyongyang is using South Korea to circulate or launder supernotes."
Secret Service officials have said that North Korea produced more than $45 million in supernotes in circulation since 1989. The Secret Service, which is in charge of investigating counterfeit currency, has identified 19 variations of the counterfeit $100 bill, which U.S. officials think was produced on North Korea's intaglio-process offset printing presses.
Ed Donovan, a spokesman for the Secret Service, declined to comment on the new information obtained by The Times.
The report narrowed the source of supernote printing to a plant called the Pyongsong Trademark Printing Factory. The plant is said to be under the control of the operations department of the Korean Workers Party, which is headed by Gen. O.
Supernote circulation has increased in recent months, the report said, in part to offset revenue shortfalls created by international sanctions against North Korea.
David Asher, former State Department coordinator for tracking North Korean illicit activities, said in a speech in February that the Banco Delta Asia case involving North Korean counterfeiting was "the tip of the iceberg" in Pyongyang's global moneymaking operations. Mr. Asher said undercover FBI agents in Macao documented the activity, including counterfeiting, that involved "hundreds of millions of dollars" until the bank was sanctioned.
"Banco Delta Asia was washing massive amounts of money," he said, noting that more steps need to be taken to halt Pyongyang's illicit activities and arms trafficking.
The U.S. Treasury Department barred U.S. contacts with the bank in 2005, labeling it a "primary money-laundering concern." The bank froze about $25 million in North Korean funds but released the money in 2007 under U.S. pressure to get North Korea to return to diplomatic talks about its nuclear program.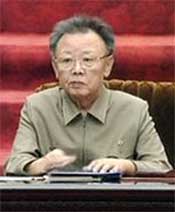 According to the report, North Korea's hard currency income from trafficking in counterfeit supernotes and drugs is used to buy luxury goods for Mr. Kim and to develop conventional arms and weapons of mass destruction.
Bob Hamer, a retired FBI agent who worked undercover as part of an operation designed to expose illegal North Korean activities, including supernote distribution, said Pyongyang's supernote production remains a "major problem."
Gen. O's son, O Se-won, works with his father as one of two key overseas officials involved in North Korean counterfeiting, the report said. In addition to O Se-won, another relative of Gen. O, identified as Lee Il-nam, was a councilor at the North Korean Embassy in Ethiopia and operated as a supernotes courier, making visits from Pyongyang, to Beijing to Ethiopia and back from May 2003 to September 2004, according to the report.
The report says North Korea uses front companies and shell companies overseas to facilitate the illicit trafficking in supernotes. The use of fake companies increased after the Treasury Department barred U.S. companies from working with Banco Delta Asia.
To further hide the transactions from international financial authorities, the North Korean party office used a financial front company, set up in China in 2006, to make payments as part of the purchases, the report says. North Korea also set up a front company in the British Virgin Islands in the mid-2000s to take advantage of lax banking regulations and tax laws there, it says, and other branches of the front company were established for financial support activities in China, Russia and Southeast Asia.
One front company bought luxury yachts, Mercedes-Benz cars and personal helicopters for Mr. Kim and his family, the report said.
• Betsy Pisik in New York contributed to this report.
Copyright 2009 News World Communications, Inc. Reprinted with permission of the Washington Times. For educational purposes only. This reprint does not constitute or imply any endorsement or sponsorship of any product, service, company or organization. Visit the website at washingtontimes.com.
Questions
1. Who is General O Kuk-ryol? Be specific.
2. What is Gen. O accused of doing?
3. Who made the accusations against Gen. O? (What evidence do they have?)
What facts contribute to the accuracy of the report?
(see paragraphs 1, 4, 11, 13, 19)
4. How have North Korean officials responded to the accusations?
5. a) When and in what country were the counterfeit $100 bills first discovered?
b) Where were the counterfeit bills discovered in the U.S.?
c) Where were the bills found most recently?
6. How much money (U.S. dollars) has the North Korean government counterfeited in the past 20 years, according to Secret Service officials?
7. a) Why has supernote (counterfeit $100 bill) circulation increased in recent months?
b) What does the North Korean government do with the money it counterfeits? (see para. 18, 23)
8. How has the U.S. dealt with the counterfeiting of U.S. dollars so far? (see para. 15-17)
9. How does the North Korean government distribute the counterfeit bills? Be specific.
10. How do you think the North Korean government's counterfeiting activities should affect U.S. negotiations on their nuclear weapons program? (Should we continue to offer North Korea financial aid incentives to end their nuke program?) Explain your answer.
Daily "Answers" emails are provided for Daily News Articles, Tuesday's World Events and Friday's News Quiz.