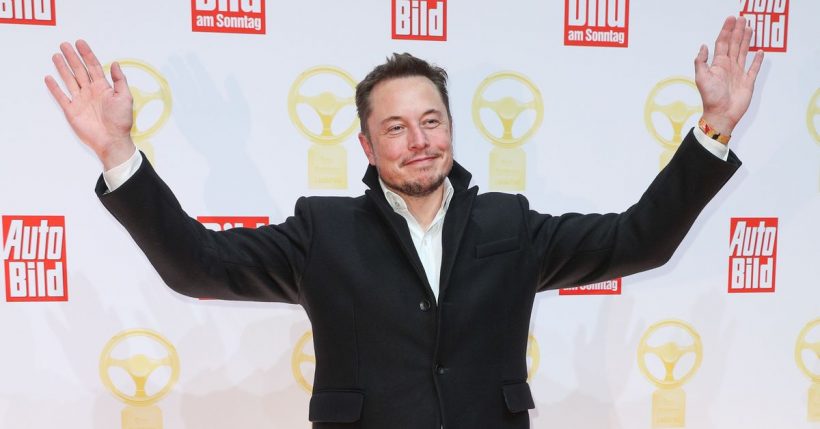 redo Jump to...
print Print...
(by Matthew S. Schwartz, NPR) – [Elon Musk's SpaceX beat out teams led by Jeff Bezos' Blue Origin and Leidos subsidiary Dynetics to win a nearly $3 billion contract to build NASA's next crewed lunar lander].
NASA will pay Elon Musk's SpaceX $2.9 billion to build a lunar landing system to ferry astronauts to the surface of the moon.
SpaceX was one of three companies chosen last year to develop technology for NASA's Human Landing System program. On Friday NASA announced SpaceX's "Starship" design had beat out the other two companies for the contract.
It's the first time the space agency has used a human lander built by a private company, and it marks an important milestone for an agency that has in recent years depended on commercial partnerships for its most important missions. [Bloomberg News notes: NASA budgeted $967 million for work by the three teams over 10 months, starting in May 2020. President Donald Trump's administration tasked NASA with returning astronauts to the moon's South Pole in 2024]. …
NASA has also contracted with SpaceX on other projects, such as its Falcon 9 rocket and Crew Dragon capsule that will ferry astronauts to the International Space Station in the coming week.
The moon lander is being built as part of the Artemis program, which aims to bring Americans back to the moon by 2024, before setting its sights on Mars and beyond. NASA selected 18 astronauts last year to train for the moon mission.
The plan calls for NASA to send four astronauts aboard the Lockheed Martin-built Orion spacecraft on a multi-day journey to the moon's orbit. Then two crew members will transfer to SpaceX's lander for their descent to the lunar surface. After a week exploring the moon, they'll board the lander to return to Orion and head back to Earth.
NASA says that at least one of the astronauts landing on the moon will be a woman, making her the first woman to set foot on the moon. The agency says it also wants a person of color to land on the moon as part of the program.
A document obtained by the Bezos-owned Washington Post explained NASA's rationale for picking SpaceX over its competitors — Jeff Bezos' Blue Origin, and the Alabama defense contractor Dynetics. NASA said SpaceX "was the lowest among the offers by a wide margin." NASA was also swayed by Starship's ability to carry large amounts of cargo to and from the moon, which it said "has the potential to greatly improve scientific operations."
"We are honored to be part of the @NASAArtemis team," Musk tweeted Friday. He added: "NASA Rules!!"
[CNBC reported:
NASA last year awarded the three teams with $967 million and 10-month contracts to begin work on the lunar lander concepts under its Human Landing Systems, or HLS, program.
SpaceX was awarded the least amount of those three, with $135 million. Meanwhile, Dynetics received $253 million and Bezos' Blue Origin had won $579 million.
NASA was expected to choose two of the three teams, making the sole selection of SpaceX a surprise given the agency's prior goals for the program to continue to be a competition".
NASA's Artemis mission to land astronauts on the moon by 2024 was a project promoted by President Donald Trump. President Biden's press secretary has indicated the current administration expects to continue with Artemis, but doesn't think they can accomplish it by President Trump's target date].
Published at npr .com. Reprinted here for educational purposes only. May not be reproduced on other websites without permission.
Questions
1. What announcement did NASA make on Friday? Be specific.
2. What is the significance of NASA choosing a private company to land astronauts on the moon?
3. What other partnerships does NASA currently have with Elon Musk's SpaceX?
4. What is the purpose of the Artemis program?
5. How will the plan for landing astronauts on the moon for the first time since 1972 work?
6. What two reasons are mentioned in this article for NASA choosing SpaceX over Bezos' or the other company?
7. SpaceX said in a tweet Friday it was "humbled" to help NASA begin a new era of human space exploration. Musk said in a separate tweet the company was "honored" to be part of the Artemis program.
Jeff Bezos and Elon Musk are both a multi-billionaires. Musk founded Tesla and also SpaceX (as well as the Boring Company, an infrastructure and tunnel construction company).  Bezos is the richest man in the world. He founded and ran Amazon. Several years ago he bought The Washington Post newspaper. Now he's also trying to compete in space.
What do you think about this?
Background
From Reuters:
Unlike the Apollo missions from 1969 to 1972, NASA is gearing up for a longer-term lunar presence that could lead to missions to Mars.
The agency aims to create regular service to the moon. It'll hold a separate competition for that contract.
NASA's moon lander decision is a setback for Bezos. He is now more focused on his space venture after announcing he'll step down as Amazon CEO.
The contract was seen by Bezos and other executives as vital to Blue Origin establishing itself as a desired partner for NASA, and also putting the venture on the road to turning a profit.
Resources
Watch an April 16, 2021 CNBC report:
Daily "Answers" emails are provided for Daily News Articles, Tuesday's World Events and Friday's News Quiz.