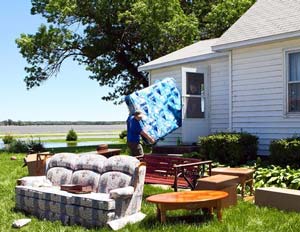 (by Joe Barrett, The Wall Street Journal, WSJ.com) – Heavy spring rains are bringing a new wave of flooding, this time to Missouri River cities stretching from Bismarck, N.D., to St. Louis.
In the past three weeks, the rains have filled reservoirs to capacity, forcing the Army Corps of Engineers to begin opening the flood gates of six massive dams to make room for melting snow from the Rocky Mountains. Flows at some gates are expected to be more than double previous records.
"We've never seen anything like this," said Jim Scarlett, meteorologist in charge of the National Weather Service office in Aberdeen, S.D. "The flooding is going to be all the way to St. Louis, and it's going to be high all summer."
The flooding on the Missouri follows the record flood this spring on the lower Mississippi River, which crested last month. The Missouri flows aren't expected to have a big impact on the Mississippi, however.
Residents are currently packing up and preparing to move out of homes in communities ranging from Bismarck to Fort Calhoun, Neb. [Photo: Volunteers helped remove the contents of a farmhouse belonging to the Diefenbaughs, in Fort Calhoun, Neb., on Tuesday as the Missouri River rose. Residents in low-lying areas had mostly moved out by Wednesday.]
Dave Bonde, the economic development director in Fort Pierre, S.D., said he and his neighbors helped each other move their furniture into storage and build sandbag walls around each other's homes. He said that about half the town of 2,000 people was affected by the flood, and that major businesses, including a bank, pharmacy and a Perkins restaurant, had closed or moved out of town.
"A lot of folks have taken woodwork off and removed cabinets, light fixtures, the whole nine yards," said Mr. Bonde, 70 years old, who plans to stay in a camper for the next several months. "Once we leave tonight or tomorrow, we may not get back into our homes to do anything until August," he said.
Across the river in Pierre, S.D., the state capital, Laura Schoen Carbonneau, chief executive of the Chamber of Commerce, said she could see National Guard troops building a floodwall outside her office window. "It gives you a little more comfort," she said.
Downstream in Dakota Dunes, an upscale planned community near the Nebraska border, crews building a floodwall battled through traffic created by fleeing homeowners.
Residents in low-lying areas outside Fort Calhoun had mostly moved out by Wednesday morning, local officials said.
Col. Bob Ruch, commander of the Corps's Omaha, Neb., district, said engineers had been releasing water from the reservoirs at a measured pace to clear way for snowmelt. But rains in eastern Montana over the last three weeks equaled a full year's normal total, he said, and "it filled up the space we created to take on the snowmelt, which still sits up in the mountains."
Now, the real danger is a rapid melt. To prepare for that, the Corps must act quickly. It began warning communities last week and is slowly increasing the amount of water in the river to give them time to prepare.
The dam at Gavins Point, on the Nebraska-South Dakota border, is the lowest of the six dams in the system. It is already releasing water at a rate of 81,000 cubic feet a second, above its record of 70,000 cubic feet a second in 1993.
Col. Ruch said that by June 15, the Corps expected to be sending 150,000 cubic feet a second through the dam, which was completed in 1957.
He said the releases would probably stay at that rate for at least a month before engineers could begin ratcheting them back. But he said engineers likely would continue to release more than the usual amount of water through December, so that the reservoirs would be in position for next spring's melt.
Asked whether all the water was in some way good news for the oft-parched region, he chortled. "There's no goodness in any drop of rain in this basin right now," he said.
The Corps' flood fight includes other rivers as well. In Minot, N.D., officials have ordered a mandatory evacuation of some 10,000 people as the Corps releases water on the Souris River, which dips in and out of the state from Canada. The city's Web page Wednesday included a "desperate" plea for help filling sandbags.
Mr. Bonde, in Fort Pierre, said he had people helping him who he didn't even know. One young man asked if he could help, because he had to do community service after being convicted of a minor crime. "He worked his tail off for 12 hours," Mr. Bonde said. "Then he asked if I'd be kind enough to sign his paperwork. I said I'll talk to the judge if you need me to."
Meanwhile, tornadoes continued to vex the nation. On Wednesday, Massachusetts Gov. Deval Patrick said four people were dead after at least two tornadoes swept through the western and central parts of the state, the Associated Press reported. The storms caused an unknown number of injuries and extensive damage.
Write to Joe Barrett at joseph.barrett@wsj.com.
Copyright 2011 Dow Jones & Company, Inc. All Rights Reserved. Reprinted here for educational purposes only. Visit the website at wsj.com.
Questions
1. What states are expected to be affected by flooding from the Missouri River? (For more detailed information including photos and maps,
see weather.com/outlook/weather-news/news/articles/flood-missouri-river-news-updates_2011-05-31.)
2. What is the cause of the impending widespread flooding?
3. How long is the flooding expected to last? (see para. 3)
4. What preventive measures are the Army Corps of Engineers taking in an effort to ease the flooding? (see para. 2 and 11-15)
5. How are residents preparing to deal with the flooding?
6. How are National Guard troops helping?
Resources
THE U.S. ARMY CORPS OF ENGINEERS FLOOD ASSISTANCE:
An imminent threat of unusual flooding must exist for the Corps of Engineers to assist communities in a flood fight.
The threat must be established by National Weather Service forecasts or by the Corps' determinations of unusual flooding from adverse conditions.
A written request from a state's governor for the Corps' assistance is required. The request must be technically feasible and economically justified.
Flood services most often provided by the Corps during a flood fight includes providing technical engineering advice, sandbags and pumps to local communities, as well as building emergency levees/dikes.
(from nwo.usace.army.mil/html/op-e/flood.html)
For maps of the areas expected to be affected by flooding from the Missouri River, go to the U.S. Army Corps of Engineers at nwo.usace.army.mil/html/op-e/maps.html.
Go to weather.com/outlook/weather-news/news/articles/missouri-river-flood-tracker_2011-05-31 for flood tracker information.
The National Weather Service is a component of the National Oceanic and Atmospheric Administration (NOAA). NOAA is an Operating Unit of the U.S. Department of Commerce. Visit the NOAA website at crh.noaa.gov/crh.
Daily "Answers" emails are provided for Daily News Articles, Tuesday's World Events and Friday's News Quiz.