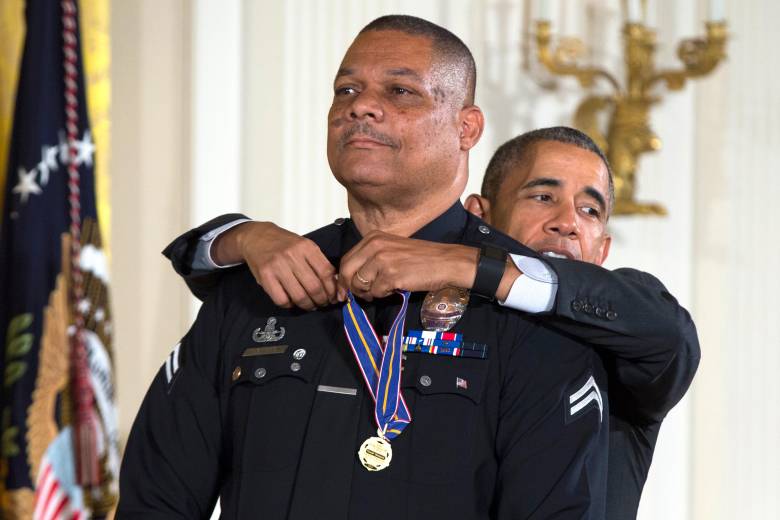 redo Jump to...
print Print...
(Associated Press at CBS News) – WASHINGTON — President Barack Obama called on the nation Monday to support and listen to its law enforcement officers as he bestowed the Medal of Valor on 13 officers who risked their lives to save others. [The Public Safety Medal of Valor recognizes police, firefighters and other first responders for exceptional courage.]
In a ceremony in the East Room, held during National Police Week, Obama draped the purple-and-gold ribbons around the necks of officers who intervened in shooting rampages, hostage situations and an armed robbery. …
"We can show our respect by listening to you, learning from you, giving you the resources that you need to do your jobs," Obama said. "Our country needs that right now."
Three Santa Monica, California, officers — Jason Salas, Robert Sparks and Capt. Raymond Bottenfield — were honored for their response to a 2013 rampage on a community college campus that left five people dead. Confronting 23-year-old gunman John Zawahri in the campus library, the officers shot and killed him when he pointed his assault weapon at them.
Obama also honored Gregory Stevens of suburban Dallas, who exchanged gunfire with two armed men outside an exhibit hall holding a contest for caricatures of the Prophet Muhammad. Both gunmen were killed, heading off what investigators suspected was a planned mass shooting. …
Another of those honored, Police Maj. David Huff of Midwest City, Oklahoma, saved a 2-year-old girl being held at knifepoint after negotiations with her captor deteriorated.
"Obviously, the last few moments were tense. There was a countdown going on," Huff told reporters after the ceremony. "There was just no way I was going to let that little child get hurt."
Attorney General Loretta Lynch, the nation's top law enforcement official, said there were no words or medals that could begin to pay the debt the country owes the officers.
"It has often been said that the price of freedom is constant vigilance," Lynch said. "Know this: they pay that price on our behalf."
One Philadelphia officer died from a gunshot wound and was honored posthumously. Sgt. Robert Wilson III drew fire from assailants during a robbery while saving store employees and customers. Wilson's family accepted the award on his behalf.
"We honor those who didn't come home," the president said.
The other officers honored with the medal Monday are:
— Miami-Dade police Officer Mario Gutierrez, who was stabbed multiple times while subduing a knife-wielding man who tried to set off a massive gas explosion that could have caused massive casualties.
— Johnson City, New York, Patrolman Louis Cioci, who chased and captured at a crowded hospital a gunman who had just killed a fellow officer. Investigators believe Cioci saved the lives of hospital staff, patients and visitors.
— Los Angeles police Officer Donald Thompson for, while off duty, crossing two freeway dividers and braving first- and second-degree burns while pulling an unconscious man from a burning car to safety.
— Omaha, Nebraska, police Officer Coral Walker, who shot and killed a man who had killed and injured multiple people during a shooting rampage.
— North Miami, Florida, police Officer Niel Johnson, who endured gunfire from an assault weapon in pursuing and capturing a man who had shot a Miami police officer and two bystanders.
— FBI Special Agent Tyler Call, who while off duty with his family helped rescue a woman whose ex-husband was holding her at gunpoint.
— Niagara County, New York, sheriff's Deputy Joey Tortorella, who confronted and subdued a gunman who had shot and wounded his parents inside their home, preventing the gunman from threatening the safety of students at a nearby elementary school.
From an Associated Press report. Reprinted here for educational purposes only. May not be reproduced on other websites without permission from CBSNews. Visit the website at cbsnews .com.
Questions
1. What is the Medal of Valor? For what reasons is it awarded?
2. How many law enforcement officers were awarded the Medal of Valor at the White House this week?
3. List the names/cities of the recipients.
4. What did U.S. Attorney General Loretta Lynch say about law enforcement officers during the ceremony?
5. Read the stories of each individual. Which one most inspires you? Why?
6. Why is it important for us to honor our law enforcement officers?
Background
The Public Safety Medal of Valor:
Every day, public safety officers risk their lives to protect America's citizens and communities. To honor that commitment, Congress passed The Public Safety Officer Medal of Valor Act of 2001, which created the Public Safety Officer Medal of Valor, the highest national award for valor by a public safety officer.
The medal is awarded annually by the President to public safety officers who have exhibited exceptional courage, regardless of personal safety, in the attempt to save or protect human life.
A "public safety officer" is a person (living or deceased) who is serving or has served in a public agency, with or without compensation, as a firefighter; law enforcement officer, including a corrections, court, or civil defense officer; or emergency services officer, as determined by the U.S. Attorney General.
An act of valor is defined as:
Above and beyond the call of duty; and
Exhibiting:
exceptional courage, extraordinary decisiveness and presence of mind
unusual swiftness of action, regardless of his or her personal safety, in an attempt to save or protect human life
(from the DOJ's Bureau of Justice website) 
Resources
Watch President Obama publicly praise the police officers who were awarded the Medal of Valor:
Daily "Answers" emails are provided for Daily News Articles, Tuesday's World Events and Friday's News Quiz.