redo Jump to...
print Print...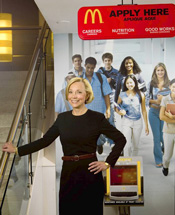 (by Aaron Smith, CNNMoney.com) NEW YORK – McDonald's said Monday that it is planning a one-day hiring spree of 50,000 new workers on April 19 for its U.S. restaurants. [The company says it is making a concerted effort to add staff as its business improves and as more of its restaurants stay open 24 hours a day. In 2008, the company started offering lattes and other espresso drinks which requires an employee to be assigned specifically to making these drinks.]
McDonald's said that these new "Mcjobs" will include crew and management positions, part-time and full-time. [About half of McDonald's franchise owners started as restaurant employees, according to McDonald's, as did 75% of its managers and 30% of its corporate senior management, including CEO Jim Skinner.]
McDonald's, which has 14,000 restaurants in the United States, said the hires will occur nationwide.
"We're excited to offer 50,000 new jobs, all across America, all in one day," said Jan Fields, president of McDonald's U.S.A (pictured in photo).
Fields, who started working at a McDonald's restaurant as a crew member behind the counter in 1978, said the 50,000 new hires will increase the U.S. workforce to 700,000 from its current level of 650,000.
She said the average pay for the jobs is $8.30 an hour. That's compared to the federal minimum wage of $7.25 an hour, though in some states the minimum wage is higher. She said that restaurant managers can make $50,000 a year [after working for five years, and added that managers also get a company car after five years].
McDonald's has held large-scale hiring events in each of the last two years in the western U.S. Last year, there were 65,000 applications for 13,000 jobs.
Reprinted here for educational purposes only. May not be reproduced on other websites without permission from CNN Money. Visit the website at CNNMoney.com.
Questions
1. How many employees does McDonald's plan on hiring across the country on April 19th?
2. How many restaurants does McDonald's have across the U.S. – approximately how many hires will that average out to per store?
3. Why is McDonald's going to hire so many employees?
4. How many employees does McDonald's currently have in the U.S.?
5. What are some of the benefits of working at McDonald's, per president Jan Fields?
6. a) What type of part-time jobs have you had?
b) Would you work at McDonald's or a similar type of fast-food restaurant? Why or why not?
Daily "Answers" emails are provided for Daily News Articles, Tuesday's World Events and Friday's News Quiz.