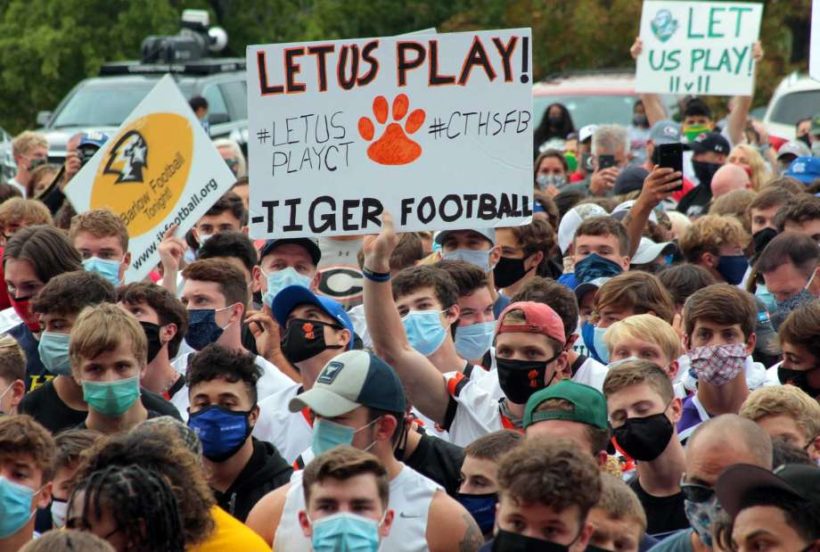 (Compiled from Patch, Hartford Courant and CBS Sports) – On September 4, the Connecticut Interscholastic Athletic Conference (CIAC) announced there would be no high school football in the state this fall.
On Wednesday (Sept. 9), disappointed players, parents and supporters rallied at the state capitol in Hartford to voice their opposition to the decision. [They also held a rally on Sept. 5, calling for CIAC to reverse its decision].
Players from every corner of the state gathered in solidarity at the state Capitol building, pleading for a reversal of last week's decision by CIAC to pull the plug on full-contact, 11-versus-11 competition this fall.
The decision, made after repeated consultations with the state Department of Public Health (DPH), was based on their belief that  football is a high-risk activity that can't be regulated as well as other sports amid the coronavirus pandemic and therefore shouldn't be played at the scholastic level this fall.
The DPH suggested several alternatives, including flag football, or playing games with seven players per side [which would deprive the linemen of being able to play].
The outpouring of support from well over 1,000 players, coaches, parents and fans, was overwhelming. Rockville High School head coach Erick Knickerbocker was impressed at the organization of the rally, which was handled entirely by student-athletes.
"This is a player-driven event, which I think is really unique," he said. "This is not run by adults. You can see on the stage the kids are running everything. We're here to support the kids."
Brien McNamara, a player at Haddam-Killingworth High School, said, "Every other state has higher COVID-19 numbers … We believe football should have a fair chance."
Teammate Daniel LaRosa concurred, "We've had sports all summer and I really think we're ready for it."
Lewis Mills senior Josh Martinotti, who was one of the first players to post about the protest on social media following CIAS ban said, "I believe all the schools here have done our best with masks and everything, and I just think we've earned it. I think they should realize that."
Stafford/Somers/East Windsor head coach Brian Mazzone said,
"Watching all of those kids, from Greenwich to Stafford, stand up for what they believe in was so very impressive. They were peaceful, respectful, had their masks on. It made me really proud to be a part of Connecticut football and in the past month it hasn't been too cool to tell people that you coach in this state."
Health officials on Wednesday said Connecticut's positive coronavirus test rate was 1.5 percent, among the lowest in the country. Players said, "look at the metrics…"
that "the numbers in Connecticut are very very low – this [the DPH's reason for banning football] has become more of an opinion than a fact."
Dozens of players and parents sported signs bearing messages such as "Let us play." That saying became a popular chant throughout the duration of the peaceful rally.
Following the rally, Gov. Ned Lamont said on Twitter he is requesting a meeting Friday between the DPH and CIAC.
"We have an obligation to all of our students, faculty, staff, and administrators to keep them safe, and I expect that goal to be the focus of the discussion," Lamont wrote.
The status of high school football in Connecticut has been a bit of a rollercoaster ride in recent weeks. A day after announcing Oct. 1 as the start date for football, the CIAC reversed course Sept. 4 and said there will be no football in the fall.
"Without DPH (Department of Health) support, the CIAC cannot move forward with a full-contact season as it would place superintendents and boards of education in the impossible position of acting against the recommendation of a state agency," the organization said in a release.
Around the country, 17 states have pushed fall football seasons into 2021 while 33 are planning to play or are already underway.
Football teams will still be eligible to condition [train] as a team during the fall and the CIAC will consider combines and passing leagues. No plans were announced for tackle football in the winter or spring. Girls volleyball is awaiting the support of the DPH and if it is will join swimming, cross country, soccer and field hockey allowed to play this fall. – The CIAC believes modifications in girls volleyball, such as requiring the participants to wear masks while playing indoors, can bring it in line with the DPH's recommendations.
Compiled from articles by the Connecticut Patch, Hartford Courant and CBS  Sports on Sept. 9, 2020. Posted here for educational purposes only. 
Questions
NOTE TO STUDENTS: Watch the videos under "Resources" and then answer the questions.
1. The first paragraph of a news article should answer the questions who, what, where and when. List the who, what, where and when of this news item. (NOTE: The remainder of a news article provides details on the why and/or how.)
2. a) What did players across the state do in response to CIAC's announcement?
b) What arguments do they use to support their position?
3. a) Why did the CIAC prohibit football teams from playing at the last minute?
b) What alternatives to playing tackle football did the Connecticut Department of Health suggest to football teams across the state?
4. a) What sports has the Connecticut DPH permitted to play this fall? – What will volleyball have to do to be permitted to play?
b) What do you think of state officials' suggestions from 3b) and 4a)? Explain your answer.
5. In how many states have government officials allowed high school football teams to play this fall?
6. To the players, it's not just a game. Seniors will miss their senior year. Juniors hoping to be scouted for college will miss out. All players just want to play. Consider the players' argument that other states who have been playing for a few weeks have not had any spike, as well as the fact that Connecticut has one of the lowest percentages of positive tests. Also, it has been reported that the Covid-19 risk to teens is very low. What do you think? Is the Connecticut Department of Health being unreasonable / too heavy handed? Is DPH's fear that the players will spread the virus to the community at large justified? Are the players being unreasonable? (Consider these questions even if you are not a football fan – what if it was your sport, group or band, etc.?) Explain your answers.
Resources
Watch a Wednesday, September 9th interview:
---
Watch a September 12th interview:
Daily "Answers" emails are provided for Daily News Articles, Tuesday's World Events and Friday's News Quiz.