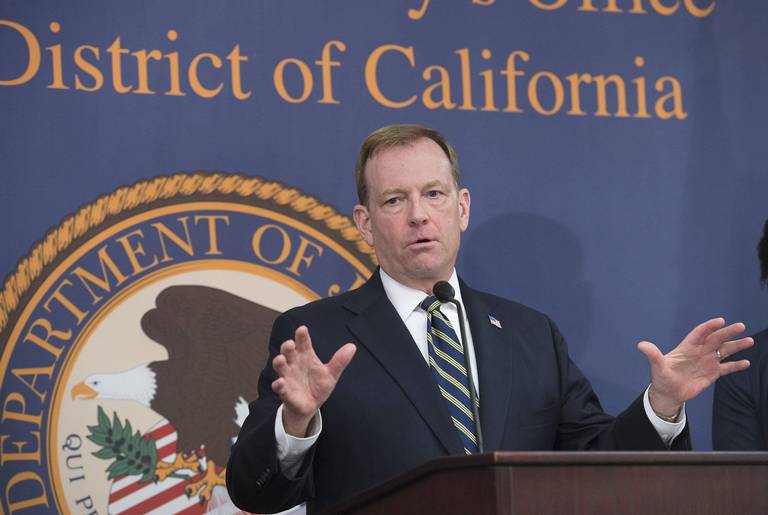 redo Jump to...
print Print...
(by Sarah N. Lynch, Reuters) WASHINGTON – U.S. law enforcement agencies seized over 100 homes in the Sacramento, California-area this week in what the U.S. Justice Department on Wednesday said was part of a sweeping crackdown on a criminal marijuana growing operation funded by China-based criminal groups.

In a two-day sweep that started on Tuesday, the Justice Department said hundreds of federal agents and local police executed search warrants at about 74 homes and two business offices believed to be used for marijuana-growing operations.

At the same time, the Justice Department filed civil forfeiture actions against 100 homes, a legal action allowing the government to confiscate assets if there is probable cause to believe a crime was committed.

U.S. Attorney General Jeff Sessions has made cracking down on illegal drugs one of his priorities since taking over the helm of the Justice Department last year.

In January, Sessions…ended an Obama-era policy that called on prosecutors not to prioritize bringing federal marijuana cases in states where it is legal.

The policy change came shortly after California formally launched the world's largest regulated market for recreational pot.

The operation announced on Wednesday, however, relates to underground illegal marijuana-growing operations, and not those following California's stringent regulatory and licensing regime.

[The raids culminate a months-long investigation focusing on dozens of Chinese nationals who bought homes in seven counties. Most of the buyers were in the country legally and came from as far away as Georgia, Illinois New York, Ohio and Pennsylvania, U.S. Attorney McGregor Scott said.] Federal law enforcement officials said in a statement that the criminal organization targeted through the home seizures used foreign funds to purchase the homes in order to use them for growing marijuana.

Down payments on the properties were financed by wire transfers from the province of Fujian, China, and the pot that was grown in the homes was later distributed outside California to other parts of the United States, the statement said.

The Justice Department said the operation represented one of the largest-ever residential forfeiture efforts in U.S. criminal history.

In addition to seizing the homes, the government also seized 61,050 marijuana plants, more than 440 pounds (200 kg) of processed marijuana and 15 firearms.

From Reuters .com. Reprinted here for educational purposes only. May not be reproduced on other websites without permission from Thomson Reuters.
Questions
1. The first paragraph of a news article should answer the questions who, what, where and when. List the who, what, where and when of this news item. (NOTE: The remainder of a news article provides details on the why and/or how.)
2. a) How were the homes paid for?
b) Why did law enforcement seize the homes?
c) Where was the pot that was grown being sold?
3. What is civil forfeiture?
4. What policy of the former Obama administration did Attorney General Jeff Sessions reverse when he took office?
5. The use of recreational pot is legal in California. Why were these "growers" targeted?
6. What statement did federal law enforcement officials make?
Background
The raids culminated a monthslong investigation focusing on dozens of Chinese nationals who bought homes in seven counties. Most of the buyers were in the country legally and were not arrested as authorities investigate if they were indebted to the gang and forced into the work, U.S. Attorney McGregor Scott said.
Much of the pot was shipped to Georgia, Illinois, New York, Ohio and Pennsylvania through Atlanta, Chicago and New York City, he said. The drug is legal in California but requires permits to grow and can't be sent across state lines. It is still banned by the U.S. government.
Black-market pot-growing houses have proliferated in the inland California region where authorities carried out the raids, and many of them were traced to Chinese criminal organizations from the San Francisco Bay Area in the mid-2000s, Scott said. The high number of grow houses in the area may be because of low property prices compared with the Bay Area and the state's large Chinese population, the prosecutor said.
Scott called the recent crackdown "a game-changer" that may have cost the criminal organization "hundreds of millions of dollars" in lost drug profits and the money it spent on the homes.
"It hits the criminals right where it counts — in the pocketbook," he said.
Authorities tracked at least 125 wire transfers totaling $6.3 million from Fujian Province in China, all just below the $50,000 limit imposed by the Chinese government.
Officials are trying to learn if the homebuyers are what Scott called "indentured servants" — indebted to the Chinese gang and brought to the United States to buy and tend the grow houses. Many speak only Mandarin Chinese.
"We're treating them as victims" who may have been "forced or coerced" to work in what can be toxic environments, FBI Special Agent in Charge Sean Ragan said.
The buyers generally used the same Sacramento real estate agents, borrowed from private lenders instead of traditional banks, and used straw buyers who purchased the properties on behalf of the real owners.
More than 500 officers, including SWAT teams, fanned out over two days to search and seize 81 houses and two real estate businesses. Another 25 houses were raided previously.
They seized more than 61,000 marijuana plants, 200 kilograms (440 pounds) of processed marijuana, at least $100,000 in cash and 15 firearms, including one that had been stolen.
The U.S. Department of Justice said it was one of the largest residential forfeiture operations ever. Prosecutors will now ask judges to transfer ownership of the houses to the U.S. government to resell while they track the enterprise back to its roots, Scott said.
Most of the suburban houses were valued at $300,000 to $700,000, though some were in rural areas and some in more upscale neighborhoods.
U.S. Attorney General Jeff Sessions said in a statement that transnational criminal organizations are "a blight on our communities, bringing dangerous drugs to our streets and trying to impose a false sovereignty over our neighborhoods." (from KOLO8-ABC News)
Daily "Answers" emails are provided for Daily News Articles, Tuesday's World Events and Friday's News Quiz.